Pas à dire : l'univers de Yórgos Lánthimos ne ressemble à rien d'autre, ou alors à un trip halluciné et déviant du meilleur effet. Mais non, même pas : trop de cohérence au sein de la folie, trop de sérieux dans la réalisation, pour qu'on puisse soupçonner le gars d'abuser de substances illicites. Le concept de The Lobster, une fois qu'on en a accepté les règles du jeu, est même d'une effrayante logique. C'est tout le talent du film : nous proposer un univers dévié, absurde, et nous l'imposer comme un monde normal, aux règlements très précis. Ici, c'est une société dans laquelle l'amour et la séduction sont devenus des passages obligatoires pour être insérés : les célibataires sont locataires d'un hôtel où ils ont un nombre de jours limités pour trouver l'âme-soeur ; au-delà de cette étape, ils sont transformés en animal de leur choix. A moins qu'ils ne parviennent à dézinguer quelques rebelles qui errent dans la forêt voisine, auquel cas on leur octroie quelques jours de plus. David va d'abord faire l'expérience de cet hôtel avant de rejoindre les rebelles, mais les deux univers vont s'avérer aussi terrifiants l'un que l'autre.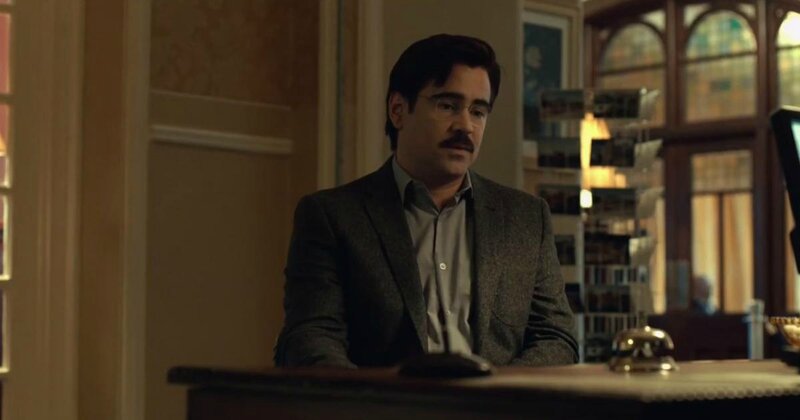 Un glissement léger des codes sociaux vers une anticipation à peine voyante, et nous voilà en plein film de SF qui ne dit pas son nom ; plutôt une dystopie déprimante, futuriste juste ce qu'il faut, et qui maquille ses prophéties pas très fun sous un humour noir délicieux. "A la Houellebecq", oui c'est comme ça qu'on dit. Il y a en effet là-dedans le même style un peu distancé, un peu froid, la même fausse mollesse dans l'enregistrement des choses les plus affreuses (la violence du film arrive brutalement et ne s'attarde pas), et surtout le même ricanement caché derrière chaque évènement. Ici, de la première séquence (une nana qui tue un âne en plein champ) jusqu'à la dernière (un type qui s'apprête à s'enfoncer un couteau dans l'oeil), on plonge dans un bain d'inquiétude, où la critique politique passe par une série de symboles absurdes, très "Pays de l'Est". Lanthimos est toujours aussi bon pour régler au taquet le rythme de ses séquences, et dans la première heure on est même surpris de se marrer autant sur un film aussi froid : c'est que les "gags", minuscules, sont dosés avec précision, jouant sur le décalage. On y voit par exemple les codes amoureux, d'habitude chaleureux, réduits à leur simple représentation vidés de sentiments ; cette impression de regarder des pantins s'agiter pour survivre est cruelle mais hilarante. La première heure est parfaite, prenant son temps pour mettre en place son dispositif et nous y faire adhérer.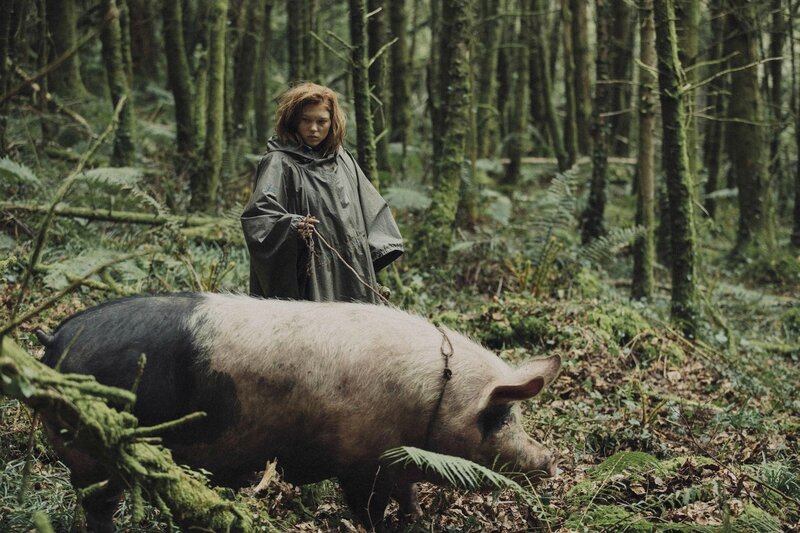 C'est vrai qu'ensuite ça patine un peu. Dans la deuxième moitié, alors que David (impeccable Colin Farrell, empâté et totalement normal) rejoint le clan opposé pour se rendre compte qu'il est tout aussi dictatorial, le rythme s'épuise, Lanthimos a du mal à renouveler son scénario, et on assiste à des répétitions inutiles, des scènes redondantes et quelques facilités d'écriture. Il y a encore de très belles choses (ces animaux étranges qui peuplent les profondeurs de champ), de très bons moments d'acteurs (Léa Seydoux, vraiment bien), le suspense monte doucement, mais on se rend compte qu'une fois son idée en place, le gars ne sait plus trop quoi en faire. Jusqu'au final, agaçant : encore plus que dans Canine, Lanthimos termine son film franchement n'importe où, cultivant cette queue de poisson comme un trait de style alors que ça ne dit strictement rien. En attendant, on a là un des objets les plus originaux de l'année. (Gols 14/12/15)
---
"A wolf and a penguin can never live together..."
"If you encounter any problems, any tensions, any arguments that you can not resolve yourselves, you will be assign children."
Oui, la première partie est cocasse, mais repose finalement sur une problématique bien simpliste : pour trouver l'être cher, il suffit d'avoir un point commun avec lui (saigner du nez, par exemple, ou avoir de beaux cheveux) ; c'est aussi con et réducteur qu'une rencontre sur internet ou dans une agence matrimoniale (ça existe encore ?) où l'on tente de recouper entre "clients" un centre d'intérêt - les data plus fortes que les émotions. Bien. Rien de vraiment nouveau sous le soleil pour trouver un partenaire par principe. Vous avez donc quarante-cinq jours pour trouver l'âme sœur sinon vous êtes automatiquement transformés en poney, en chameau ou en flamant rose (le seul côté vraiment truculent du bazar... J'aurais personnellement dit tapir ou tatou en hommage à Browning). Autre option, s'échapper dans les bois, gamin, parmi la troupe des solitaires. Cette société "résistante" est guère plus bandante et tout aussi réductrice : pas de confort, K-Way obligatoire et rapports sexuels interdits (La crise en Grèce, ça leur a sacrément tapé sur le système quand même). Là aussi, bizarrement, un point commun (être myope et astigmate par exemple) suffit à créer une relation complice et amoureuse... Notre couple phare (Farrel + Weisz) sera puni pour avoir, entre autres, osé s'embrasser en écoutant "Jeux interdits" (la sanction me paraît juste) et tentera vainement de démontrer, au bout du compte, que l'amour, nom de Zeus, est aveugle - ou pas. Un concept, un brin d'humour, une seconde partie qui traîne affreusement en longueur et qui accumule les invraisemblances (vivre en forêt et garder une hygiène parfaite et des fringues repassées, j'y crois pas une seconde) et un final un peu en queue de homard... Comme si Lánthimos avait eu toutes les peines du monde à se dépêtrer de son propre concept de départ. Original, oui, un peu vain aussi. J'en prendrai qu'un demi. (Shang 16/12/15)