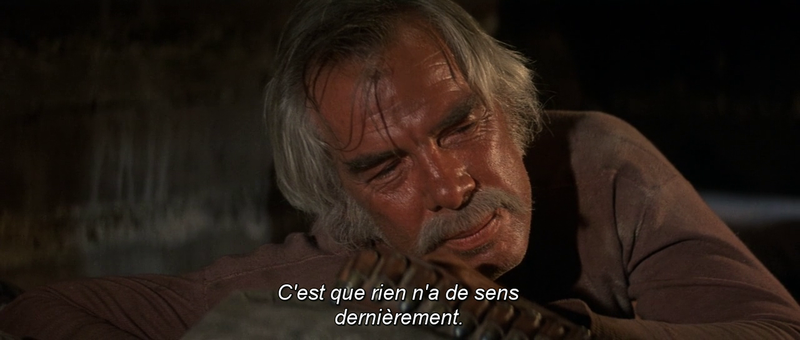 6500ème chroniques sous l'égide de l'obscur Fraker (en tant que réalisateur mais non point en tant que directeur de la photo) qui signe avec les vieillissants Lee Marvin et Jack Palance, et ce six ans avant The Shootist de Don Siegel avec les monstres sacrés Wayne, Stewart et Bacall, l'un des premiers westerns qui prend des allures de funérailles du genre. Les cow-boys sont fatigués, le chômage guette, et il ne leur reste plus guère d'options : se marier, devenir quincailler, dresser le dernier cheval sauvage de l'ouest, tirer la dernière balle lors d'un duel sans résistance, poser des kilomètres de barbelés sur la prairie déserte et se suicider à cheval (oui c'est possible et c'est sûrement l'une des séquences les plus tristes de l'histoire du western : une fuite en avant à cheval aux allures de moto qu'on écrase volontairement dans un mur). Vaste programme que Fraker se décide de mettre en scène en prenant tout son temps. Le rythme est d'une belle lenteur, l'atmosphère légèrement crépusculaire ; les cow-boys réalisent un dernier baroud d'honneur en sachant que leur fin (historique et cinématographique) est proche.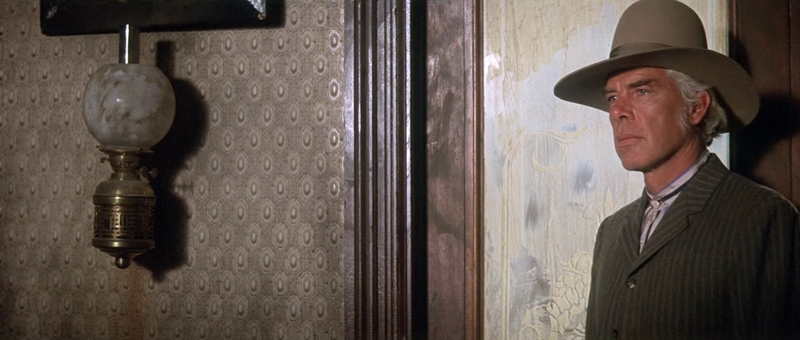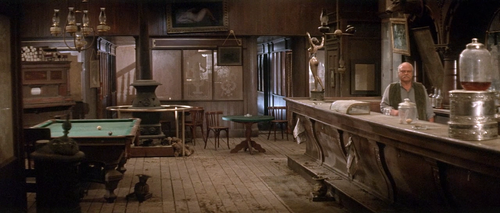 On imagine guère Palance marié derrière un comptoir à vendre des pommes et des gommes à mâcher et Marvin s'imagine encore moins faire le grand saut en mariant une Jeanne Moreau triste comme une soupe froide. Palance saute pourtant le pas, Marvin tente de résister... avant de se faire rattraper par la fatalité. Peu d'éclat dans ce western low profile et pourtant quelques séquences qui résonnent comme un éclair qui déchire le ciel. Un réglement de compte sous une pluie diluvienne qui tourne en eau de boudin, une dernière baston entre potes juste pour le fun (Marvin retrouve le sourire en sachant que le bon vieux temps s'achève), le dressage d'un cheval fou furieux sur les ruines d'un bled (incroyable séquence qui prend là encore des allures d'Apocalypse : le cheval fracasse tout sur son passage), une dernière course poursuite à pied au milieu des vaches (joli sursaut musical de John Barry qui tente une ultime fois d'insuffler du rythme dans ce western où les héros sont à bout de souffle) pour se venger d'une mise à mort injuste : dernier massacre sans résistance qui sonne le glas d'un temps héroïque et fougueux. I'm a poor lonesome cow-boy 'cause I'm the last one...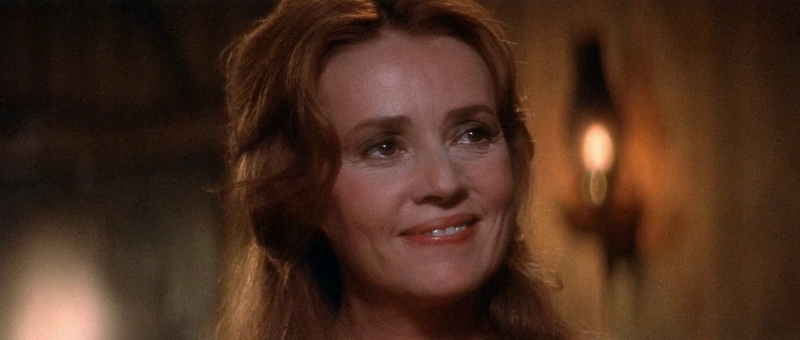 On se régale des mines mi-défaites mi-glorieuses des stars Marvin et Palance qui veulent, pour cet enterrement généralisé, rester dignes. Ils le sont, même s'ils ont conscience qu'ils sont sur la pente douce. Palance tente de saisir sa chance avant qu'il ne soit trop tard (mais pour combien de temps ?...), Marvin attend qu'il soit trop tard pour saisir la sienne. Lequel des deux est le plus sage, lequel des deux a le plus de chance de survivre (un cow-boy qui pose des barbelés ou qui tient un magasin signe-t-il déjà son arrêt de mort ?... Le cow-boy est en effet taillé pour rester en mouvement, fatalement), là sont les questions auxquels Fraker tente de répondre insidieusement... Avec une belle sobriété. Monte Walsh constitue au final une magnifique pierre dignement apportée au tombeau du western. Respect Mister Fraker.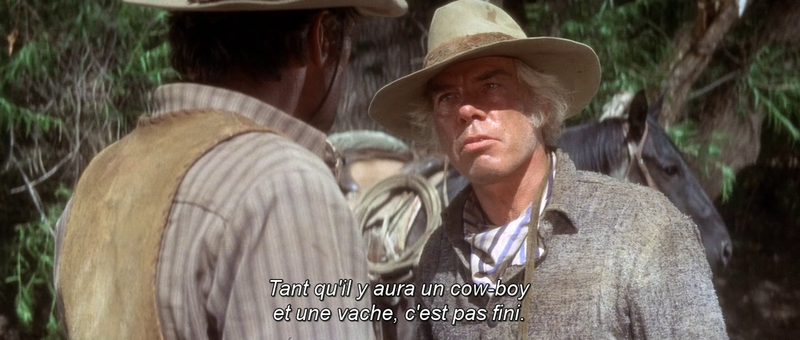 Go west here