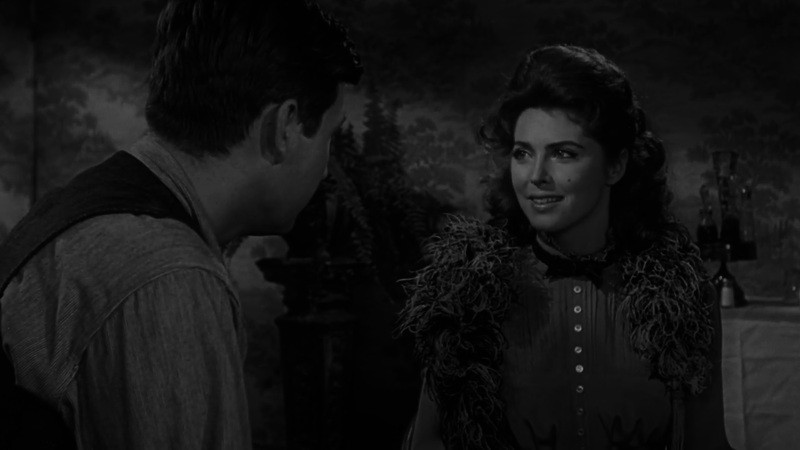 In the mood for western ? Voilà encore, de la part d'un Michael Curtiz en fin de carrière mais toujours aussi brillant, de quoi crier alléluia ! Robert Taylor en homme de loi ultra droit dans ses bottes est à la poursuite d'un homme qui a participé à un hold-up. Petit problème, s'il croit savoir dans quel bled l'homme a pris ses quartiers, il ne sait pas vraiment à quoi il ressemble. On lui indique qu'une jeune femme, Tina Louise (do you want to marry me ?) pulpeuse mais un brin à la rue, a flirté avec lui. Taylor propose 500 dollars à la donzelle pour qu'elle l'aide à identifier l'homme. La jeune femme hésite mais finalement consent à aider le Robert. C'est en tout cas ce qu'elle dit, ce qu'il croit...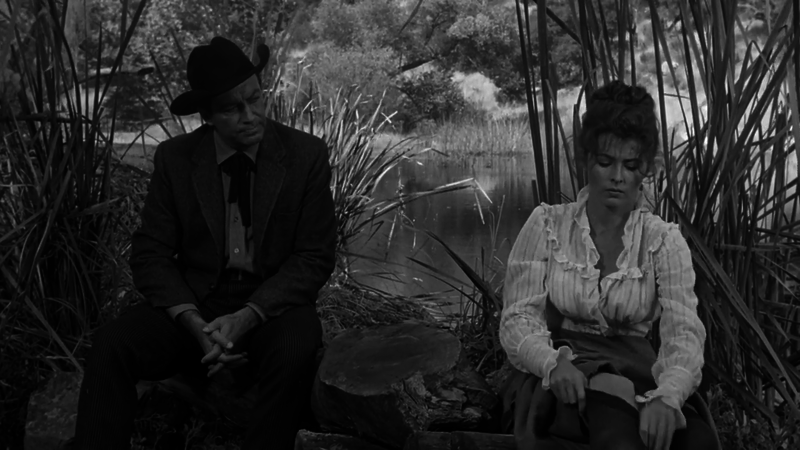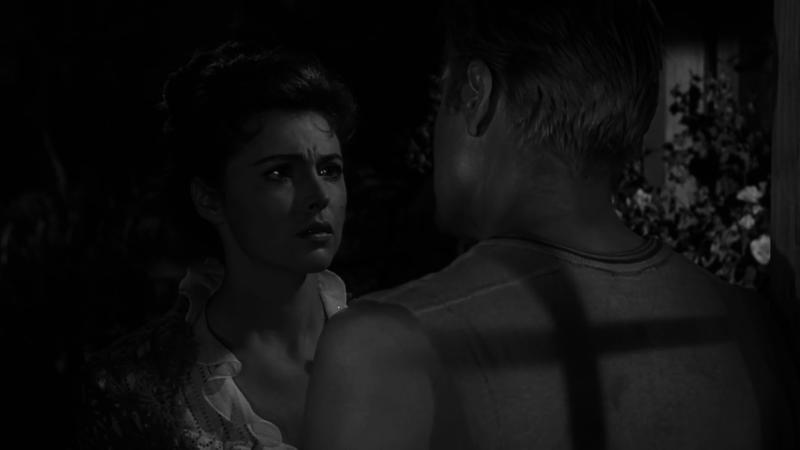 Je ne m'avance guère plus loin dans le résumé de l'aventure, comme si finalement l'intérêt était ailleurs. Avant de se pencher plus en avant sur les personnages, leur motivation, leur évolution, soulignons la beauté de la photo (magnifique copie, ce qui ne gâche rien) signée Loyal Giggs (oscarisé pour Shane, c'est pas rien) qui vient souligner celle de la rayonnante Tina Louise. Au-delà de ça, avouons que l'on prend surtout plaisir à la relation tendancieuse entre Robert et Tina. Si la différence d'âge entre nos deux têtes d'affiche est comme "une sorte de fils barbelés" (joli sens de la métaphore du gars Robert), s'ils n'ont de cesse de se dresser l'un contre l'autre (Dénoncez cet homme, c'est votre devoir ! / Laissez-le tranquille, il n'y est pour rien), on sent bien, qu'ils le veuillent ou non, qu'ils sont faits l'un pour l'autre. Robert ne cesse de mettre les pieds dans les plats en allant voir la chtite alors qu'elle est en tenue d'Eve (la scène dans la salle de bain puis au bord du lac - on aimerait parfois être émail ou fougère) : elle ronchonne pour la forme mais on sent bien qu'elle n'est, au fond d'elle-même, guère offusquée ; Robert détourne le regard pudiquement mais on devine que le bougre, et c'est tout à son honneur, n'est pas de bois. Il y a également ces deux séquences qui en disent long lorsqu'ils se retrouvent menottés l'un à l'autre : tout d'abord c'est le Robert qui s'attache à elle dans le propre lit de la belle pour qu'elle ne s'échappe point puis c'est elle qui lui rend la pareille en voulant empêcher notre homme de loi d'aller arrêter le suspect présumé. Cela donne quelques scènes plutôt cocasses où les deux ne se ménagent guère (il la traîne littéralement et l'emmène même à cheval) sans vraiment sembler regretter cette promiscuité (pour le pire et le meilleur ne dit-on point). Cet homme de principe, pro jusqu'au bout des branches de son étoile, semble cependant incapable de déroger à sa "mission" - et ce n'est pas en contrariant la belle qu'il parviendra à la séduire... A kind of dead end ? Mais l'on sait aussi que Curtiz est un homme qui se sublime lors du final et que toutes les options restent ouvertes...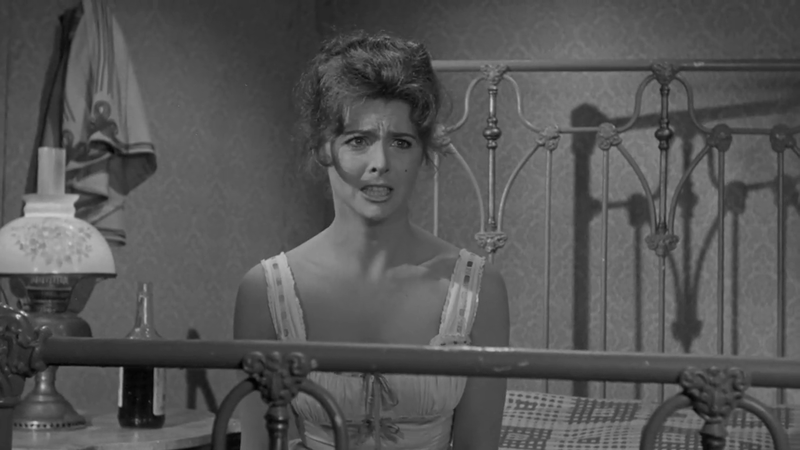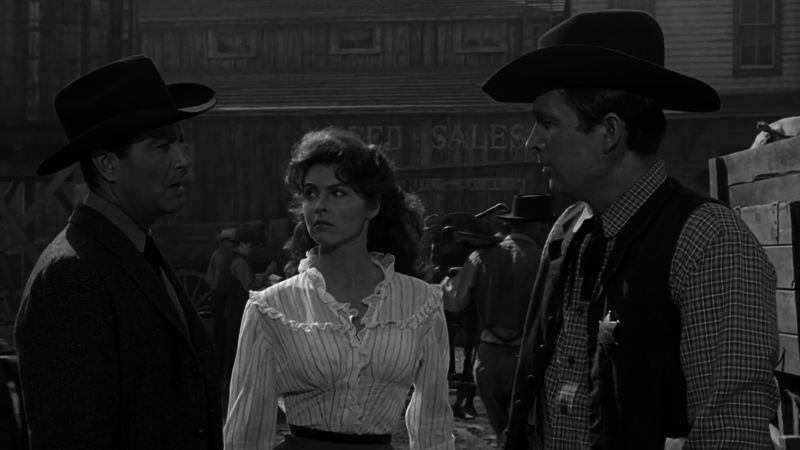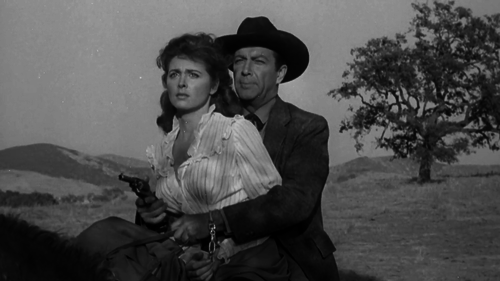 L'une des scènes absolument craquante de ce western a lieu lorsque la Tina, parée de ses plus beaux atours, traverse la ville. Nos cow-boys se montrent dignes du loup de Tex Avery et même les bons vieux toutous se retournent sur son passage. Cette femme est une tornade, pour ne pas dire une bombe. Comme son ex est casé et que le Robert passe son temps à la décevoir, celui qui semble le mieux parti pour emballer l'affaire est le jeune shérif un peu benêt de la ville (le bien nommé Fess Parker) : il fait tout pour se rendre disponible auprès de la belle, laissant Taylor à ses obsessions de justicier. Mais la donzelle a du caractère et n'est pas non plus du genre à avoir du mou à la place du coeur... Qui sortira vainqueur du combat Taylor, the hangman, vs Louise, à la langue bien pendue ? Assistera-t-on au début d'une grande amitié ?... Un western en tout cas joliment maitrisé par un Curtiz encore vert.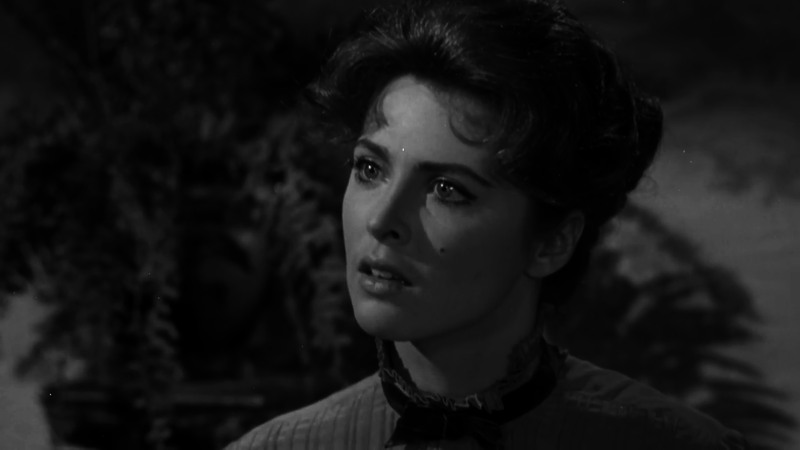 Go west here