Je ne connaissais pas ce moyen-métrage de Spielberg, pourtant réalisé dans la grande époque du maître (entre Indiana Jones et le Temple maudit et La Couleur pourpre). Ça paraît incroyable : voilà carrément un des sommets de la carrière du gars, je le dis avec un rictus nerveux au coin de la bouche, un petit chef-d'oeuvre discret qui s'est même encore bonifié avec l'âge. Aujourd'hui, connaissant les thématiques secrètes et tourmentées de Spielberg, on se rend compte que The Mission marquait une sorte de point d'orgue de son univers : tout y est du Steven des années 80, toutes les thématiques, tous les motifs, tout l'inconscient ; il y ajoute en plus un savoir-faire dans la gestion de l'émotion tout simplement grandiose, réalisant là un des films les plus tendus, les plus merveilleux et les plus beaux du monde. Tout ça avec deux décors, 3 dollars 27 et Kiefer Sutherland. Moi je dis yipee-ya.
Ça commence avec un pur bonheur de travelling le long d'un décor de studio à l'ancienne. Une base aérienne, un hangar enfumé, quelques solides gaillards prêts à décoller pour aller casser du nazi. La caméra glisse le long de la carlingue, frôle le sol, enregistre les petites conversations, et l'écran se charge de plus en plus de personnages. Avec un regard d'esthète, Spielberg met gentiment en place, en un seul long mouvement, la dramaturgie du film : il capte mine de rien des rapports entre les gens, et dès le départ on sent la camaraderie, l'humanité qui sous-tend l'intrigue, opposées à la bestialité de ce vieux coucou effrayant. L'avion va représenter le corps ennemi, issu aussi bien de l'imaginaire de la science-fiction (avec sa tourelle qui bouge avec un bruit de robot) que les grands monstres passés et à venir de Spielberg. Car en effet, toute la tension va résider dans un incident une fois l'avion en vol : suite à un tir ennemi, la tourelle placée sous le ventre de l'avion se trouve coincée, et comme les trains d'atterrissage ont pris aussi, nos gars sont contraints d'atterrir en pulvérisant cette tourelle ; or dans celle-ci, il y a un camarade, et qui plus est la mascotte du régiment. Comment le sauver, ou plutôt, et c'est plus fort, comment accepter sa mort, alors qu'il se trouve là, à portée de main de tout le monde. Le suspense émotionnel monte, de fausses solutions en renoncements, d'espoirs avortés en épuisement.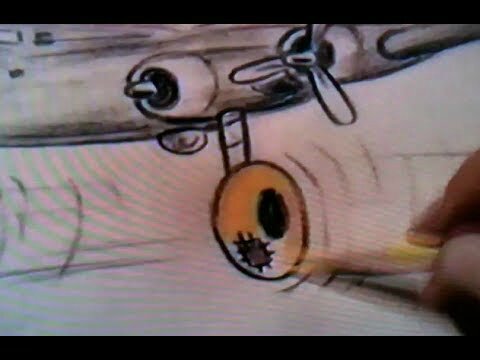 Une dramaturgie impeccable, pratiquement en huis-clos. Spielberg choisit pour interpréter la victime sacrifiée une sorte de sosie du jeune James Stewart au visage d'une profonde humanité. Mais les camarades qui assistent impuissants à sa mort imminente sont tous gonflés d'humanité, jusqu'au chef d'équipe (Kevin Costner, super) qui doit contrôler ses nerfs mais est hanté par la culpabilité. Tour à tour, pendant la plus grosse partie de ce film court (45 mn), on les voit défiler au chevet du jeune gars, porter leur main sur sa tête et se dire adieu en pleurant. C'est bouleversant parce que la frontière qui sépare ceux qui vont survivre de celui qui va mourir est quasi-inexistante. Même quand la caméra sort de l'avion pour filmer les réactions en bas, dans la tour de contrôle, c'est dans un même mouvement, comme si les gens au sol étaient eux aussi à quelques centimètres de la victime : la tension est entièrement focalisée sur une petite bulle précaire entre ciel et terre, c'est immense. Spielberg tire d'ailleurs profit de chaque centimètre-carré de son décor étriqué de carlingue, se livrant à un des ces montages virtuoses dont il a le secret : mélange de très beaux travellings avant ou arrière et de plans courts dosés au millimètre, avec ces plans parallèles parfait dans les dernières minutes, quand le dénouement est proche et qu'on est entre la tragédie totale (un flingue hitchcockien qui s'approche d'une tête) et le soulagement : quelques minutes de tension, de suspense et de spectacle totaux, oui les enfants.
Quant à cette fameuse résolution, dont je ne dévoilerai pas la teneur, elle contient tout Spielberg : une foi totale dans les capacités du cinéma en tant qu'art de l'émerveillement, une confiance en la simple beauté de la foi, un respect plein de déférence pour la part d'enfance en nous qui permet de sauver l'humanité, et un hommage au cinéma d'antan (ici, les vieux Walt Disney), tout ça dans une seule idée. L'émerveillement est d'ailleurs LA constante du cinéma de Steven dans ces années-là, et on ne compte plus, dans The Mission, le nombre de plans de stupéfaction émerveillée. Comme dans E.T., comme dans Close Encounters, comme dans Jurassic Park, comme dans tout Spielberg, il rassemble les acteurs en un groupe compact, et les regarde simplement regarder le merveilleux, bouche bée comme des enfants. Et nous aussi, on se retrouve comme eux : des gosses à qui on donne à voir le spectacle le plus fascinant, le plus parfait qui soit, bouche ouverte et légèrement baveux. Le pied. Spielberg est un grand y compris dans ses films inconnus, gloire à lui au plus haut des cieux.