Toujours difficile de s'attaquer à un film que tout le monde connaît par coeur, surtout quand c'est pour hurler avec les loups : voilà l'achétype du film de divertissement parfait, et c'est comme si Spielberg inventait le moule du genre, imposait les règles du jeu de l'efficacité américaine pré-numérique. Le film est impeccable, à tous les postes, et même quand il ne l'est pas (les effets spéciaux), Spielberg dépasse la contrainte pour inventer d'autres façons de faire monter l'angoisse. Son requin mécanique est tout pourri ? Qu'à cela ne tienne, on ne le montrera qu'au bout d'une grosse heure de jeu ; et avant ça, on ne fera que le symboliser par la musique (deux notes, et Williams renouvelle le thème de Psycho), ou par le remplacer par la caméra subjective, ou par retarder toujours et encore son arrivée. Spielberg (c'est ce qui le différencie des tâcherons qui oeuvrent dans l'entertainment aujourd'hui), est un cinéphile, qui a vu les oeuvres de Hitch, de Tourneur, de Corman : il sait que l'idée du danger est plus effrayante que le danger lui-même. Si son requin avait été parfait, il l'aurait montré à chaque plan, et Jaws aurait été nul.
Les recettes de l'angoisse sont toutes dans ce film : l'intrusion de la monstruosité dans la vie domestique et dorée du Rêve américain, la mort qui frappe aveuglément et sans raison, cette façon impeccable de faire monter très lentement la tension, de désamorcer les plans les plus traumatisants par l'humour, de nous envoyer sur de fausses pistes juste avant de nous faire bondir. Techniquement, c'est vraiment du très grand savoir-faire, avec une préférence bien sûr pour ce fameux zoom compensé lorsque Roy Scheider se rend compte de la première attaque de requin devant ses yeux, trouvaille géniale qui représente à merveille la terreur qui s'empare de lui. Chaque scène a son lot d'inventions, et d'idées : la première apparition physique du requin, image fugitive complètement inattendue ; le très beau découpage des scènes de plage, qui permet de toujours se situer dans l'espace, de toujours savoir qui est où et ce qu'il encourt comme danger ; les dialogues, drôles et fins, entre les trois marins ; les acteurs, parfaitement dirigés...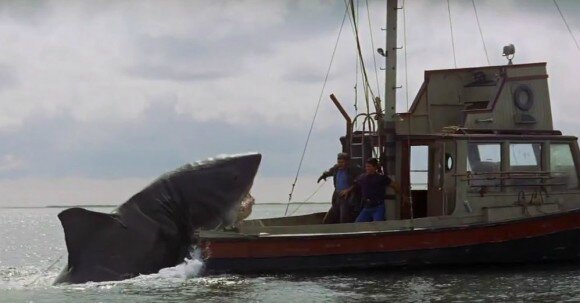 Admettons que ce qui empêche Jaws de rentrer dans le trio de tête des Spielberg-movies est sûrement son absence de fond. Le film est un peu creux, pour tout dire, et ne raconte pas grand-chose. On pourra toujours y chercher une variation autour de Moby Dick, avec ces hommes obsédés par le mythe du requin blanc ; ou une destruction en règle du rêve américain ; ou une sorte de symbolisation des traumatismes de la guerre (un des personnages revient de la guerre de Corée, au cours de laquelle il a subi des attaques de requins ravageuses) ; voire une prophétie sur les séquelles d'Hiroshima (dans le même monologue, on apprend que le gars avait livré des éléments de la bombe atomique, et ce requin démesuré pourrait finalement représenter un monstre mutant à la Godzilla)... Mais tout ça, c'est si on est bien lunés : je pense plutôt que Spielberg n'a voulu qu'amuser le public, et a oublié de le faire réfléchir, comme il saura le faire plus tard dans ses perfections (Close Encounters of the third kind, E.T. ou War of the Worlds). Mais Jaws reste une merveille de mise en scène, efficace et fun, vouée entièrement au plaisir, et il faudrait faire la fine bouche pour le reprocher au bon Steven. Nickel.