Que ceux qui n'aiment pas Nick Cave arrêtent ici la lecture de ce texte (et quittent ce blog : si vous n'aimez pas Nick Cave, nous n'avons rien à nous dire) : le film lui est tout entier consacré, et pendant 1h45 on a l'impression de côtoyer le maître, voire d'entrer carrément dans sa peau tannée par les ans et les drogues. Ni documentaire ni fiction, c'est une tentative de renouvellement du genre du portrait, et on ne peut que saluer les louables efforts de Forsyth et Pollard pour trouver une nouvelle grammaire, une nouvelle forme pour dessiner la personnalité complexe de leur sujet.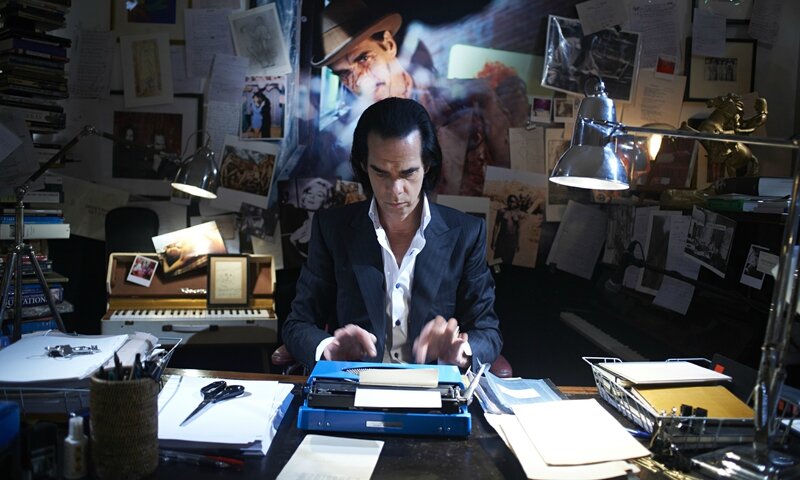 Soit donc le 20000ème jour sur Terre d'un vieux chanteur néo-punk passé par tous les excès et toutes les expériences de la vie. On prend Cave au saut du lit, et on va le suivre jusqu'au plus profond de la nuit. Entre temps, on aura assisté à une journée "ordinaire" de son existence : errance sur les plages de Brighton, conversations avec son psy, répétitions, rigolades avec ses potes des Bad Seeds, concerts, reconstitutions de sa vie pour les besoins des archives, etc. Bonne occasion de tenter de rendre compte de toutes les inspirations du gars, et qui évite les sempiternelles interviews à base de "c'était un gamin très éveillé" ou les fatigants coups de destin soulignés par des violons. Beaucoup plus qu'à la vie de Cave, les réalisateurs s'intéressent à la création elle-même, tentative rare et payante : la construction d'une chanson (en l'occurrence, la splendide "Push the Sky away") est filmée pas à pas, des recherches textuelles aux mini-arrangements jusqu'à la scène. C'est ce qui manque souvent sur les docs concernant la musique : arriver à filmer celle-ci, depuis la fameuse et irreprésentable "inspiration" jusqu'à ses détails techniques. Ce film y parvient souvent, et les meilleurs moments sont sans conteste ceux purement musicaux, où on voit notre Nick s'échiner sur un piano, tenter des inflexions différentes, diriger une chorale d'enfants pour les choeurs, ou travailler avec ses acolytes par petits signes discrets.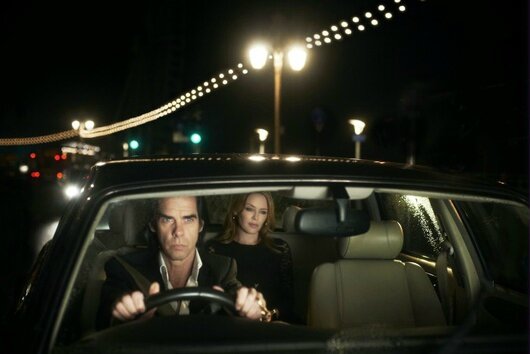 On aime pourtant aussi beaucoup ses séquences où le gars parle, en roue libre dirait-on : anecdotes sur Nina Simone, souvenirs amoureux (une belle séquence caraxienne avec Kylie Minogue), ou introspection face au psy. On y entend de très belles sentences sur l'univers du gars ("Dès que je comprends une chanson, je l'abandonne") ou sur sa vie de frasques ("Avant j'allais le matin à la messe pour expier mon usage de la drogue, puis l'après-midi je me droguais. Ma femme m'a dit : C'est très dangereux, arrête la messe tout de suite.") On perçoit vraiment toute l'intelligence du gars, sa sensibilité. Quand dans les séquences finales de concert on découvre ce que donne cette sensibilité sur scène, on est bluffé : les réalisateurs ont parfaitement réussi à capter, en quelques plans, à travers la musique, les gestes et la mise en scène, ce qui unit Cave à son public.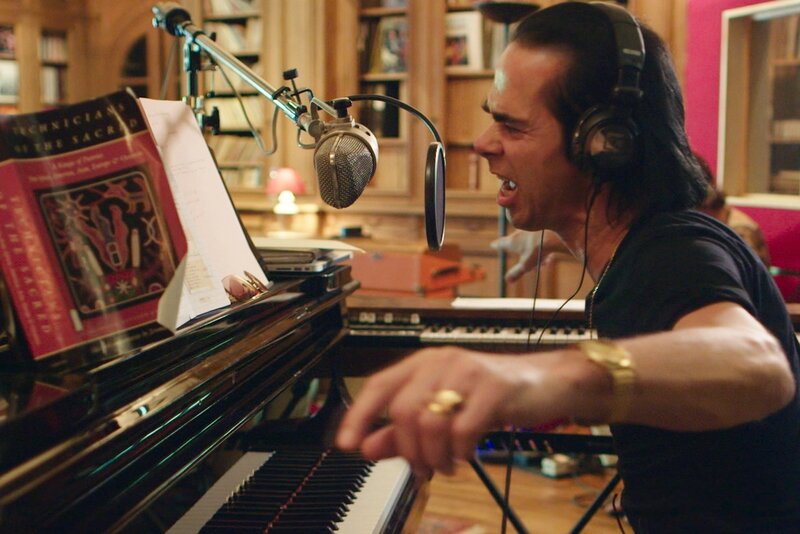 Tout ça est construit parfois un peu "clinquant", mais même quand les gusses se laissent aller au simple dispositif spectaculaire, le film reste agréable, intéressant. C'est que leur sujet est d'une modestie totale, sachant reconnaître toutes ses limites et ses défauts, et acceptant sans problème d'aller fouiller dans les aspects peu reluisants de sa mémoire. Il faut sûrement être fan pour aimer réellement ce film, qui ne s'intéresse qu'à la grandeur de Cave, mais si vous l'êtes, je vous présente un des docs les plus originaux et les plus profonds sur la musique rock. Amen, and push the sky away.