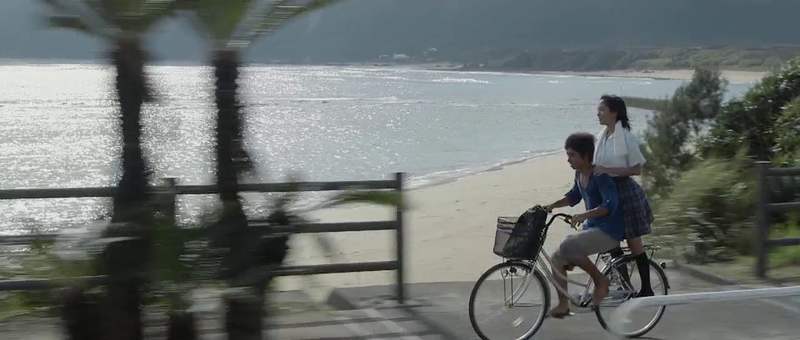 Naomi Kawase a toujours eu tendance à me laisser comme deux ronds de flan, les bras ballants - bras que j'ai recollés hier - (dans le genre époustouflé, baba, béat) et elle signe une nouvelle œuvre, pointilliste, qui touche une nouvelle fois au coeur. Avouons que la Nippone prend tout son temps pour nous narrer ce "joli conte initiatique de deux jeunes gens le temps d'un été - ou d'une tornade" mais que chaque petit coup de pinceau, chaque cadre, finit par faire un tableau d'une grande douceur, d'une belle justesse, d'une vraie beauté. Elle est volontaire, jeune, amoureuse mais en proie à l'incompréhension face à la maladie inexorable de sa mère. Il est timide, jeune, amoureux mais en proie à l'incompréhension face aux "infidélités" de sa mère (et ce alors même que ses parents sont séparés depuis un bail). Les deux jeunes gens se tournent autour, enterrent la terre entière lorsqu'ils sillonnent ces routes de bord de mer en vélo - c'est beau d'être jeune, insouciant, les cheveux aux vents avec néanmoins des regards déjà tellement graves... - mais semblent avoir du mal (enfin surtout lui) à "passer à l'acte". Il est question de désir, de mort, de pardon, de nature, de cette mer, ou plutôt de ces mers (mères, of course, like I said yesterday) qui peuvent se révéler aussi tempétueuses, remuantes, que calmes, insondables.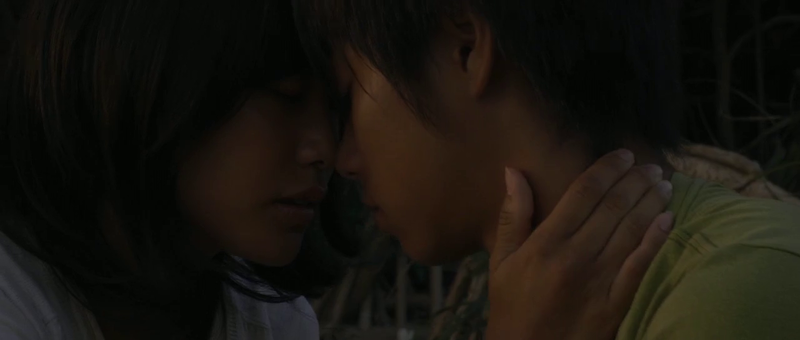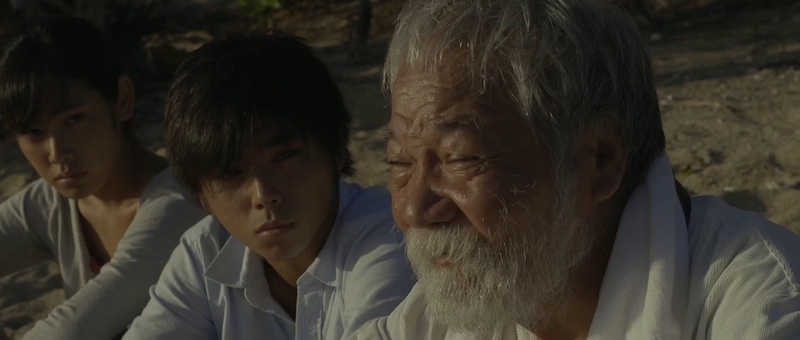 On le sait depuis son premier film, Kawase est prodigieusement douée pour capter les mouvements, les bruits d'un paysage, le geste d'une main qui se perd vers le ciel, un air de chanson aussi vertigineux que le plus pur des silences. Des choses minuscules qui s'imprègnent peu à peu dans notre regard et qui finissent par nous faire frissonner l'échine. Still the water est prodigue en scènes qui laissent le souffle court : la plongée sous-marine de notre jeune sirène toute habillée (qui fera écho à celle de la jeune fiancée mise à nu… sur la fin), des balades en vélo ébouriffantes, des premiers baisers adolescents intimidants, la mort d'une femme sur un ultime air de musique, le temps d'une ultime danse minimaliste (je vois déjà Gols, à mon chevet, s'attaquant à un solo de Steve Lukather ou de Gary Moore alors même que je lance un dernier râle - il n'est pas sûr d'ailleurs qu'il y survive lui-même), les sages paroles d'un vieillard qui prend cette jeunesse sous son aile, la colère d'un jeune homme alors même que la tempête fait rage (comme ici à ce propos : on a depuis deux jours un vent à décorner les gnous comme dirait mon comparse. Pourtant François est parti). Difficile d'être plus en phase avec cette oeuvre, avec tous ces moments précieux que Kawase capte avec un tact infini, une pudeur féminine et narusienne - l'essentiel est que je me suive, hein.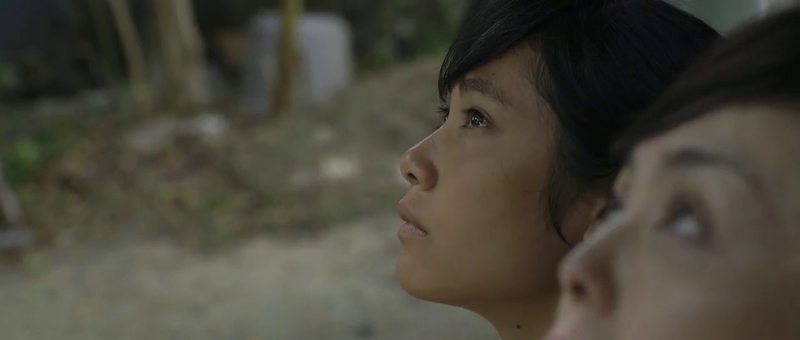 Le film est avare en mots mais point en regards et on se laisse charmer pendant deux heures par ces non-dit que l'on comprend à demi-mot (...) par ces regards lourds de sens faciles à décrypter. Certes, on ne peut pas dire que les événements ou les rebondissements se bousculent au portillon mais cet objet cinématographique au fragile équilibre (tout comme la jeune fille à l'arrière du vélo... sa chute et ses mots... plutôt ce mot qu'elle a... rololo) parvient, jusqu'au bout, à toucher juste (les deux dernières séquences avec nos deux adolescents sont une tuerie en soi). Bref un film qui émeut en douceur, un réel ptit bonheur pour tout naomiphile. (Shang - 01/09/14)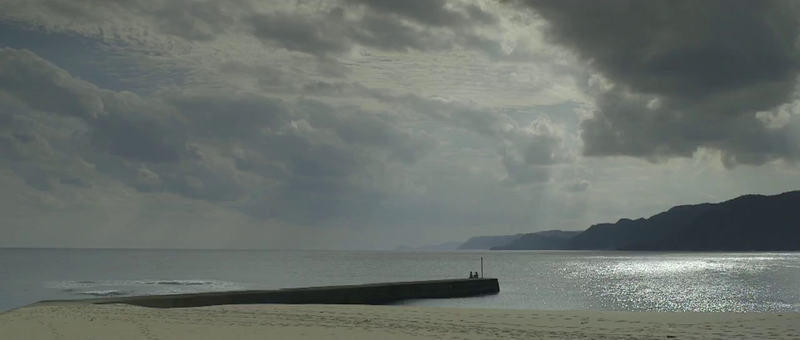 ---
Popopo je suis mon camarade sur toute la ligne, en y ajoutant pour ma part quelques seaux de larmes. Encore plus sensible, si cela est possible, que ses films précédents, mais plus simple, plus épuré, moins expérimental dans la narration, Still the Water (un titre anglais pour une fois subtilement choisi, on dirait du Valéry) vous attrappe là où ça fait pleurer et vous fait toucher du doigt la beauté pure des choses. Ca parle, oui, de mort, et aussi de vie, et aussi de naissance. Dans ce conte initiatique, tous les âges de la vie se mèlent, et on assiste à tout ce qui fait les bonheurs et les douleurs d'une existence. C'est surtout devant la mort que nos deux ados se tiennent avec le plus de désarroi : celle, d'abord d'une pauvre petite chèvre que la vie abandonne peu à peu avc son sang qui coule, moment absolument génial, suspendu, plein de terreur et de douceur à la fois ; puis celle de la mère, dans cette séquence qui m'a laissé exsangue (j'ai noté que tu veux du Gary Moore pour ton agonie, mon Shang, mais ma chaine hifi prend pas les 78 tours) : tout le Japon est là, avec son zen, ses côtés un peu ridicules, et surtout cette modestie, cette pudeur, ce respect face aux choses qui nous dépassent. La famille réunie autour du lit, face à l'océan et au grand banian, danse et chante en accompagnant le dernier souffle d'une femme, c'est d'une justesse incroyable (ah ce dernier souffle symbolisé par une petite larme qui se transmet sur le visage de la jeune fille !). Tous ces grands thèmes (mort, sexe, angoisse existentielle) sont toujours placés au sein de la nature, qui, comme le dit Shang, est captée dans ses infinies nuances. De la métaphysique pure, disons, mais avec ce ton zen qui empêche toute emphase, qui ne tombe jamais dans le mélodrame ou la lourdeur. Comment mourir, comment vieillir, comment grandir, comment s'aimer, comment pardonner, autant de questionnements qui trouvent leur réponse dans le roulis des vagues, le vent dans les arbres ou le sourire d'un homme triste (grand acteur que celui qui interprète le père).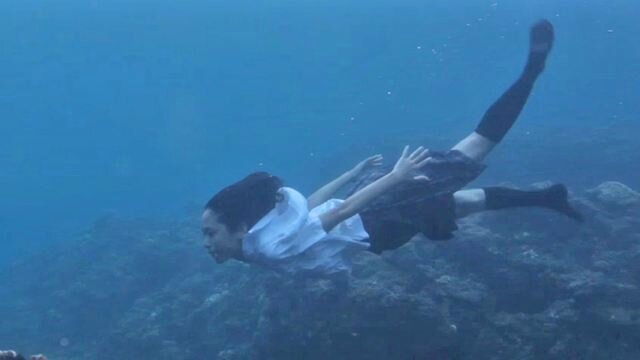 La mise en scène n'est pas la seule à être géniale, même si c'est à cette hyper-sensibilité du regard qu'on est le plus sensible : le scénario aussi est parfait, avec cette savante alternance des points de vue entre les deux ados (aucun des deux ne prend jamais le pas sur l'autre, on suit vraiment en parallèle les deux "aventures"), avec ces dialogues très fins, avec ce côté mystérieux qui grandit en fond (ça commence par un homme retrouvé mort dans la mer, qui servira de toile de fond toute de noirceur dans cette histoire de découverte sentimentale). Kawase raconte simple et droit, densifiant l'épure de son écriture par un regard profond et ravageur sur notre bonne vieille planète. Un petit chef-d'oeuvre modeste, excellente Palme d'or 2014 (ah non ?) (Gols - 08/09/14)