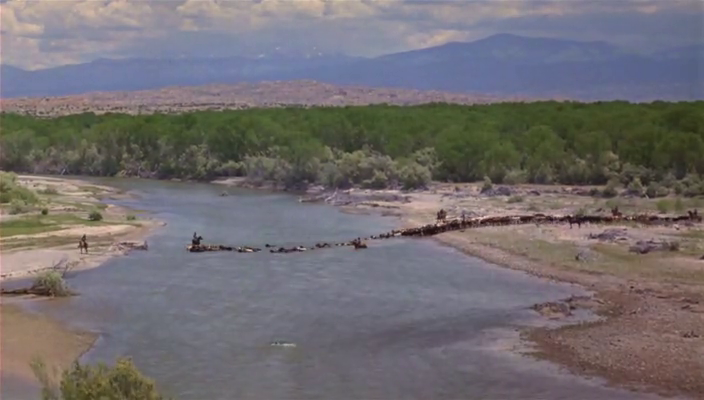 Robert Duvall et Tommy Lee Jones sont les deux attractions principales de cette mini-série télé basée sur les bouquins de McMurtry : l'un n'a pas la langue dans sa poche (le Robert se choppe un accent de circonstance et passe son temps la bouche ouverte - sûrement un problème de mâchoire, avec l'âge), l'autre étant plutôt mutique mais capable d'explosions de colère qui déménage. Nos deux hommes entreprennent de mener un troupeau de bestiaux du Texas au Montana (une sacré trotte) avec une poignée d'hommes (dont Danny Glover, pas mauvais non plus) : des histoires de cœur (une pute aventurière qui va morfler (Diane Lane) et une ancienne conquête (Anjelica Huston - ah oui, il y a du beau monde...)), des bandits de grand-chemin plus ou moins minables, des indiens vénères... autant de personnages qui vont venir les soutenir ou les saborder au cours de cette grande aventure. Parallèlement, on suit les traces d'un homme qui part avec son fils sur les traces de sa femme : le gazier va aller de Charybde en Scylla et connaître bien des désillusions.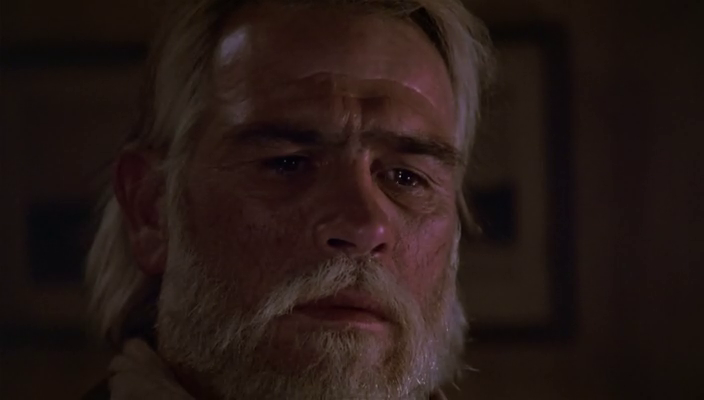 Bon, la série est dans l'ensemble de bonne facture (grands espaces joliment filmés, acteurs à la hauteur...) même si deux trois effets spéciaux (lors d'intempéries notamment) sont un petit peu cheap. Les deux vieux briscards Duvall et Jones, qui jouent sur le métier, finissent par nous toucher sur la longueur (6 heures, c'est pas non plus infernal) en particulier lors de l'ultime épisode qui va souligner leur évidente complicité - séquence émotion, attention. Entre deux traversées de rivière plus ou moins ardues (la terrible attaque des serpents à la fin du premier épisode, brrr), nos deux amis bourrus évoquent leurs souvenirs sous les yeux béats des petits jeunes qui les accompagnent. Heureusement, il y a quelques attaques d'Indiens et de sale types pour venir un peu nous secouer après quelques plages de discutes un peu molles. Ces soudains accès de violence viennent pimenter cette longuette promenade à cheval.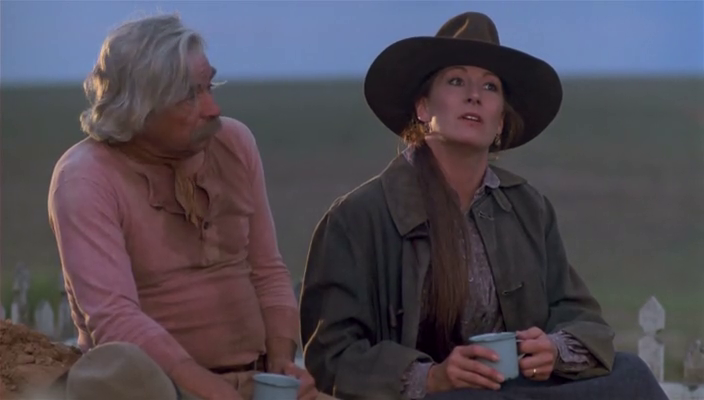 L'amitié virile, les plans sentimentaux qui partent en quenouille, les difficiles rapports père-fils (Jones qui n'ose reconnaître son fils par peur de s'abaisser au niveau de la condition « humaine » - lui, cette légende vivante…), la difficulté de survivre en milieu hostile (mieux vaut être prompt de la gâchette, du couteau ou des poings pour ne pas finir en charpie... un cowboy se doit d'être trempé dans l'acier, sûr) autant de thèmes qui sont sympathiquement traités au cours de cette production télé relativement honnête. Parfait pour un quatuor de soirées où on n'a pas trop envie de se prendre la tête. We go down to the river...