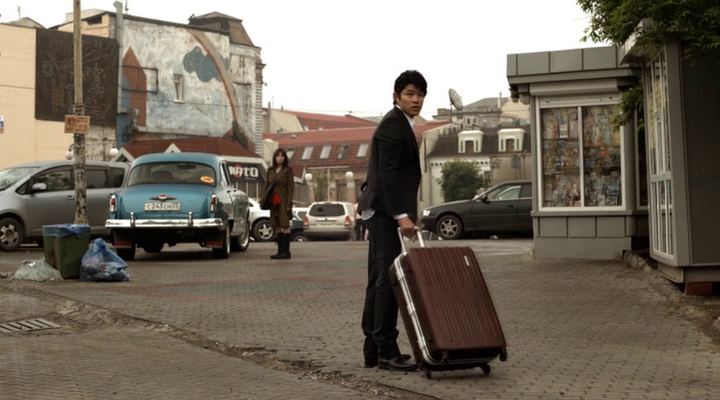 Le gars Kiyoshi ne filerait-il pas un mauvais coton ? C'est ce qu'on est en droit de se demander après la vision de ce très mignon thriller tricoté à Vladivostok autour de la starlette nippone Atsuko Maeda. Rien de bien méchant a priori dans cette historiette : une innocente donzelle japonaise poursuit avec sa grosse valise un jeune nippon dans cette ville russe peu amène ; elle l'a rencontré lors d'une soirée arrosée au Japon, voilà tout, et elle a l'air sacrément têtue. Comme notre homme a des accointance avec la mafia russe, elle ne tarde pas à se retrouver dans un sac abandonné au milieu de nulle part. Elle ne se démonte pas, la coquine, et se fait embaucher dans un resto tenu par un jap où travaille une ravissante serveuse chinoise (ça mange pas de pain, certes). Elle va retrouver la trace du gars alors que ce dernier deale des bidules nucléaires avec des mafieux... Notre innocente jap va alors se révéler point si innocente que cela, mouarf mouarf mouarf...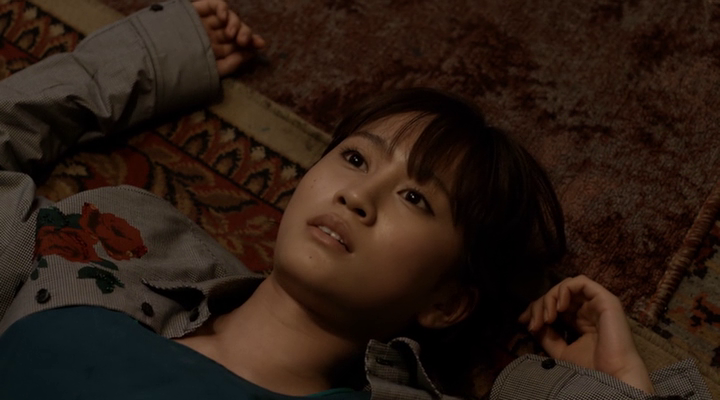 What the fuck, aurais-je presque envie de m'exclamer, à l'image du clip final (oui un clip, mes amis, avec l'Atsuko remontée comme une pendule qui balance sa chansonnette dans un micro) qui fait partir définitivement le récit en quenouille. Est-ce un truc féministe pour midinette ? Une blague ? Une commande ? Des fins de mois difficile ? Une histoire de coucherie ? Un délire touristique du Kiyoshi qui avait envie de poser sa caméra loin de son île ? Malgré les quelques jolis mouvements de caméra et les sympathiques courses poursuites in the city, on reste aussi sec qu'un sushi de 4 jours devant la chose. Bah ça se regarde me direz-vous, comme un bon vieux téléfilm pendant la sieste. On se demande tout de même comment un type qui a réalisé Tokyo Sonata et j'en passe a pu se laisser séduire par une histoire aussi tarte. Kiyoshi, oh mon bon Kiyoshi, reprends-toi nom de Zeus ! (Shang - 29/07/14)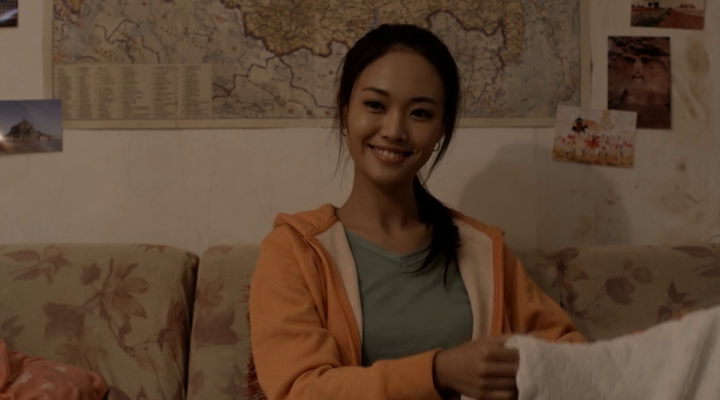 ---
Ah oui, ça sent la commande. Difficile en effet de s'enthousiasmer sur cette mouture kurasawaniste assez floue, qui ressemble plus à un téléfilm pour fillettes en fleurs qu'à un de ces films glacés du maître. Guère de traces du gars Kiyoshi là-dedans, qui semble obéir à un cahier des charges dont il se tape un peu, l'esprit ailleurs et le style plié dans l'armoire. On se demande un peu ce qui a pu le pousser à accepter le projet, et je peux peut-être apporter un début de réponse : Vladivostok. La ville semble un décor idéal pour KK, avec ses friches à moitié bouffées par la forêt (comme dans le sous-estimé Real), avec ses longues enfilades de rues tristes (comme dans le très beau Shokuzaï), avec ses restaurants déserts (comme dans le chef-d'oeuvresque Séance), avec ses intérieurs grisâtres (comme dans l'ensemble de la carrière du maître, qui adore le gris, le marron). Dès le premier plan, peut-être le plus beau du film, on se réjouit : une fille qui passe de l'avant-scène au fond de l'écran, puis revient au premier plan alors qu'elle poursuit une voiture, plan muet mais très sonore, long et distancé comme sait les réussir le gars ; on se dit que la Russie sied bien au maître. Sûrement pour elle qu'il a accepté de s'embarquer dans cette galère, à mon avis.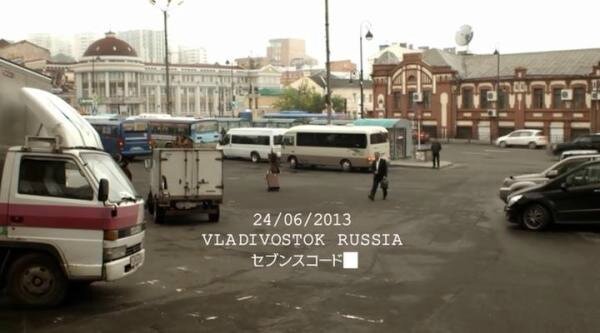 Remarquons aussi que le sujet et la comédienne principale (la palôte Atsuko Maeda) ne sont pas sans rappeler les premiers films (érotiques) de KK et que son attrait pour les bluettes n'est pas nouveau. Mais celle-ci est vraiment fade, dans sa narration et dans ses acteurs. Une histoire fabriquée n'importe comment, qui part un peu dans tous les sens, et qui semble ne tendre que vers ce fameux final : le clip de la donzelle, qu'elle sussurre avec moult conviction alors que ses paroles (sans parler de la musique) sont totalement consternantes : "Ouaiiis, tu vois, l'amour c'est le septième coooode", hein ? Tout le reste du bazar n'est qu'une illustration de la chose. Le retournement de situation juste avant lui tombe comme un sashimi dans le saké, ça cause de module nucléaire en se transmettant des têtes d'ampoule, c'est super-fumeux. Je lui donne encore une chance au niveau du scénario (oui, je vais le revoir pour tenter de comprendre vraiment) à cause de cette ultime scène très mystérieuse (une explosion de bagnole qui laisse perplexe), et qui pourrait peut-être amener le film vers une toute autre piste : celle de l'amour fou, la première tendance du film (une gonzesse qui traverse le monde pour suivre un homme qu'elle n'a vu qu'une fois et dont elle est folle) s'avérant finalement peut-être la bonne. Peut-être est-ce un film sur la passion dévorante, sur l'impossibilité de se séparer d'un amour, ce genre de chose... Si c'est le cas, comptez sur moi pour y revenir.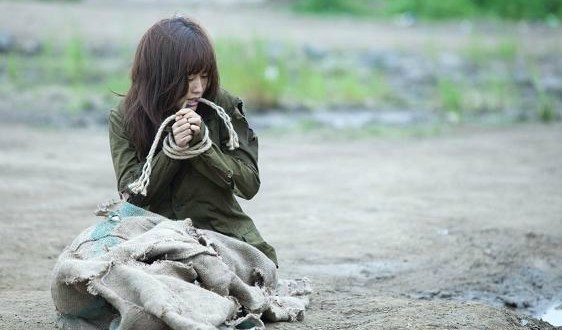 Quant à la mise en scène, même si elle est la plupart du temps assez terne, elle comporte quand même quelques bons moments. Par exemple dans cette utilisation toujours impeccable des profondeurs de champs, surtout dans des décors aussi tristes, et pris dans des cadres de portes cadrés de façon très originale. J'aime bien ces plans immédiatement reconnaissables comme étant kurosawaniens, où il dispose un figurant en amorce au premier plan, et place l'essentiel de la scène en fond, dans une porte à côté de lui ; souvent le personnage principal regarde hors-champ, comme si la chose importante se cachait à notre vue. La scène de baston finale, elle aussi, est vraiment très joliment mise en scène, avec ses plans longs qui laissent se dérouler complètement les actions, avec cette brutalité sèche dans l'exécution, cette frontalité. Rare de voir ce type de séquence aussi clairement monté. Pour le reste, j'admets avec mon camarade que voilà un KK bien inutile, parenthèse maladroite dans une filmographie quasi-irréprochable. (Gols - 01/08/14)