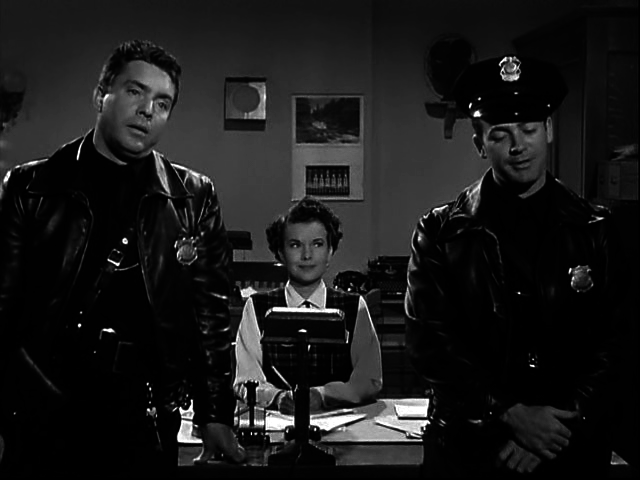 Bonne petite surprise que ce noir pêchu de Gordon Douglas : d'un côté, deux potes policiers qui s'estiment (Edmond O'Brien, Monsieur flic, et Mark Stevens, jeunot plus rigolo) et une donzelle jolie comme un coeur (Gale Storm, would you marry me ?), de l'autre un petit truand rital (Gale Robbins as Terry Romaine (...)), un nerveux de la gâchette acoquiné avec une charmante chanteuse de charme. Jules et Jim vs Tirez sur le ravioli en quelque sorte ? Mouais c'est un peu tiré par les cheveux. N'empêche qu'on assiste à la fois à des scènes avec une ambiance à la coule avec flirt, baisers volés et poilade en trio mais également à de nombreuses séquences de pur film d'action (une belle scène ouverture qui met tout de suite dans l'atmosphère avec l'interception musclée de deux malfrats, comme dirait Jean-Pierre Pernaut, dans un entrepôt ; moult poursuites qui speedent ; un final qui sent la poudre). Bref, un noir qui remplit le taff.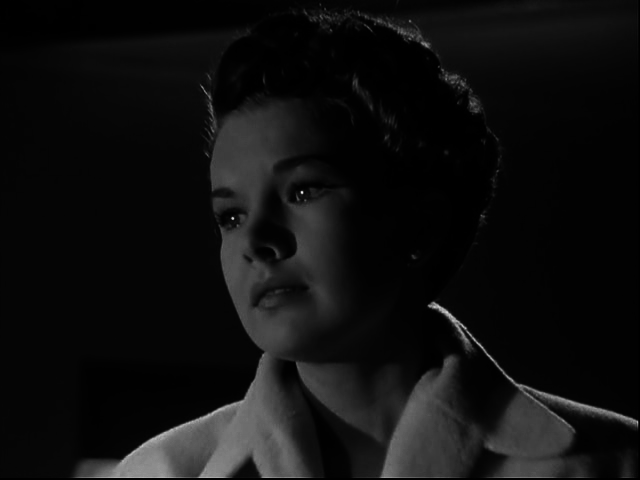 Stevens et O'Brien font des rondes de nuit, comme l'indique gentiment le titre, mais aussi, parfois, de jour (c'est jamais passionnant, la journée, dans les films noirs : au mieux tu peux arrêter des gamins qui se la pètent mais ça reste mou du genou). Stevens bloque sur la voix d'une nouvelle assistante radio ; il est persuadé qu'une telle voix ne peut correspondre qu'à un visage d'ange. Lorsqu'on découvre Gale Storm, on se dit non seulement qu'il a raison mais qu'il y a aussi du coup de foudre dans l'air (get the joke ?). Stevens semble mieux parti que le gros O'Brien un peu empoté et obsédé par son taff. La jeunette, elle, botte en touche dès le départ : fille de flic killed in action, il est out of question qu'elle se tape a man in black. Les deux font le forcing (ils viennent s'installer dans l'appart adjacent - un côté Antoine et Colette ? Ouais, bien joué) et finissent par toucher la belle en plein cœur. La séquence où la Gale emportée par un vent (de peur et de folie) se jette finalement dans les bras de son (futur) homme - et ce juste après une mission chaude comme le simoun - m'a fait littéralement monter les larmes aux yeux (j'ai un gros problème de lentilles actuellement, faut dire, et suis un peu chamallow affectivement - je viens de ressusciter mon chat après deux jours de combat mais ça reste entre nous, of course). O'Brien tire un peu la tronche mais reste beau joueur. Stevens ne touche pas terre mais une balle dans l'œil va l'y ramener ; oui, flic, c'est un métier dangereux.
Douglas ose jouer avec les limites de l'insoutenable (...) (les femmes se prennent de sacrés baffes ce qui est toujours déplaisant - mais les deux hommes responsables de ces violences inadmissibles sont rapidement remis "à leur place" ; plus drôle, il tente la séquence de défenestration d'enfant ce qui marque toujours des points au niveau tension : vous me laissez tranquille ou je la balance ! Vas-y balance et après ?) et dessine des personnages féminins qui ne sont pas d'un block (la froideur de Gale battu en brèche par son romantisme ; l'aveuglement de la chanteuse rattrapé sur le fil par son sacrifice - elle ouvre enfin les yeux... dans le brouillard). On ne s'ennuie pas une minute dans cette petite chose rondement (de nuit) menée, le type en charge des décors, le gars Frank Tuttle, parvenant même à nous arracher un ptit sourire sympathique en mettant son nom sur le tableau noir - parmi la liste des policiers (toujours bon à prendre un private joke, très "new wave spirit" avant l'heure). Truffaut (aka the genius) a dû apprécier.
Noir c'est noir, là