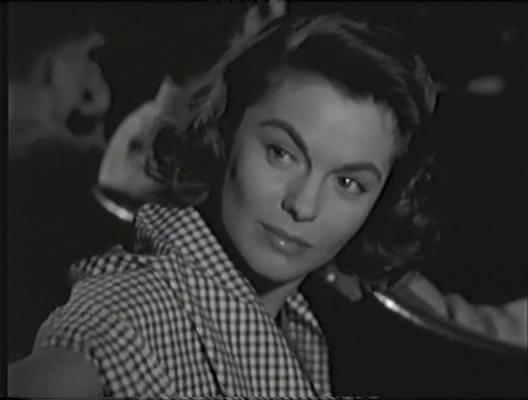 Il peut paraître un peu étrange en premier lieu de considérer The Return of the Texan comme un film sur l'enfance ; ce qui, ceci dit, prêterait moins à discussion c'est qu'il s'agit là d'un grand film, une œuvre une nouvelle fois absolument admirable du grand Daves. Oui certes, le pitch ne repose sur presque rien : un père, ses deux gamins et un vieux retournent sur leur terre. Il a perdu sa femme, ils ont des bouilles de gamins de films d'Ozu américanisés (je me comprends) et le vieux n'est autre que l'immense, l'incommensurable, l'extraordinaire Walter Brennan. Il est dans ce film to die for et trouve là sans doute l'un de ses plus grand rôle : qu'il boîte, qu'il chasse, qu'il pleure (Walter Brennan qui pleure, je ne pensais pas voir cela une fois dans ma vie), qu'il meurt, qu'il reprenne conscience, qu'il reparte à la chasse ou qu'il philosophe sur le sens de la vie, Walter fait son show, Walter est notre père à tous, Walter garde une âme d'enfant, Walter est notre benjamin… Le jeune veuf (Dale Robertson, un bon physique de jeune premier) quant à lui n'a rien d'expansif, c'est le moins qu'on puisse dire. Perdre sa femme semble l'avoir abattu à jamais, revenir sur ces terres (le dernier vœu de sa douce) peine à le rendre jouasse, lui qui voulait devenir quelqu'un en ville, travailler comme une mule pour faire vivre les siens semble son destin. Seulement parfois, quand on y croit plus, il suffit d'aller au cinéma et on tombe sur Joanne Dru. Et la vie peut éventuellement reprendre un sens.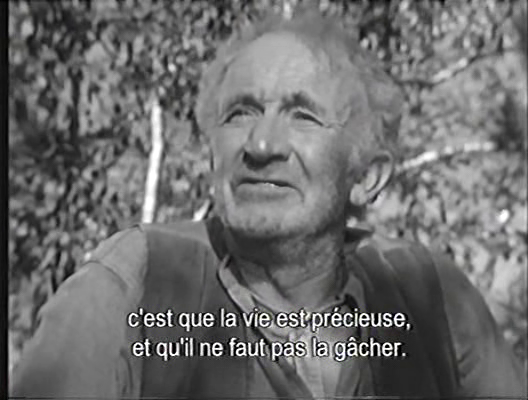 Notre ami Dale a les boules : il sait bien que c'est la seule personne qui peut le sauver mais ne peut s'empêcher pour autant de regarder en direction du passé. Ces gamins ne l'aident pas toujours, à vrai dire, puisqu'ils ne peuvent résister à l'envie de montrer à cette chère Ann (La Joanne) l'album de famille dans lequel s'étale à toutes les pages le souvenir de leur mère. Un veuf un peu coincé, des gamins un peu tortins et l'Ann, petite fiancée de toute la ville, de se mettre à douter. La désire-t-il vraiment nom de Dieu ?! Leur premier véritable échange en tête à tête partait pourtant sur de bonnes bases, le Dale avouant à la belle que cela faisait bien longtemps qu'il n'avait pas planter son soc dans la terre… Ann n'est pas dupe, la coquine, même si ce grand benêt n'a fait que dire inconsciemment ce qu'il devrait avouer tout de go en la prenant dans ses bras et en se penchant sur elle. Elle sent bien qu'il va falloir que le Dale décante avant qu'il avoue franchement qu'il l'aime, qu'il a besoin d'elle, qu'ils ont besoin d'elle. Et c'est là que les gamins interviennent, dirais-je.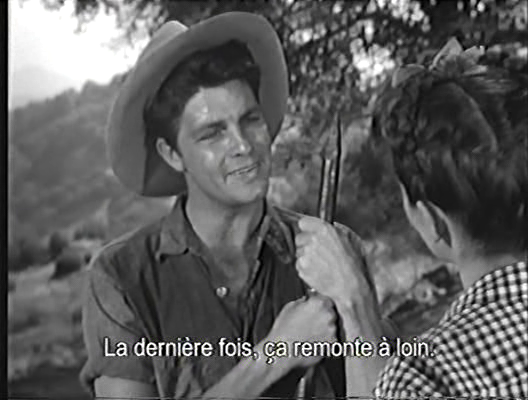 Dale n'est pas vraiment doué pour faire son numéro de charme, même s'il danse divinement la valse avec Ann, même s'il l'emmène, un soir de fête, à l'écart, même s'il va lui dire que… rah nan ça sort pas. Qu'il s'agisse du Walter (extraordinaire mais je l'ai déjà dit) ou des bambins, les déclarations d'amour envers l'héroïne fusent et elles ne sont point à demi-mot. Alors que le Dale reste comme une potiche quand il commet un impair (il met deux plombes avant de réagir et lui hurle de rester alors que l'autre a déjà fait deux bornes en voitures), les gamins, eux, savent lui montrer leur dévotion, savent où la trouver quand ils ont besoin, savent trouver les mots pour l'émouvoir. Ce sont finalement les seuls, avec ce grand gamin de Walter, qui peuvent sauver la mise, empêcher l'irréparable - Ann devant se marier avec un docteur bien gentil… On tremble comme une madeleine pendant tout le film et l'on pleure comme des gamins quand la délivrance (ou pas… je garde le suspense…) survient. Nous sommes tout émus comme si nous avions retrouvé grâce au Delmer notre âme d'enfant, notre folie d'enfant, notre espérance d'enfant. Un grand film sur l'enfance, je vous avais prévenus.