"- There's always so little time when we need it at the most"
- It's nothing new to us. We are always saying good-bye."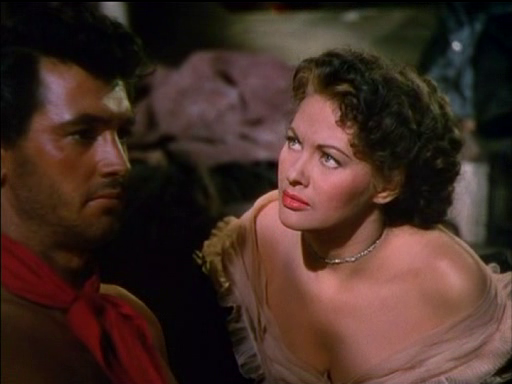 Voilà de quoi nous rabibocher un poil avec le grand Walsh qui a toujours un tour de passe-passe dans sa manche. De Manche, bien sûr, il est question (toutes les transitions sont pensées à l'avance) dans ce récit vaguement inspiré des Travailleurs de la Mer d'Hugo : Rock Hudson, le poitrail exposé et le regard affûté, fait de la contrebande entre la France napoléonisée et les British ; il se retrouve un jour, après moult incidents du destin, à transporter une belle au nom modianesque : Yvonne de Carlo. Celle-ci lui raconte des bobards pour l'apitoyer, ne pouvant lui confier de but en blanc qu'elle part en France pour espionner au nom des Anglais. Hudson enquête, se sent dupé et risque de faire foirer la mission de l'Yvonne en agissant sur un coup de tête - il la ramène en Angleterre pensant, le beau bêta, qu'elle espionne pour la France (quand tu vois la tronche de Fouché joué par Henri Guaino et celle de Napoléon interprété par Gérard Oury - un piège s'est glissé dans la phrase précédente, attention -, ça ne donne pourtant pas vraiment envie de défendre les Frenchy). Bref il se plante grave mais il aura l'occasion de se rattraper alors que Miss de Carlo de retour en France mais qui s'est bêtement trahie (elle est espionne comme moi tondeur de pelouse) est emprisonnée par Fouchet... But we know Hudson is always strong as a rock, of course, pour ne pas dire un récif. Un sauveur, quoi.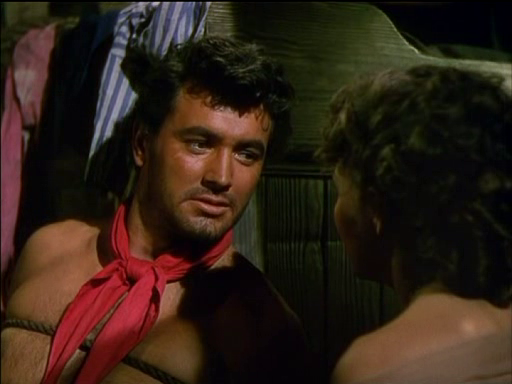 Ça sent les embruns dès le départ et le Walsh de multiplier les allers retours sur le Channel comme pour mieux profiter de ses deux héros filmés en nuit américaine au clair de soleil. Il sait déjouer les autorités française et pilote comme un chef, elle sait mentir aux hommes et les mener par le bout du nez. Rock est viril et bronzé, Yvonne est resplendissante toute maquillée. Portés par une musique inspirée rien ne devrait empêcher nos deux héros de tomber dans les bras l'un de l'autre juste avant le générique. Seulement il faudra passer, au préalable, par quelques épisodes de bondage, nos deux personnages se trouvant, curieusement, très souvent ligotés - comme si le monde entier complotait pour empêcher la réunion de nos deux sex-symbols. On ne les voit finalement que très peu ensemble - ils se disent par exemple bien 34 fois "adieu" - ce qui laisse présager une conclusion sous des violons exacerbés. Du romantisme donc mais aussi une pincée de bastons viriles (Hudson vs Maxwell Reed), d'aventures (la bien belle scène tragique du pigeon voyageur qui en rappelle d'autres...) et de complots finement déjoués (Yvonne se fait quand même blueser par un vieillard aussi vif qu'une taupe tuberculeuse - mais c'est ce renard de Fouché qui met la pression)... même si (oui, il faut un "mais") cela reste juste du saupoudrage (on a bizarrement l'impression que le film se momifie, Yvonne et Hudson se retrouvant souvent plantés entre les épais murs du château ou dans une geôle - heureusement que la musique tente gentiment de relancer la machine). Pour le glamour de nos héros et l'air marin, on va dire.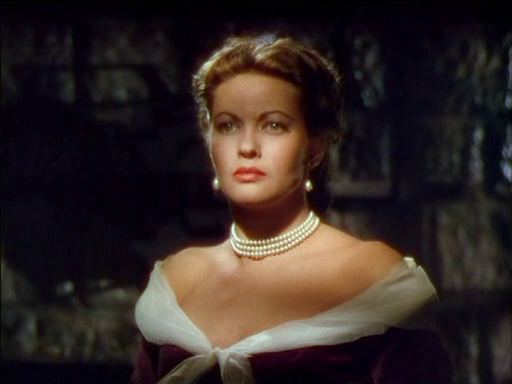 Walsh et gros mythe, là