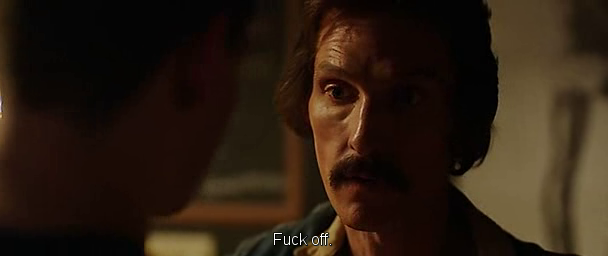 Après Cate Blanchett dans Blue Jasmine -assurée de l'Oscar, j'ai mes entrées -, on tient le meilleur acteur, Matthew McConaughey, ainsi que celui dans un second rôle : Jared Leto, you're my (wo)man. Je ne sais pas si c'est parce que je suis de bonne humeur (je vous conseille l'intégrale de l'album Born in the USA en live : il envoie de la patate douce) mais j'ai presque envie de dire un peu de bien d'un film américain récent. Ah oui merde, pas de bol, le réalisateur est canadien - je me disais aussi. N'empêche que malgré les ficelles, le côté parfois méchamment brouillon du scénario qui, à trop vouloir en raconter finit par partir un peu dans le décor - gros coup de mou au 2/3 du film, ce ptit film de Vallée mérite le détour (en descendant de la montagne, oui , bien sûr). Tout d'abord parce que McConaughey joue le rôle d'un type fort sympathique (prendre de l'AZT avec une bière et juste avant un rail de coke, si c'est mal - ne faites pas cela chez vous si vous êtes un enfant et que vous êtes tombé par hasard sur ce blog -, cela marque quand même des points) : atteint par le virus du HIV alors que la maladie venait tout juste de faire son coming out (nan c'est pas drôle et limite) son apparition, cet hétéro va avoir bien du mal à accepter les faits : nan, il n'est pas homo, nan il n'est pas drogué, alors comment se fait-ce ? Il va devoir cependant rapidement voir la (dure) réalité en face (alors même qu'il bande plus), ainsi que faire l'expérience de la solidarité de sa solide bande d'amis moustachus de rodéo : ils vont en effet tous l'ostraciser, les "faggots" pleuvant sur notre homme ébahi devant tant de conneries chez ses proches. Plus d'amis (ok), bientôt plus de taff (ok) mais surtout... pas de traitement. Après avoir testé à en crever l'AZT à haute dose, notre ami va aller de l'autre côté de la frontière pour faire la connaissance d'un étrange docteur... se révélant plus apte à le soigner. Persuadé qu'il tient là un vrai filon, Matthew décide de faire du business avec ce nouveau cocktail de médocs : c'est un peu dégueulasse et opportuniste (…), mais cela l'est sans doute un peu moins que la connivence entre certaines firmes pharmaceutiques et les institutions étatiques qui interdisent la commercialisation de certains médicaments… Après s'être battu contre la maladie (on lui donnait 30 jours - il vécut bien plus longtemps...), notre homme entame un nouveau combat titanesque contre le Power - mais toujours avec un petit rictus et son chapeau de cow-boy.
Matthew McConaughey a la positive et la fighting attitude et cela est toujours en soi plaisant. Il est entouré d'un Jared Leto hallucinant en partner (just for the business, hein...) fofolle et d'une Jennifer Garner en doctoresse pleine d'empathie (un peu pâlotte face aux deux gugusses, forcément). Matthew et Jared forment un petit couple peu ordinaire - pour ne pas dire impossible - mais cela va permettre entre autres à notre cow-boy de foutre 6 balles dans la tronche de ses préjugés - tout en continuant à s'envoyer de petites lampées de whisky entre deux voyages d'affaire et de rêvasser sur les strip-teaseuses entre deux déconvenues malad-HIV et administratives. Vallée traite assez frontalement son sujet (sex, drug and rodeo - cela reste PG 17, quand même...) et met une chtite dose d'humour et d'auto-dérision dans ses deux personnages principaux : c'est surement ce qui donne au final un peu de fraîcheur et de sève à ce genre de "biopic contemporain from a true story" généralement rapidement casse-couille car trop convenu. Pas de quoi sortir manifester dans le froid et la neige (je parle surtout pour vous autres) pour hurler à tue-tête qu'un Canadien mérite cette année l'Oscar mais ce petit film, notamment pour ses acteurs qui sont dans des rôles plus casse-gueule qu'ils ne le paraissent, mérite de trouver son public (je dis ça, je m'en fous, je ne touche rien). Un peu de fighting spirit et un verni d'humour sont toujours salvateurs. (Shang - 20/01/14)

---
Beurk c'est pour ma part à peu près tout ce que je déteste dans le cinéma américain : des acteurs grimaçants à la poursuite de l'Oscar, un sujet pour faire discuter les familles au repas du soir (thème : les groupes pharmaceutiques sont-ils gentils ? réponse : nan), une mise en scène dans les orties, un message de tolérance et d'amour enfoncé à coups de masse (les homos, ils peuvent être gentils), et un scénario qui égrenne à un rythme métronomique bien sage toutes les scènes qu'on attend : découverte de la maladie, refus, homophobie, rejet des collègues, renaissance, etc etc. C'est à peu près inexistant, quoi, malgré tous les afforts de notre McConaughey qui va véritablement au turbin : le gars bosse, y a pas à dire, convaincu que c'est en perdant des kilos et en se faisant poser une tache brune sur le front qu'il trouvera son personnage (la méthode Actor's Studio bouge encore, mais a du mal à convaincre en 2014), suant sang et eau pour être crédible. Résultat : ça se voit, c'est-à-dire qu'il met son point d'honneur à nous montrer ses efforts, un peu comme si un ébéniste nous amenait tous ses croquis préparatoires pour nous justifier ses heures de travail.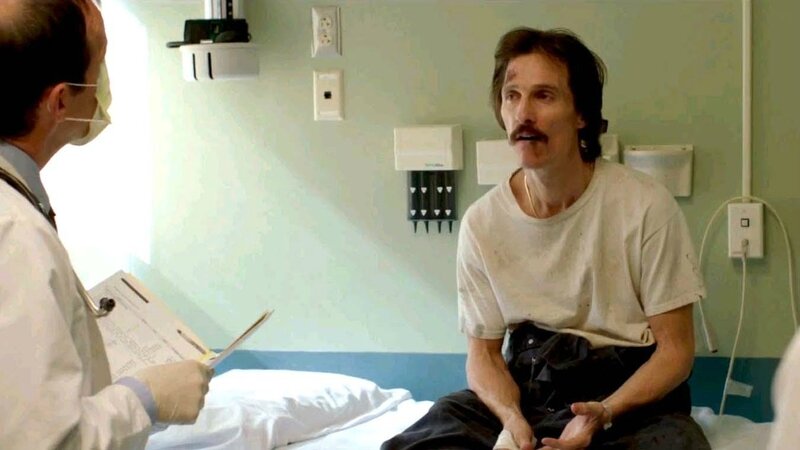 Reconnaissons que le personnage est assez intéressant par son ambiguité : il n'a ni tort ni raison, et le film n'est pas bêtement manichéen. Il n'est dit nulle part que le héros est sur la bonne voie, et son combat contre l'AZT pourrait bien être en fait un acte absurde et dangereux. Un texte indique judicieusement à la fin que le produit est efficace combiné avec d'autres, et tout le monde est en quelque sorte coupable. Mis à part cette jolie doctoresse, seul personnage purement positif et empathique. Ce petit ton mesuré est la seule qualité de ce film américanissime, daté et laborieux. (Gols - 15/08/14)