Moi aussi j'ai droit à mon film Sundance, y a pas de raison. Bon, Baumbach m'avait laissé de marbre avec The Squid and the Whale, et Frances Ha, je le précise d'emblée, ne va pas beaucoup plus loin. C'est de la chronique rigolote du quotidien, empêtrée comme il se doit dans la réalité, mais qui se tient à 43000 kilomètres de celle-ci. On essaye de nous faire croire à un réalisme social plein de justesse, on est en fait dans la gentille description d'une vie rêvée. En l'occurence celle de Frances, jeune femme qui a du mal à mûrir et à grandir : elle continue à faire des vannes à deux balles avec sa copine, à pisser dans le caniveau après les soirées arrosées, à ne pas trop savoir ce qu'elle va faire de sa vie et à changer d'adresses comme de coups de coeur, une pérégrination qui forme le découpage du film (à chaque nouvelle adresse, un nouveau chapitre, jusqu'au plan final sur une boîte aux lettres peut-être définitive).

C'est très amusant de regarder cette adulescente aller de situations croquignolettes en situations drolatiques. Baumbach a indéniablement le sens du minuscule, de ces petites anecdotes sans gravité qui déclenche en même temps le rire et une émotion délicate. La comédienne, Greta Gerwig, est délicieuse, bien qu'un peu crispante à la longue, et rend parfaitement compte de cet entre-deux où elle se trouve, l'envie de grandir et le goût pour la légèreté de l'enfance. Elle est maladroite, impossible, brumeuse, mais très attachante et surtout drôle comme peuvent l'être ses homologues de la comédie américaine actuelle. Moins trash, moins insolent que dans la Appatow-school, Baumbach compense sa gentillesse par une écriture pleine de mélancolie, sorte de Woody Allen en plus feutré, disons. Il est en plus très attiré par le cinéma français, le bon, et truffe son film de petites références, à Truffaut, à Godard, à Eustache, et bien sûr à Carax avec cette scène-hommage à celle de "Modern Love" de Mauvais Sang. Ca donne une patine rétro à ce film qui se passe pourtant aujourd'hui, effet augmenté par le noir et blanc magnifique de Sam Levy.

Une sucrerie, quoi, ou plutôt une sucrette, tant le film, à force de modestie, se fait un peu light. C'est agréable sur le moment, ça s'oublie aussitôt, c'est aussi consistant qu'une fraise Tagada, et il est vrai qu'en sortant, on a encore bien faim. Mais bon, allez, pour une fois, reconnaissons que ce petit machin vous fait passer 90 minutes sympathiques, et fermons les yeux sur le fait que ce cinéma-là... n'a pas beaucoup d'intérêt. C'est ce qui s'appelle une opinion de Normand. (Gols 21/09/13)
---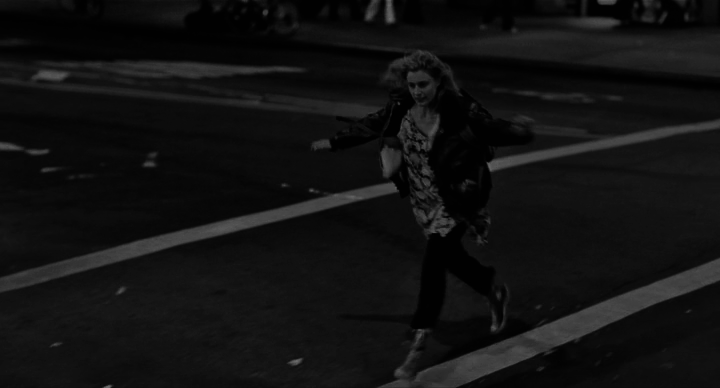 Je me faisais une petite joie secrète de découvrir cette nouvelle oeuvre de Baumbach auréolée de bonnes critiques... J'ai malheureusement trouvé cela aussi creux qu'une huître morte - je peux avoir parfois la main plus lourde, pour ne pas dire palourde, que mon collègue... Ah pour être léger c'est en effet léger... Heureusement qu'il y a la musique de Delerue pour donner une petite note de nouvelle vague vintage mais dans le fond, il ne demeure pas grand-chose à sauver... L'héroïne n'en branle pas une, passe un week-end à Paris... en passant la moitié du temps à dormir l'autre à s'emmerder (pourquoi pas), tente malgré tout de garder le sourire malgré les petites emmerdes quotidiennes qui s'accumulent dues en grande partie au manque de thune (jusque-là, on se dit "le portrait d'une loseuse moderne"... on n'est pas contre) et à la fin... ELLE REUSSIT SON REVE !!??? Ce n'est pas pour faire les grands moralisateurs mais en gros pour Baumbach : le moins tu en fais, le plus tu mets de chance de ton côté pour percer dans ce que tu aimes... La logique en soi m'échappe mais passons...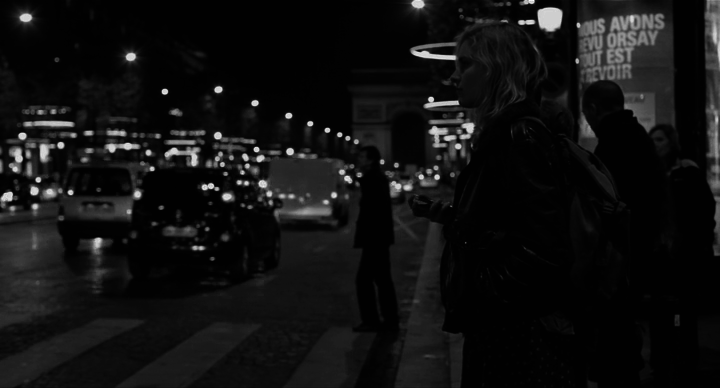 L'autre véritable et grand problème c'est que toutes les saynètes de "petites-situations-cocasses-prises-sur-le-vif-pour-faire-rire-par-leur-naturel-même-si-on-n'est-pas-dupe-que-c'est-un-film" tombent gentiment à plat ; c'est bien gentil un générique jules-et-jimesque, pardon juliette-et-ginettesque, mais ce simpliste copier-coller (comme pour Carax qui va se retourner dans ses combles) pour rendre hommage à - genre, héhé, j'ai po les mêmes références que Bruce Willis - semble surtout refléter la pauvreté de l'imagination de Baumbach ; les dialogues n'arrivent jamais à la cheville d'un Woody grande - voire petite - cuvée et si l'on compatit parfois aux efforts de cette pauvre Greta "pour donner le change" et garder le cap, on ne peut s'empêcher de penser que ce petit cinoche post-ado est un brin vain. Frances ha-ha-ha ? Plutôt mouais-mouais-mouais... (Shang 14/11/13)