"I don't like his sense of humor. He laughs at the wrong things"
S'il n'y a pas forcément grand-chose d'extraordinaire dans le déroulement de l'enquête (un flic est retrouvé mort avec de la thune sur lui ; il a été abattu froidement apparemment par un "bookie". Mike Conovan (crédible Van Johnson) enquête avec un vieux de la veille qui perd la vue et un ptit jeune qui a tout à apprendre, des règles de prudence à l'argot du métier), il faut reconnaître une petite dose d'érotisme (allons c'est un peu fort), disons alors quelque chose d'assez convaincant dans la relation entre Van Johnson et sa femme (la troublante Arlene Dahl avec le ptit grain de beauté juste là) et entre le Van et... une strip-teaseuse (Gloria DeHaven vaporeuse blonde platine) qu'il contacte pour les besoins de l'enquête. On sent dès le départ toute la complicité qui existe dans ce jeune couple (quatre ans de mariage, une paille) ; seulement même si l'Arlene tente de faire contre mauvaise fortune bon coeur (il est flic, il peut s'absenter à n'importe quel moment du jour - et de la nuit), ce petit jeu commence à la miner. Non seulement son mari risque de se faire dézinguer mais en plus ces absences deviennent de plus en plus fréquentes - on subodore en plus qu'elle voudrait avoir un gosse mais voilà... Le Van, qui tente de ne pas trop prêter attention aux "caprices" de sa femme (il sait à quel point elle l'aime - et vice versa), a pour mission de séduire la chtite Gloria (la bouche en coeur et peu farouche) pour tenter d'avoir des informations sur un bookie suspecté dans l'affaire. La scène du crime risque de se transformer d'un côté en scène de ménage (l'Arlene tire des ficelles pour que son mari change de fonction mais en vain) et de l'autre en scène olé-olé (la Gloria ne peut s'empêcher de laisser son rouge à lèvres sur celles de ce gentil flic ; lorsqu'elle lui donne les clés de chez elle, on se demande franchement comment tout cela va finir... Oui, bon, on est 49, je ne dis pas mais sait-on jamais). Des petites tensions sentimentales et sensuelles qui donnent un peu de piment à cet honnête noir.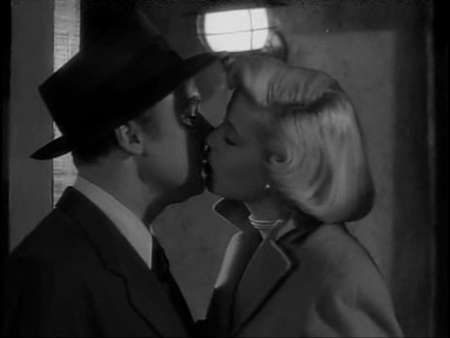 Rowland fait en effet le taff au niveau des passages obligés du genre (une scène d'ouverture en forme d'uppercut, des balances que l'on secoue et que l'on retrouve bêtement assassinées en plein milieu de la rue et de la nuit, des coups de pétards qui s'échappent d'une grosse voiture noire pour mettre en garde les indics, de la baston dans des petits studio chelous, du cabaret avec des jambes de nylon gainées...) donnant un certain réalisme à ce flic qui n'est pas tombé de la dernière pluie (ce qui devient encore plus intéressant lorsqu'il commence, se dit-on, à rentrer un peu trop dans le petit jeu de la Gloria...), qui a son réseau de contacts dans le milieu et qui n'est pas non plus du genre à s'en laisser conter par sa hiérarchie. Des hommes qui tombent, des femmes qui aiment, des colères qui montent, des assassins qui crèvent, Roy Rowland n'a pas à rougir avec ce sympathique exercice de genre.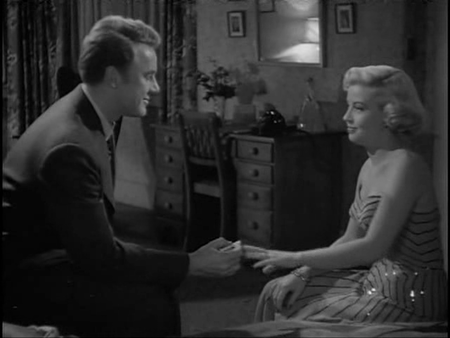 Noir c'est noir, c'est là