"The murderer uses his cravate as a garrotte !"
"Every time I painted her, I have to kill her again"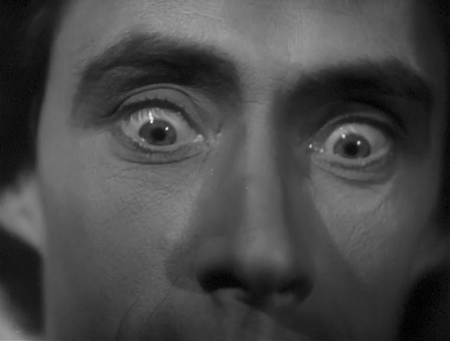 Il y a tout de même de bonnes choses dans l'oeuvre d'Ulmer, et ce Bluebeard tourné en six jours le confirme. Ambiance parisienne très noire avec cet étrangleur de femmes qui sévit tant et plus et qui jette ses victimes dans la Seine. Dès que John Carradine apparaît (la tête la plus longue et la plus inquiétante du cinéma mondial devant Bela Lugosi), on devine que l'assassin devrait avoir le même air décharné et ce même petit sourire énigmatique... Pile dans le mille Emile, c'est bien le John qui possède en lui cette irrémédiable pulsion de tueur. Le motif de ses crimes, tel qu'il l'expose lui-même à la fin du film, est des plus intéressants (si je puis dire) puisque notre homme, peintre à ses heures, tuerait ses modèles... par pure déception. Je m'explique : la première fois qu'il a peint une jeune femme qu'il avait lui-même trouvée évanouie dans la rue, notre homme, inspiré par le gisant de Jeanne la pucelle, a tenté de retranscrire cette pureté sur sa toile... Recroisant la jeune femme quelques temps plus tard, il s'est rendu compte que la gazelle était une prostipute - bafouant son propre art en un sens... Du coup, il décida de l'étrangler et il ne peut s'empêcher depuis d'en faire autant avec toutes les femmes qui posent pour lui - ouais, les femmes sont décevantes à la longue, vaut mieux les avoir en peinture (si, c'est de l'humour)... Très belle idée aussi que celle où, par un jeu de miroirs, John tente de s'éloigner le plus possible de l'un de ses modèles... Malheureusement, celle-ci prenant mal la pose, il est obligé de s'en approcher pour la beauté de l'art... La suite... Carradine incarne ce troublant meurtrier esthète et charmeur avec une certaine finesse : une voix des plus douces qui attire ses proies et des accès de violence aussi soudains qu'irrépressibles (il faut le voir marcher les deux mains en avant pour se saisir de sa victime ; son regard, lorsqu'il donne le coup de grâce, ferait quant à lui pâlir un mort).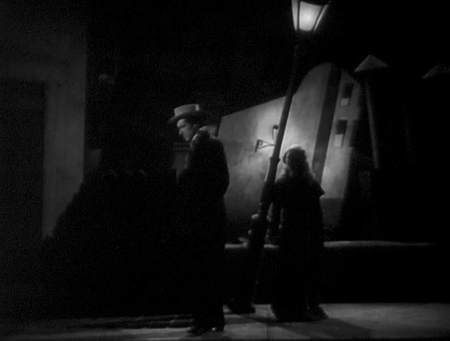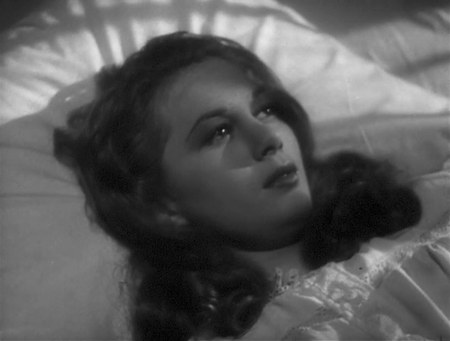 Ulmer est également capable de trousser, lors de ce merveilleux flash-back dans la dernière partie du film, des séquences dignes des grands films expressionnistes. Passons sur ces cadres de traviole pour s'attacher surtout à ce plan torve avec un lampadaire planté dans le décor de façon aussi incongrue qu'une Tour de Pise. L'effet est forcément automatique : c'est un peu comme s'il l'on pénétrait dans le cerveau bancal de notre personnage principal avec toutes ses distorsions... Particulièrement bien vu, dirais-je, avec un minimum de moyens. On pourrait également relever une certaine propension chez ces femmes qui côtoient le tueur à "jouer un peu trop avec le feu". Si cette pauvre Francine craque rapidement (ne jamais dire, quand on est seul à seul avec un assassin : je sais que vous êtes l'assassin - on s'expose à d'évidents dangers), la chtite Lucille, quasiment certaine que John est bien le fameux Barbe bleue, ne va rien dire aux policiers (une vraie bande de bras cassés, soit dit en passant - normal quand on a un commissaire qui se prend pour Julien Lepers) et se rendra, à bien y réfléchir, dans l'antre du loup de façon relativement suicidaire - les femmes, l'amour et la mort, bah, c'est presque cathare cette histoire si je m'écoutais. Passons... Notons pour clore cette chronique que l'ensemble du casting féminin possède un indéniable charme (Jeanne Parker is Lucille, Teala Loring is Francine and Anne Sterling is Jeannette Le Beau - la modèle prostituée, forcément, celle qui déclenchera tout... (ouais, Le Beau, Ulmer est joueur... Tous les acteurs ont d'ailleurs des noms français qu'ils ont un mal de chien, tous, à prononcer mais c'est l'esprit qui compte)). Tourné dans l'urgence mais avec un indéniable savoir-faire et une vraie intelligence, un film qui vaut le détour (oui, il y a un jeu de mot pour les purs et durs), c'est ça aussi l'Edgar.