Croquignolette histoire d'amour romantique sur fond de Place Vendôme : Billy Wilder nous trousse une de ces comédies sentimentales attachantes, une de celles qu'il sait faire pratiquement les yeux fermés, et Love in the Afternoon est un agréable moment de romance démodée. Ariane, gentille jeune fille en fleurs parisienne (Audrey Hepburn) vit avec son détective privé de père (Maurice Chevallier). Elle va tomber amoureuse d'une des cibles de celui-ci, un play-boy aux mille conquêtes (Gary Cooper), et tenter de se faire passer pour une fille aussi légère et cynique que lui, pour le séduire. Mais l'amour, ma pauvre dame, est à double tranchants, et on ne badine pas avec icelui. Tourments du coeur accompagnés de musique romantique, larmichettes sur quais de gare, minauderies en manteau d'hermine, on va passer par les étapes obligées du genre, avant que l'amour triomphe dans une montée de violons. Si le film est un peu décousu, alternant des moments un peu plats avec de grands instants de virtuosité, on ne retient au final que ces derniers. C'est le cas avec la séquence d'ouverture, par exemple, qui montre encore une fois l'immense talent du gars pour démarrer ses films (le début de The Seven Year Itch est une pure merveille). On y voit un Paris de carte postale défini uniquement sous l'angle de l'amour libre ; on s'y embrasse partout et en tout temps, quelle que soit sa classe sociale et son activité professionnelle. C'est clicheteux en diable, mais ça fait tout de suite entrer le spectateur dans une atmosphère romantique et taquine qui ne quittera jamais le film.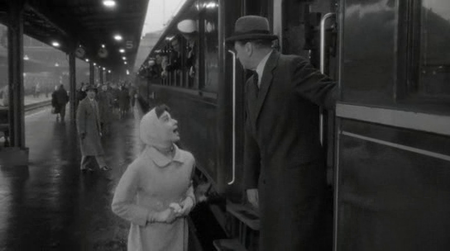 Autre grand moment, franchement un des plus grands de l'oeuvre wilderienne, un de ceux qui le rapprochent de Lubitsch : la scène de soulerie de Gary Cooper. Le gars, dans sa chambre d'hôtel, écoute un enregistrement de la femme qu'il aime, qui lui égrène la liste des amants qu'elle a eus avant lui. Son désespoir et sa jalousie ne sont perçus que grâce au chariot des alcools, qui passe de lui à la bande de musiciens qu'il a engagés. La douleur de l'amour dans son plus simple appareil, subtilement mise en scène, avec humour mais sans en occulter la sincérité, c'est parfait. La bande de musiciens romantiques est d'ailleurs une grande idée là aussi : ils suivent le petit couple partout, de la chambre au hammam, du taxi à l'escapade en barque, sorte de lecteur mp3 des années 60. Il y a comme ça une foultitude de petites idées de mise en scène grandioses, qui apparaissent ça et là dans un film qui, par ailleurs, n'est pas exempt de défauts.

Le principal étant, pour une fois, le casting. Wilder semble s'être vraiment planté sur ce coup-là. Maurice Chevallier est particulièrement nul, d'abord, n'arrivant jamais à se départir de son sourire gouailleur fatigant, complètement à côté de la plaque quand il s'agit d'être un peu plus tourmenté ou simplement sérieux. Mais ça, on s'y attendait. Ce qui est plus embarrassant, c'est Gary Cooper, fade à mort, enfoncé dans ses rides, figé, sans expression, comme s'il était terrorisé d'être là. Son couple avec Hepburn ne fonctionne pas, elle a 80 ans de moins que lui environ, ils sont dans des registres de jeu différents et ne parviennent jamais à jouer à l'unisson. Et la chtite Audrey est, comme à son habitude, plus mannequin qu'actrice (c'est mon opinion personnelle : je n'aime pas cette actrice) : très jolie, au visage mobile et charmant, portant magnifiquement le peignoir comme le manteau de vison, mais pas crédible, beaucoup trop déifiée par la caméra de Wilder et les lumières de William Mellor pour qu'on croit à son personnage de petite Française modeste (et qui parle un anglais parfait, en plus, alors que Chevallier abuse de son célèbre accent parisien). Avec une distribution aussi disparate et hésitante, le film peine à atteindre la brillance qu'il vise : des dialogues inégaux, un certain manque de rythme, des situations amusantes mais pas vraiment drôles, tout n'est pas réussi, et on préfère le Wilder acerbe et hystérique des grandes comédies à celui mesuré et gentil de ce film sans envergure. Charmant, oui, et oubliable.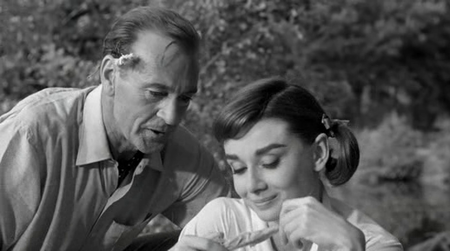 Take a walk on a wilder side, here