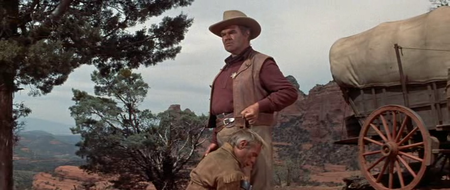 Delmer Daves m'a séduit tout au long de la semaine - les yeux de Felicia Farr ont leur part de responsabilité dans la chose - et c'est une nouvelle fois avec le sourire jusque-là que s'achève la vision de ce merveilleux western. Le film commence sur les chapeaux de roue et avec quasiment aucune réplique : il est peu de dire que l'ami Richard Widmark ne fait rien pour gagner la sympathie du spectateur vu qu'il abat froidement un type à la carabine avant d'en poignarder sauvagement un autre... Il va tout de même se faire chopper par une brutasse de shérif qui va, disons-le franchement, le traiter comme un chien. Richard a du sang comanche dans les veines et l'on ne sait encore trop ce qu'il a poussé à agir ainsi ; c'est tout de même po bien d'assassiner ainsi son prochain, se fait-on la réflexion. Quant au bourreau de shérif qui aime à faire manger la poussière à son prisonnier, il est peu de dire que l'on est prêt à montrer plus d'empathie à son encontre... Les deux hommes vont croiser sur leur chemin de bonnes vieilles familles cathos (comme dans Jubal) en route pour l'El Dorado ; on sent dans le regard de certains de ces gens frustes de la pitié pour ce pauvre Richard, un Richard ficelé à la roue d'une carriole aussi fermement que Jésus à sa croix - et quand je dis "regard" je parle notamment de celui à se damner de la toute jeune Felicia... On se demande tout même bien comment le Richard va pouvoir échapper au lynchage qui lui est promis...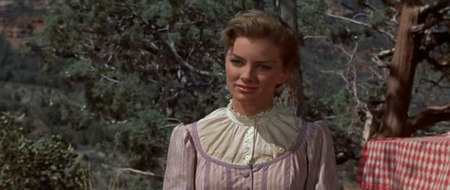 C'était sans compter sur les Apaches qui, pendant que la jeunesse fera, de nuit, une escapade dans la rivière, décimeront tous nos bons cathos - la prière semble avoir peu d'effet positif sur l'Indien. Richard s'en sort miraculeusement indemne et The Last Wagon prend alors des allures de roman d'aventures : c'est un peu "le Sauvage qui vient en aide au club des cinq (les petits jeunes + Felicia) en territoire hostile". Attention toutefois, ne me prenez pas au mot, on ne tombe jamais dans le gnangnan : Richard a déjà prouvé qu'une hache était aussi dangereuse pour un être humain que pour un arbre, il en fera de même avec son couteau qui ne servira pas qu'à tailler des allumettes - un outil qui se montre en effet très utile pour pratiquer un césarienne sur un Apache - et j'ai bien dit "un" Apache. Si Felicia et son chtit frère ont tôt fait d'avoir de la sympathie pour lui, il n'en est pas de même pour deux de leurs jeunes compagnons de route aussi méfiants et vils que des coyotes : en effet Nabilla en blonde (voyez le genre) et Stéphane Bern - il se méfie des gueux - sont loin d'éprouver une quelconque confiance envers ce tueur au sang chaud... Bon, d'un autre côté, ils ne vont pas non plus trop tergiverser sur sa valeur: quand tu ne sais pas chasser et que tu te retrouves en pleine Vallée de la Mort au milieu d'Apaches qui pullulent, tu préfères avoir un guide. Et le Richard est plutôt bon dans son genre...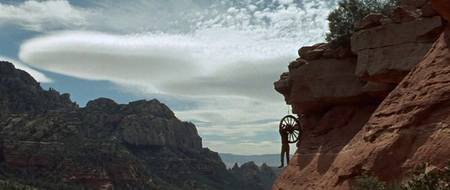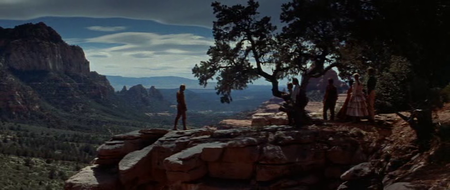 L'habit ne fait pas le moine et la connerie n'est en rien une fatalité (même quand on s'appelle Nabilla ou Bern). Richard va non seulement protéger coûte que coûte ses ouailles rencontrés par hasard, il va aussi rayonner sur leur personnalité : il permettra à certaine de trouver l'amour (quelle belle séquence nocturne que celle où il tombe Felicia en lui faisant son petit laïus écolo... Et le lendemain, la Felicia qui remet mine de rien sa queue de cheval en place... eh oui comme elle le fera dans 3:10 to Yuma l'année suivante - so "hum hum l'air de rien" tout ça tout ça), chez d'autre l'amour (d'un père), chez... euh... toujours d'autre la fierté, etc... Les paysages sont une nouvelle fois à tomber à la renverse, les scènes d'action sont denses et les personnages tous joliment dessinés. Le sombre et suave Richard Widmark et la mutine Felicia Farr font ensemble des ravages et l'on sent bien que rien ne pourra résister à cette association explosive : ni les bêtes sauvages, ni la bêtise humaine, ni le gros con d'Apache un poil sanguinaire, ni même la raide et quasi divine justice ricaine... On en prend plein les yeux, on vibre de bout en bout, on aimerait tellement y être - même si on ne sait même po monter à cheval... Encore un wagon de la filmo de Daves dans lequel il faut sauter les yeux fermés.