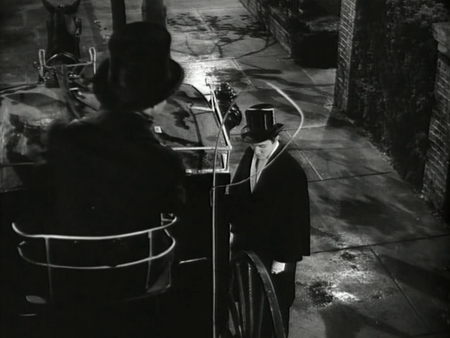 Il y a de bien bonnes choses dans cette adaptation de Lewin du chef-d'oeuvre de l'ami Wilde. Déjà lorsqu'on voit le gars Cedric Gibbons au générique (plus de mille films en moins de quarante ans de carrière, c'est juste surhumain), on sait qu'on ne sera pas lésé au niveau de la "direction artistique" (des accessoires aux décors) : intérieur victorien grandiose (la magnifique demeure de Dorian sur deux niveaux, le grenier (là où reposera son "âme peinte") qui fourmille de jouets et d'objets symboliques), bicoque perdue au milieu d'un terrain vague, petit cabaret de fortune... Le moins qu'on puisse dire, c'est qu'on est dans l'ambiance ; une ambiance visuelle particulière (il est forcément beaucoup question "d'images", d'apparence dans ce film avec ce portrait qui, de façon saisissante, appraîtra en plusieurs endroits en couleur... sans que cela jure avec le reste du film) mais également une atmosphère musicale soignée : l'enchaînement d'un prélude de Chopin avec la sonate au Clair de Lune du gars Beethove, c'est quand même pas rien.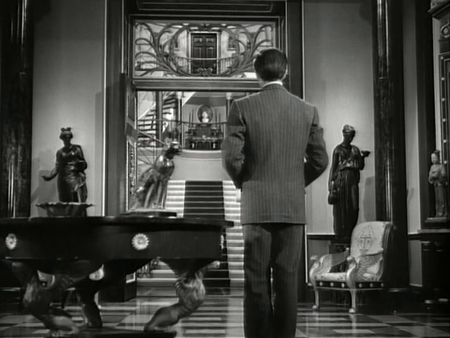 De là, on en vient aux acteurs : un George Sanders en Lord Wotton toujours aussi magistral (une diction et une rythmique de malade) ; il enfile les aphorismes avec une véritable maestria, semblant toujours tenir prête, dans un coin de son esprit, une répartie taillée sur mesure... C'est presque un peu too much, à tel point qu'on se demande comment le gars va demander un jus d'orange ou demander l'autorisation d'aller aux toilettes - tout l'esprit de Wilde inside one man. Dorian (Hurd Hatfield) est un type à la peau tellement lisse, blafarde, qu'il semble porter un masque d'éternelle jeunesse... Normal : cela va de pair avec son personnage, même s'il paraît au final aussi expressif qu'une bougie. Petite pioche au niveau du casting féminin : Angela Ansbury en chanteuse des bas-fonds aussi sexy que bobonne - mais oui, elle a l'air gentille, pour sûr - et Donna Reed en éternelle amoureuse stressée (vu les nombreux refus de Dorian pour l'épouser, il n'est pas vraiment étonnant cela dit qu'elle passe son temps le visage fermé...). Enfin on pourrait noter le joli jeu avec les ombres, notamment lors de la séquence du meurtre dans le grenier avec cette lampe qui se balance : Dorian between "light and dark" grey (ohoh), entre gentleman Jekyll and soulmate Hyde.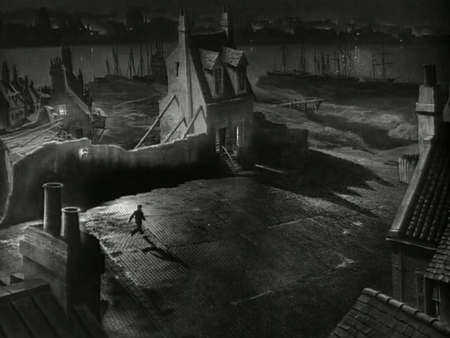 Le pauvre Dorian va donc se voir damné dans ce monde victorien sclérosé où seul le dandy Sanders semble caustiquement s'amuser (plus en parole qu'en acte...). Notre Dorian était taillé pour une vie bien paisible, promis avec son teint d'ange à une vie amoureuse sans complication - et d'ailleurs déjà tracée (avec la petite soeur de son ami peintre, Gladys) ; seulement voilà, sous l'influence un brin perverse d'un Sanders provocateur notre ami va s'engager malgré lui dans la voie... de la mauvaise vie... Si son apparence va garder sa pureté, son angélisme (consternation de la haute bourgeoisie victorienne et de ma grand-mère : non le vice ne se voit pas sur son visage...) son portrait va, lui, sacrément morfler (le reflet de son âme tourne à la monstruosité absolue - le peintre n'y est pas allé de main morte sur l'occasion...). Lewin semble avoir demandé à ses acteurs de bouger un minimum et de paraître aussi hiératiques que des menhirs ; comme en plus le cinéaste est particulièrement avare au niveau des déplacements de caméra (quelques travellings arrière à l'arrivée "décidée" d'un Dorian ou d'un Sanders dans une pièce ou un lent travelling avant sur Dorian lisant... Oscar Wilde pour effrayer sa pauvre petite chanteuse déjà conquise et fragile comme un moineau...), cette impression générale d'immobilisme domine...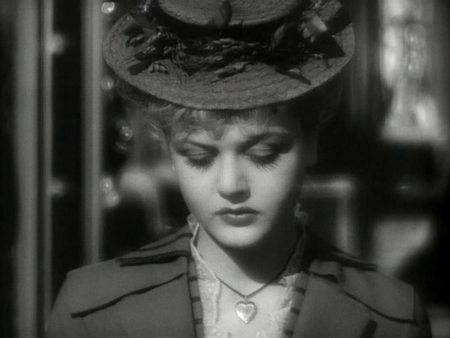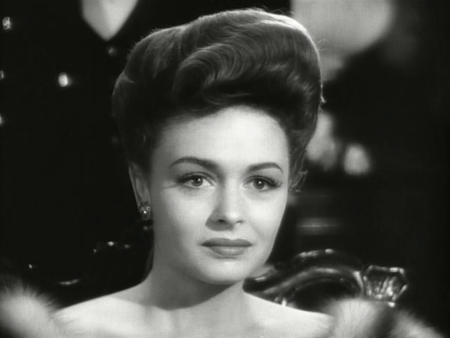 Oui, on ne peut pas avoir le beurre et l'argent du beurre, j'en suis bien conscient : Lewin s'amuse constamment à produire des cadres dans le cadre (avec le portrait de Dorian bien sûr (qui scelle son destin), avec ces personnages enfermés dans leur caste, dans leur rang...), soigne jusqu'à l'obsession la composition de certains cadres pour bien centrer un être ou faire apparaître un objet, mais le film finit par pâtir un poil au niveau rythme, au niveau vitalité... Certes, le personnage central est déjà condamné, certes cette société est tellement sclérosée qu'il semble bien difficile de pouvoir se permettre le moindre écart, certes la forme est en adéquation avec la forme... Mais raaaaah, on aurait sans doute aimé un peu plus de folie, un peu plus de mouvement (la vie nocturne et dissolue de Dorian n'est d'ailleurs que très peu montrée - un escalier qu'il monte avec un servant dans un hôtel louche... mouais...), un peu plus d'emballement... En l'état, le film est propre, prend le temps de jouer au détour de plusieurs séquences d'objets chargées de sens (le chat, la figurine du chevalier dans le grenier, le couteau...)... mais finit par manquer un peu de "sang", dirais-je. Belle adaptation quoiqu'il en soit dans laquelle il y a suffisamment à voir et à réfléchir pour ne pas être frustré de simplement relire le wild Wilde...