Charmante et mineure, c'est bien tout ce qu'on peut dire de la filmographie de Woody depuis une vingtaine d'années, et To Rome with Love, c'est ça aussi : charmant et mineur. C'est même peut-être un tout petit peu plus charmant et un tout petit peu moins mineur qu'à l'ordinaire, parce que le film est très élégant, doucement mélancolique et parfois presque profond, qu'on y retrouve Woody en acteur après des années d'absence, qu'il y a Ellen Page et "Volare" en bande-son, et que le charme tout en modestie de papy Allen s'y montre dans toute sa douce beauté.
Woody renoue avec la grande tradition italienne, dans tous les sens du terme: romantisme, dolce vita, bimbos éclatantes de santé, monuments éternels, et tutti quanti sont déclinés à travers quatre sketches qui n'ont en commun que "l'âme italienne" qui les sous-tend. Quatre sketches inégaux, qui vont du plus poussif (la partie Penelope Cruz) au plus troublant (la partie Benigni), en passant par le plus émouvant (la partie Alec Baldwin) et le plus anecdotique (la partie Woody himself). En voyageant ainsi dans le décor clicheteux de Rome, Allen ne perd rien de sa jeunesse et de sa mélancolie, livrant quelques superbes séquences toutes en délicatesse, feutrant son humour derrière des pastels sentimentaux, et réfléchissant une énième fois sur le vieillissement, le sens de la vie, la célébrité et la place de l'artiste dans la société. Tout ça sans esbrouffe, avec juste ce qu'il faut d'effort pour éviter le bâclage, certes, mais tout de même : la petite musique fonctionne toujours, malgré les défauts du bazar (rythmes exsangues, gags qui tombent à plat, acteurs inégaux).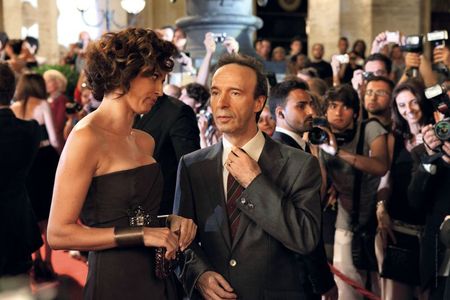 Ma préférence donc à cette partie où un homme banal dont tout le monde se tape (Benigni) se trouve soudain mis sous les feux des projecteurs sans aucune raison, devenant célèbre malgré lui. On retrouve l'acteur flou de Deconstructing Harry dans cette déclaration autobiographique qui sous-entend en substance une sorte de malentendu dans la célébrité de Woody Allen. On reconnaît sans peine "l'homme sans qualité" qu'il est, starisé par le système alors qu'il ne recherche qu'à être un petit homme. Voir Benigni retrouver sur la fin son anonymat et errer dans les rues de Rome en caleçon pour retrouver son aura de star est d'un pathétique que Woody n'avait jamais cherché jusque là, une sorte de dérision amère qu'on n'attendait pas chez lui. L'Italie lui donne ainsi l'occasion de lier star-system berlusconien et tourments personnels, c'est très joliment fait, même si ce sketch est trop répétitif et fonctionne sur un faux rythme un peu pénible.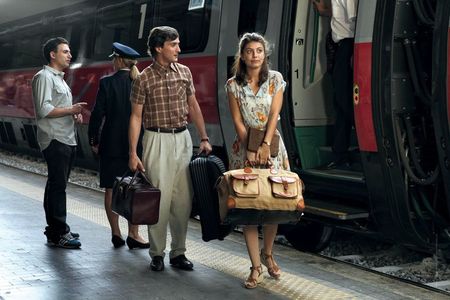 Beaucoup aimé également ce regard du vieux Woody sur la jeunesse, dans la partie où Baldwin, en fantôme-Jiminy Cricket (décidément, l'acteur, après Alice, est toujours employé comme une évanescence dans les films de Allen) conseille un petit jeune (l'excellent Jesse Eisenberg) dans ses tourments amoureux : il y a là à la fois de la bienveillance, de la nostalgie, du cynisme, de la passion, tous sentiments que Baldwin fait magnifiquement passer dans son corps fatigué et ses sourires de vieux beau. On voit bien, là aussi, ce qu'il y a d'autobiographique là-dedans : le cinéaste regarde la jeune génération avec une passion communicative, et il y a un côté "passage de flambeau" absolument poignant dans cette partie. Woody refilme quasiment à l'identique la scène mythique de baiser sous la pluie de Manhattan, mais cette fois avec son nouveau modèle féminin (Ellen Page, allenienne à 2000%), avec toujours autant d'amour de la vie, et d'amour de l'amour. Très très beau.
Les deux autres parties sont moins inspirées, et se contentent d'être gentiment rigolotes et superbement éclairées : on a l'impression d'avoir déjà vu mille fois cette histoire de quiproquo qui oblige un jeune homme de bonne famille (Antonio Albanese, cabotin) à faire croire à sa famille que la pute du coin (Penelope Cruz, fatigante) est sa femme ; on ne voit pas trop en quoi cette histoire de chanteur qui n'est bon que sous sa douche est vraiment passionnante. Ce dernier sketch donne pourtant à Woody l'occasion de revenir à l'écran, et si on le sent souvent fatigué et absent, il a quand même un gros plan hilarant qui nous fait retrouver avec bonheur son débit hâché qui n'a rien perdu (le moment où il tente de convaincre le chanteur qu'il est génial, excellent). Bon, mais tout de même, malgré les défauts, je suis sous le charme de ce tout petit film oubliable, et je ne me gênerais pas pour le dire une nouvelle fois : Woody est grand. (Gols 17/07/12)
---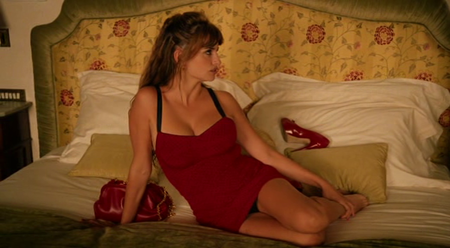 Très bel effort de mon camarade, qui, en bon vieil amoureux fou du Woody, tente de positiver au maximum sur ce petit film si léger, léger, léger qu'il finirait presque par disparaître comme une petite bulle surement échappée de la cabine de douche du ténor... Si le grotesque de ce pauvre homme dans sa douche n'a que peu d'égal (il y a comme un certain goût de l'auto-flagellation chez Woody : il va jusqu'à faire dire à un critique dans le film qu'il faudrait couper la tête du personnage qu'il incarne ; "oui, je ne suis qu'un bouffon du roi, je ne mérite pas tous ses honneurs, cette reconnaissance, Annie Hall, Manhattan, c'était pas moi, promis...), ce sketch donne au moins la possibilité à Allen-acteur de montrer que dans le "haut débit" (sa tirade qui n'en finit pas de finir) ou dans les silences (devant le salon mortuaire après qu'on lui ait serré la main), il en a encore sous le pied... Seules ses interventions m'ont d'ailleurs permis d'esquisser un soupçon de sourire : Benigni ou notre ami ténor avec leur grimace m'ont terriblement agacé dans ces deux idées de court-métrage délayées au max...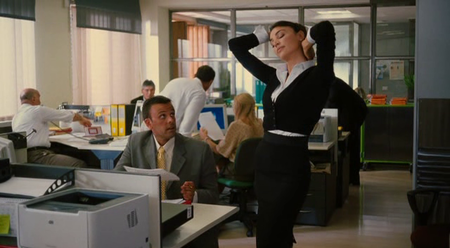 Reste donc l'histoire avec Pénélope en bombasse-salope (la seule partie intéressante de l'histoire a lieu... hors-champ quand cette bonne Pénélope veut "re-deniaiser" sa victime (pick me, pick me...) ; rarement vu sinon un acteur jouer aussi mal chez Woody : le preneur d'otage qui se prend apparemment pour Banderas dans Attache-moi est mauvais comme un cochon...) et cette gentille idylle entre Eisenberg et Page. Alors bon, oui, je pourrais lâcher du lest dans l'amertume de ma chronique, me faire un peu menthe à l'eau, reconnaître que Darius Khondji fait de beeeelles images - toujours un peu jaunes ou oranges mais bon -, que le nostalgico Baldwyn tient bien son rang face à la nouvelle génération... Ce qui m'a quand même agacé, c'est que cette pauvre Page enquille les clichés culturels - "c'est que du superficiel, mon gars, du superficiel" susurre Baldwyn -, que ce bon Woody se plaît, au final, à nous montrer à quel point son personnage est creux, mais comme Allen ne cesse lui-même de la filmer dans les endroits les plus clicheteux de Rome, le serpent se mord un peu la queue... Un peu lèdge et plate, cette historiette déjà vue au moins douze fois - Woody et l'adultère de 7 à 77 ans. Bon, voilà, ce n'est pas un crime, mais je me suis ennuyé et ce malgré la présence de créatures féminines qui réveilleraient un mort - putana dui madre, l'Italie quand même... Allez Woody, fais nous une ultime oeuvre tragi-comique qui nous scie les pattes, please... (Shang 13/11/12)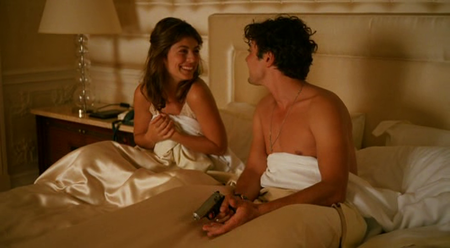 Tout sur Woody sans oser le demander : clique