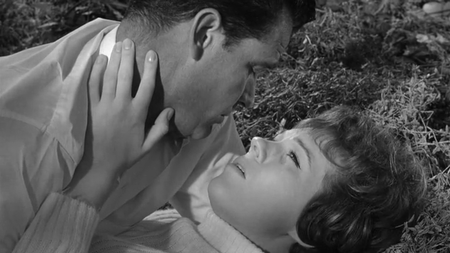 Excellente surprise que ce film du gars Hiller - un Canadien, ce qui lui permet a priori d'avoir un esprit plus libre qu'un Américain et d'être, derrière la caméra, forcément moins mauvais qu'un Anglais - qui part relativement classiquement pour ne pas dire un peu gnangnan (les Américains en Angleterre : quelques jours avant le débarquement se forme une amourette entre nos deux héros, James Garner (ricain ultra-démerdard) et Julie Andrews (qui joue les jeunes Anglaises moralisatrices)) mais qui ne cesse de "prendre de l'ampleur" et de partir en vrille : le supérieur de Garner, un Amiral, perd méchamment la boule et se met martel en tête, pour montrer la gloire de la Marine, de filmer le premier marin mort sur Omaha Beach ; Garner, fervent défenseur de la couardise et rejetant toute idée d'héroïsme en temps de guerre, reçoit l'ordre de mener à bien cette mission. Notre gars, amoureux fou de la Julie, fait tout pour se défiler, tente de feinter sa mère pour ne pas se retrouver caméra à la main le Jour J, mais va jouer de malchance... Notre James va-t-il se transcender et faire preuve d'une bravoure de titan ou prouver à la terre entière qu'il n'y a rien de plus triste pour un jeune gars, pour ne pas dire de plus absurde, que de mourir la tête dans la sable un matin pluvieux ?...
On pense être dans la grande production ricaine consensuelle, mais on se rend progressivement compte qu'on fait fausse route : non seulement le film bénéficie de dialogues diablement bien écrits (ça change des 50 mots de vocabulaire en moyenne dans les films américains) mais en plus un petit ton grinçant commence à poindre, une sorte d'humour noir guère habituel dans ce genre de thématique - un genre de Mash dans l'administration de l'armée, si j'osais. Garner clame haut et fort son refus d'aller se faire massacrer au nom de cette guerre, démontre par A + B que se faire exploser la tronche par une grenade ennemie ne fait pas de toi un héros, défend bec et ongle sa thèse sur la connerie des monuments dressés aux morts ; Hiller osera jusqu'à montrer un type gerbant ses tripes et sa mère pendant le discours "plein de grandeur" d'un responsable qui tente de galvaniser ses troupes le jour même du Débarquement. Vrai grain de folie dans la forme - les répliques se mettent à fuser (on est limite slapstick-comedy avec en plus un niveau de langue ultra soutenu) -, vrai discours couillu et hors des sentiers battus au niveau du fond et cerise sur le gâteau une ptite pointe d'érotisme (ça se roule des palots... à la pelle entre le beau James et l'égérie Julie) et de romance contrariée : nos deux héros filent le parfait amour jusqu'à ce que la Julie se rende compte que son James est définitivement un "lâche" (hors de question pour lui de finir en bouillie sur une plage française...) ; on assiste alors à une bien belle dispute sous des trombes d'eau (il y a en plus toujours un ptit côté "mythique" dans les séquences ayant lieu sur un aéroport... It's the beginning... oups... the end of a great love story) et on a un vrai pincement au coeur pour ces deux-là qui semblaient s'être si bien trouvés... Hiller nous laisse alors à peine le temps de pleurer sur notre oreiller : il nous balance une séquence de débarquement où les bombes tombent comme des cordes et notre pauvre James Garner de se retrouver en première ligne... On se met à prier, au nom de ses idéaux, en se demandant dans quelle mesure il pourra échapper... trois petits points.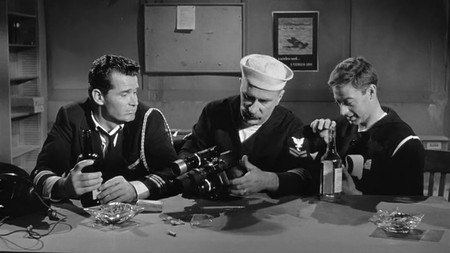 Les seconds rôles sont au niveau (James Coburn, sympathoche militaire baiseur... faut pas non plus le pousser dans ses retranchements ; Melvyn Douglas en amiral péteur de câble (les scènes où il reste stoïque/mort (?) sont excellentes) ; les deux bras cassés, saouls comme des cochons, qui doivent accompagner Garner dans son reportage amènent également une pointe de fantaisie...) et on voit à peine passer ces deux heures de film : un rythme parfaitement soutenu et surtout un discours de fond qui ne prend pas le spectateur lambda pour un jambon - po Top Gun, hein. Du coup, ce coup de trafalgar du gars Hiller (pas fait grand-chose ni avant (des séries surtout), ni après (des comédies ras du sol)) aurait presque des allures de pitit film culte ; une oeuvre qu'on sera sûrement bien content d'avoir sous la main en cas de troisième Guerre Mondiale (alors, je vous explique pourquoi votre proposition de rejoindre l'armée et de devenir un héros me fait tiquer, lieutenant Raoul). Oui, bon, blague à part, du bon cinoche merveilleusement écrit et joliment monté avec un soupçon d'intelligence... C'est pas si courant finalement outre-Atlantique.