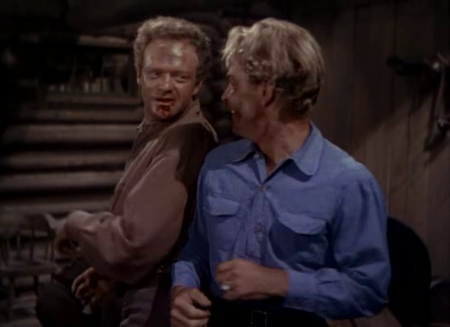 Un bon western, c'est quand même pas de la margarine. Je fais des infidélités au film noir, but Shane on me - or not - on ne peut parfois po lutter. A-t-on le droit d'être un gros colon in the western world ? - c'est tout un pan de l'histoire de l'Amérique jusqu'à… Mais Shangols n'est point un manifeste politique (Bon Bast*en va encore me hurler dans les oreilles que tout est politique mais là je dis non, c'est tout). Van Heflin est un parfait bouseux qui a piqué la chemise et la hache de Charles Ingels. Il vit avec sa femme (Jean Arthur, aussi sexy que moi en slip kangourou sans parler de cette voix de crécelle si particulière…) et son blondinet de gamin trop trognon. Seulement voilà, il vit sur les terres, avec d'autres familles cultivant gentiment leur petit lopin, d'un gros con de barbu qui, avec une poignée d'hommes de main, fait tout pour tenter de vider ces gros colons (pas de jeu de mot). Van Heflin, Elisha Cook Jr (j'ai déjà dit que j'étais un grand fan ? Trente-deux fois, c'est tout ? Il mérite son odyssée) tente tant bien que mal de lui tenir tête mais jusqu'à quand… ? Heflin a la volonté de résister until the end, surtout depuis qu'un certain Shane est venu s'installer chez lui. Alan Ladd is Shane ; pour Van Heflin, il est sans aucun doute ce qu'on a fait de mieux depuis l'invention du cheval : bosseur (il te coupe une souche en une journée alors que cela faisait deux ans que Van taffait dessus : cela cèle leur amitié - et la souche de refaire une jolie petite apparition sur la fin toute symbolique), tireur d'élite (on ne connaît point son passé brumeux et tout le monde s'en passe), loyal comme un yaourt (il pourrait tente de tirer Jean Arthur mais c'est pas son style, il pourrait vouloir que le gamin le respecte plus que son père mais il est trop humble), Shane is the perfect guy at the perfect place.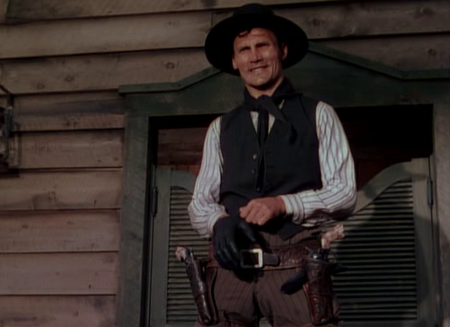 Une baston d'anthologie (Van and Ladd vs le barbu et ses hommes) va cimenter leur parfaite complicité (Shane est parfois «bizarrement monté,» notamment durant les scènes d'action (l'efficacité, pourrait-on dire, semblant primer sur le réalisme) mais ce qui choquerait chez, disons, au hasard, un Scorsese, passe ici comme une lettre à la poste - aucune mauvaise foi, bien sûr) et l'on sent les deux hommes faire corps pour ne pas se faire marcher sur les pieds (si jeu de mot il y a, il est juste phonétique). Qu'est ce qui pourrait mettre en danger cette belle amitié ? Van surprenant les regards de Ladd sur sa douce ? La Jean tombant amoureuse malgré elle du Ladd ? Non, on l'a dit, nos héros sont purs… Le vrai danger n'est pas à chercher dans l'adultère mais dans la présence d'un invité surprise ; introducing THE motherfucker : Jack Palance is Jack Palance. Rentré au service du barbu, Jack est censé effrayer les colons résistants et, accessoirement, les tuer. Avec son chapeau et ses gants noirs, son sourire démoniaque à la Virenque, le type est plus effrayant que Mme de Fontenay au réveil. Chacune de ses apparitions est un véritable « monument de gloire » élevé au genre. D'un côté il y a donc les bons, de l'autre les enflures et comme simple témoin le regard d'un gamin (celui de Van) qui va faire, à l'ombre de ce Shane, son «apprentissage de la vie».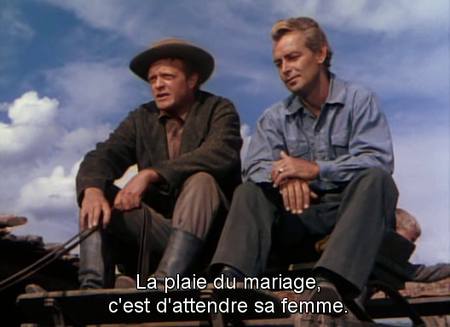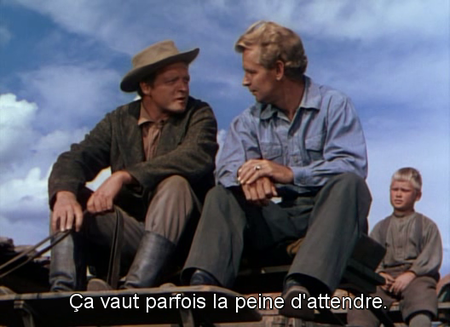 Quelle est la frontière entre un excellent western et un classique ? Des dialogues pêchus, des duels tendus, des seconds rôles pointus, un rythme, une ambiance particulière ? Difficile à dire exactement mais ce Shane penche définitivement du côté droit de la balance. De l'arrivée de ce cow-boy, simple point à l'horizon, à ce final à la lonesome cow-boy (Shane, un Lucky Luke avec la classe), on savoure aussi bien les temps morts avec des durs que les temps durs avec des morts (l'essentiel, c'est que je me fasse plaisir, hein…). On a beau deviner la fin, tiquer devant certaines invraisemblances (le gamin qui court plus vite que son chien, deux groupes de personnes qui se regardent droit dans les yeux en champ/contre champ alors que plusieurs kilomètres les séparent (lors de l'enterrement de l'un des colons…)), on avale tout ça comme un grand bol de soupe avec la gourmandise du petit amateur de western totalement sous le charme. Vous ne connaissez pas Shane ? Shane on you - la boucle (de ceinturon) est bouclée. (Shang - 12/10/12)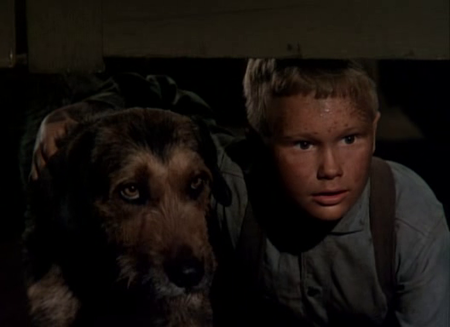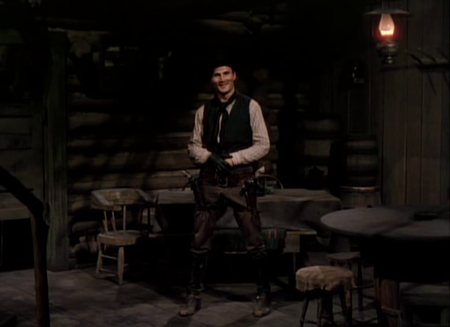 ---
Mmmm, j'ai trouvé ça quand même diablement académique, voire clicheteux, pour ma part. C'est vrai qu'on peut tout à fait prendre du plaisir à se laisser aller aux bonnes vieilles recettes éprouvées ; mais là, il m'a semblé que Stevens nous servait du réchauffé, avec sa mise en scène et son scénario hyper-attendus. C'est bien simple : la caméra est strictement toujours où on l'attend, l'action arrive toujours comme on l'attend. Mises à part ces deux scènes de bagarre (la seconde est pour moi encore meilleure, qui montre les deux lascars se battre depuis l'intérieur d'une maison, avec les cris des animaux qui soulignent la tension du moment), qui offrent effectivement un peu d'originalité, on a l'impression d'emprunter des chemins usés, devinant à l'avance tout ce qui va se passer. Bon, certes, Stevens n'est pas un manche et sait tirer profit de ses jolis décors : la scène de l'enterrement avec ces gusses au premier plan, la ville minable au deuxième et les grandes montagnes enneigées en fond, satisfait l'oeil par exemple. Le film est par ailleurs souvent joliment réaliste dans les détails : un cow-boy obligé de contourner des flaques de boue pour se battre, une baston interrompue par un figurant qui rentre dans un saloon... En fait on n'a rien à reprocher vraiment à la mise en scène, si ce n'est qu'elle est tellement classique qu'elle en devient un peu plate.
Quant à la bonne idée du film, tout nous montrer à travers les yeux de l'enfant, elle ne tient pas sur la longueur. On aime quand ce regard enfantin aboutit à une déification du cow-boy (Ladd, sa permanente impeccable et son costume repassé), à un manichéisme naïf, ou à la glorification de la nature (l'herbe vert fluo, l'omniprésence des animaux, la vision d'un cerf se substituant habilement, lors du premier plan, au cow-boy mystérieux, tel un conte de fées). Mais Stevens oublie trop souvent cette idée : l'enfant n'est pas toujours là, et le film souffre alors de ce manque de point de vue. Et on se dit que le moralisme un peu gnan-gnan du film est plus dû à une vraie volonté des scénaristes qu'à cet aspect enfantin : les hommes glorifiant l'effort dans l'abattage viril de la souche, l'apologie de la communauté et du "Home sweet home", les scènes bénies-oui-oui lors de la fête du 4 juillet, tout ça fleure la bigoterie bien-pensante. Je préfère les westerns qui sentent un peu plus la sueur et un peu moins l'ostie. (Gols - 19/01/14)