" - He doesn't look to easy to me, said the stupid blonde to the killer
- Nothing looks easy to you, answered the killer. You know why ? It's because you are so easy..." - Putain, cassée...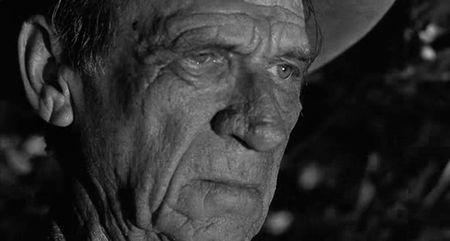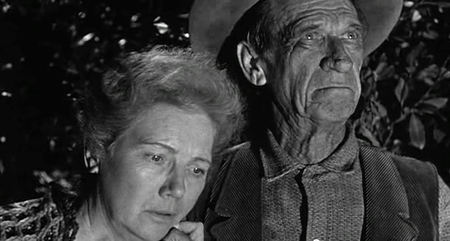 Très joli petit western très ramassé dans sa forme - 75 minutes - qui ose ouvrir par sa séquence finale : comment un type avec un harpon peut finir, dans un petit village texan, face à un killer ganté de noir, l'arme sur son colt, prêt à dégainer ? Si Sterling Hayden (tout en cou) avait face à lui une baleine (je suis très "baleine" en ce moment, c'est normal, j'habite au pays des), même dans une petite ruelle poussièreuse texane, cela serait finalement moins étonnant. Mais un duel harpon-gun, qui oserait y songer ? C'est que le Sterling, comme on l'apprendra par la suite, est suédois - accent taillé justement au harpon, rigidité de la démarche à l'image surement de sa morale (les Ricains n'ont jamais vraiment fait dans la finesse quand il s'agissait de caractériser un étranger, quel qu'il soit) -, n'est ni un expert en gun ou en exploitation des sols (fait un peu figure de Jean de Florette lorsqu'à genoux, avec son éternel melon, il prend sa terre dans le creux de sa main) et quand il est colère (genre quand il a appris qui a flingué de sang froid son père et son pote mexicain), il saisit son harpon pour détruire son adversaire : David contre Goliath ? C'est un peu ça, mais comment en est-on arrivé là d'abord, hein ? L'histoire est basique : un gros propriétaire, McNeil avec une secrétaire olé-olé embauche un tueur, Johnny Crale (Nedrick Young) - le type a morflé lors d'une précédente aventure, a perdu l'usage de son bras droit et semble aussi près de la retraite que Nicole Garcia ; sa mission : il doit descendre l'un des squatters qui se trouve depuis des années sur les terres de McNeil pour pousser les autres à partir. Le tueur - la démarche et le cerveau robotisés - jette son dévolu sur le vieux Hansen ; ce dernier le menace de façon ridicule avec son harpon, alors même qu'il ne ferait pas plus de douze mètres au lancer du javelot. Du haut de son cheval, Crale l'abat froidement et l'affaire semble dans le sac... Jusqu'à l'arrivée du fiston, Sterling, la tête près du chapeau - melon - bien décidé à résister...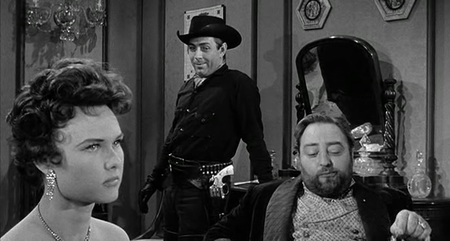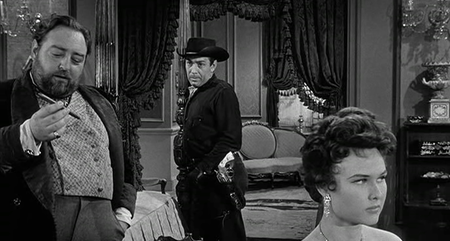 Trame limpide et efficace qui bénéficie du parfait sens du cadre de Lewis ; ce dernier excelle non seulement dans les gros plans (dès l'ouverture avec ces deux vieux qui observent, impuissants, leur ferme brûler) mais aussi dans la composition de ses cadres jouant aussi bien de la profondeur de champ (lors des scènes à trois personnages notamment) que sur la variation dans les champs / contre-champs (non pas le classique gros plan sur personnage number one puis gros plan sur personnage number two puis gros plan sur personnage number one - le truc "à la Carné", quoi... Lewis aime à montrer les deux visages dans un même plan en jouant sur la profondeur de champ et en variant l'axe de la caméra lors de la discussion - si vous pipez rien à mes explications bancales, photogrammes ci-dessous).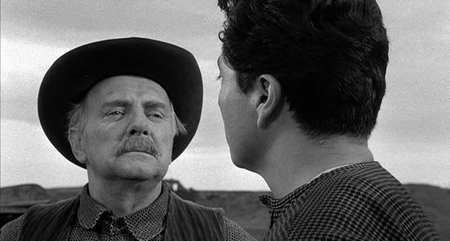 Un montage très efficace, des personnages bruts de pomme et même s'il ne se passe finalement pas grand-chose avant le dénouement (on enchaîne de nombreuses scènes verbeuses entre nos deux protagonistes principaux), le film reste tendu de bout en bout. Le killer froid comme la mort contre le mort en sursis du pays du froid (on peut me louer pour les accroches sur les affiches) sous un soleil de plomb texan ; deux individus capables de faire la pluie ou le beau temps dans ce petit bourg très passif (du shérif suce-boule aux propriétaires plus lâches qu'Yvan Attal en témoin) pour un final forcément saignant... Belle petite (et dernière d'ailleurs) réussite de Lewis qui prouve qu'il n'est pas uniquement à l'aise dans le film noir.