« - Life is so short, she said.
- That's why one should make the most of it, he replied."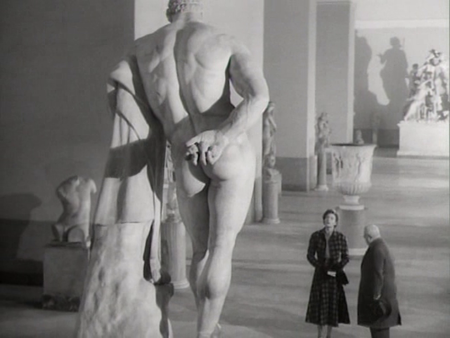 Bon ben voilà, il m'aura fallu 40 ans et des bananes pour découvrir ce film de Rossellini qui constitue la 5000ème chronique de ce blog sauf si le gars Gols me grille in extremis - il a de toute façon droit à sa 5000ème bis, on est bien d'accord. Comme ça, à brûle pourpoint, je n'ai pu m'empêcher de penser à Two for the Road de Donnen - forcément - mais également à l'Eyes Wide Shut de Kubrick - plus imagé au niveau de la dernière réplique, certes -, notamment, pour le Stanley, dans les « chances féminines» qui semblent s'offrir au gars Georges Sander et qui finissent toutes en queue de poisson... Un Georges froid, pince sans rire, guère romantique qui se retrouve en constant désaccord, après huit années de mariage, avec la classieuse Ingrid Bergman. Chronique d'un divorce annoncé ou faut-il encore croire au miracle ?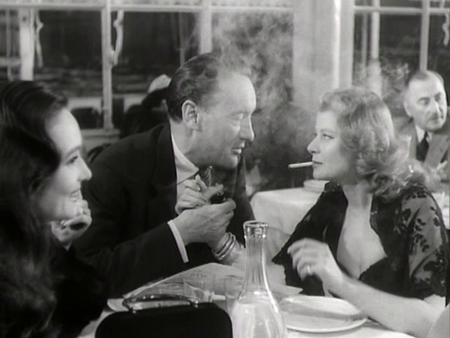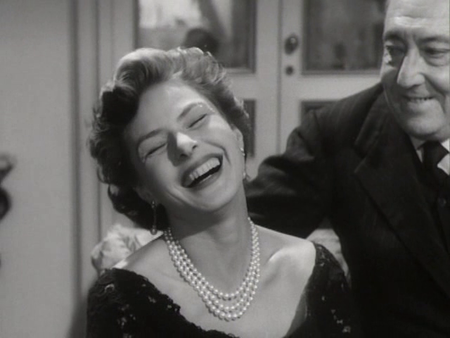 Pendant que les flirts du Georges partent en panouille, l'Ingrid se prête volontiers aux bonnes grâces du tourisme : musée, grotte, ruines, catacombes, c'est qu'il y a fort à faire dans les alentours de Naples. Ce lointain passé antique semble au diapason de sa nostalgie pour cet ami poète qui est mort et dont elle tanne le vieux Georges ; ce constant rapport avec la mort, les morts ne peut quant à lui que faire écho à sa présente relation… au point mort, infructueuse - elle ne cesse de remarquer en ville les couples qui s'embrassent, les femmes avec landau ou encore celle enceinte… ; et cette absence d'enfant semble illustrer l'absence de tout futur avec le gars Georges. Froide est leur relation, sans passion et la pauvre Ingrid qu'elle aille aux alentours du Vésuve ou qu'elle écoute narrer les histoires des Dieux ou d'anciens personnages illustres ne peut que constater le marasme de sa propre situation. Elle enquille avec le Georges sarcasme sur sarcasme et rien ne semble pouvoir rallumer leur flamme… L'émotionnelle Ingrid semble définitivement craquer lorsqu'elle découvre aux côtés de son mari ces deux amants enlacés pour l'éternité à Pompéi et l'on se dit que c'est le moment tant attendu pour que les deux époux fassent la paix… Peine perdue ou simple prémisse (raté) avant la grande réconciliation ?... Roberto nous met sur les nerfs…
Ce qui fait tout le charme de cette histoire banale, c'est justement son apparente simplicité mais également ce soin incroyable du cinéaste pour capter chaque menu geste, chaque menue émotion des deux personnages principaux : là de petits coups d'œil de l'Ingrid qui guette son mari flirtant en bout de table, ici ce Georges décontenancé faisant une légère moue lorsqu'il comprend que sa « conquête italienne » tombe à l'eau, là le visage troublé de l'Ingrid dans l'attente de son homme, qui se ressaisit lorsqu'il arrive enfin (ne rien lâcher…) puis que le doute submerge à nouveau lorsque le Georges n'est qu'indifférence envers elle, ici le visage fermé du Georges qui constate que sa femme peut rire à gorge déployée lorsqu'elle est entouré de mâles, là tout le naturel de l'Ingrid, seule dans son auto, qui confie à voix haute tous les travers de son mari… Si ces deux-là s'aiment, ils ne font rien pour le laisser paraître, pour céder un pouce de terrain sur le chemin d'un éventuel « Je t'aime »… Viaggio aux pays… du mariage pour le pire et pour le pire… Et le meilleur ? Le meilleur est toujours pour la fin, n'est-il pas ? Un classique, tout simplement, de l'immense Rosselini. Pas si mal pour une célébration.