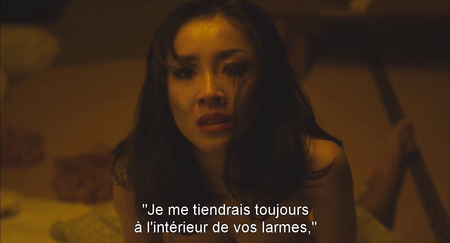 Un auteur rare sous nos latitudes, et c'est un peu normal quand on constate combien Sion va à l'encontre du goût commun, et met son point d'honneur à nous emmener là où on n'a pas envie d'aller. Guilty of Romance, c'est tout à sa gloire, est dans cette veine-là : il ne cherche pas à séduire son public, et va relativement loin dans la psychologie torve et le bas-fond glauque. Voici donc une sorte de Belle de Jour nippone, en l'occurence une jeune femme mariée à un écrivain psycho-rigide, et qui va découvrir par hasard les voies délicieuses des films porno puis de la prostitution, sur les traces de son mentor féminin. Il est donc question d'émancipation sexuelle dans ce polar psychologique, Sion ne se privant aucunement pour montrer que, parfois, la débauche et la soumission peuvent être une voie d'épanouissement pour certaines. La première heure est ainsi assez délicieuse, puisque notre petite coquine d'Izumi, tripotée par des acteurs de hard, violée par un voyou de passage, ou sautée dans les toilettes publiques par un inconnu, trouve là un bonheur trouble qui la comble, et que c'est quand même assez audacieux. Sion est très bon pour exprimer visuellement l'explosion d'émotions qui défilent dans la tête de son héroïne : le film est pop, coloré, très formel, le décor des petites rues de Tokyo et des love-hôtels kitsch servant très bien les goûts warholiens du cinéaste. Couleurs fluo qui tranchent admirablement avec le côté très sombre du scénar : non seulement le parcours "sentimental" de l'héroïne va vers de plus en plus de noirceur, mais il y a en fond de tout ça une affaire de meurtres particulièrement glauque qu'on ne perd jamais de vue. Mais, pendant la première moitié du film, c'est étrangement gai, voire drôle, à cause de ces audaces d'écriture, de ces couleurs, et de quelques idées de mise en scène assez barrées (le mac qui lance à tout va des ballons pleins de peinture rose, par exemple, très belle idée complètement irréaliste qui ajoute encore une couche de couleur kitsch aux scènes de sexe). Les petites séquences entre madame et son mari, une fois les débauches de la journée passées, sont taquines à souhait : l'impuissance sexuelle du mari passe entièrement dans les détails, pantoufles rangées exactement là où il faut, colères quand on change son savon, jusqu'à une scène absolument pathétique où le gars se laisse regarder nu par sa femme énamourée. Il y a, répétons-le, du Buñuel là-dedans, c'est évident.

A mi-chemin, le film s'écroule malheureusement. Sion en fait trop, et n'est pas très inspiré en inventant ce personnage de pute complètement allumée qui va entraîner Izumi à sa perte. Excessive, ricanante, l'actrice peine à convaincre de sa dépravation, et le cliché n'est pas loin. D'autant que le scénario brode là-dessus une intrigue à base d'inceste et de maternité mal assumée assez lourdaude : la psychologie n'est pas le truc de Sion, c'est sûr, et on tombe un peu dans le n'importe quoi. On comprend bien qu'il a voulu arrêter de rigoler pour nous asséner quelques coups de poing dans la gueule en surenchérissant dans les personnages tordus et les situations sulfureuses ; mais il y va au marteau-piqueur, perdant son inspiration derrière des provocations qui ne mènent pas loin (le personnage de la mère, la séquence où Izumi trouve son mari au bordel, le meurtre final). C'est dommage, parce qu'on sent bien, jusqu'au bout, que Sion ne fait aucune concession et que les images qu'il a dans la tête, même de mauvais goût, même kitschissimes, il les tourne quoi qu'il advienne. Pour cette intransigence-là, respect au compère, même si au final le film marche sur une seule jambe. (Gols 05/08/12)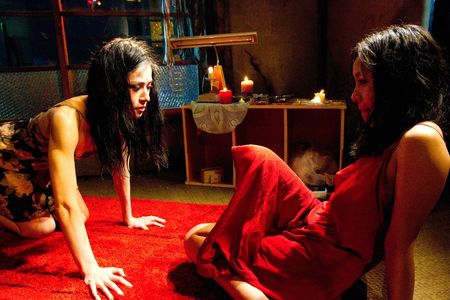 ---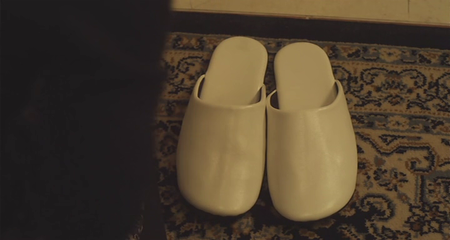 C'est vrai que le début est assez prometteur : ambiance ultra feutrée dans l'appartement de ce couple avec un mari, écrivain de son état aussi extraverti qu'un Modiano nippon et cette femme totalement dévouée à la moindre de ses envie, à tel point qu'on se demande presque au début s'il ne s'agirait pas d'une simple employée de maison. Et puis la chtite va chercher à s'émanciper, va commencer à vendre de petites saucisses dans un supermarché avant de s'attaquer à de plus grosses (oui, bon, cela peut paraître un peu trivial mais ne me dites pas que le coup des petites saucisses n'est point connoté…) : de photo chic en porno choc, notre Miss va faire sa route dans la dark side of life et y prendre un indéniable plaisir gourmand ; le réalisateur japonais plonge alors son œuvre dans le style « Pink »/violent illustré par un grand gars semblant sortir tout droit d'une version orientale d'Orange Mécanique qui va lancer des mini-ballons rempli de peinture rose lors de ses ébats sexuels avec notre héroïne.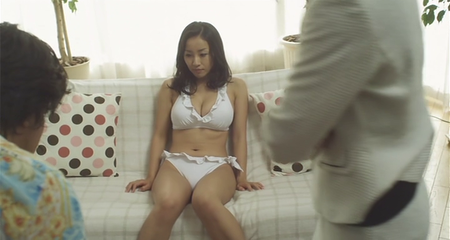 Le film change alors peu à peu de cap… Le seul problème, c'est que plus l'on touche au glauque, plus le scénar « audacieux et osé visuellement » (guillemets d'usage) flirte avec les gros clichés du genre : tous les personnages deviennent de pâles stéréotypes sans aucune profondeur - l'écrivain pervers sous ses grands airs d'écrivain, la grand-mère perverse derrière ce masque digne de l'âge, la prof BCBG perverse, ce mac pervers… Vous allez me dire, cela fait beaucoup de pervers… C'est vrai que le réalisateur a indéniablement la main lourde sur cet aspect des choses - genre, sous ses petits airs de ne pas y toucher, la société nippone a quelque chose de pourri. Mouais, je dis pas, le problème c'est que plus le film avance plus l'histoire et le montage deviennent un peu foutraques jusqu'à cette sorte d'épilogue d'une dizaine de minutes : l'histoire semble bel et bien close, et le mystère des meurtres entièrement résolue, mais Sion ne peut s'empêcher de nous resservir une petite dose d'images « shocking » for the fun (la femme pissant accroupie sur quai devant deux bambins qui se rincent l'œil…) et diablement inutiles… Une certaine rigueur au démarrage qui se perd malheureusement dans ce cocktail sexe-vengeance-violence un peu convenu sous de pseudo-allures provocatrices. (Shang 17/09/12)