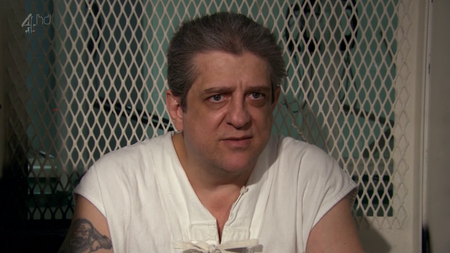 Saison 1
Après nous avoir emmenés aux confins de la Terre, Herzog nous amène aux confins de la vie en interrogeant cinq personnes condamnées à mort (Hans Skinner, James Barnes, Joseph Garcia et George Rivas, Linda Carty). Herzog annonce la couleur à chacun des prologues des quatre épisodes de ce doc : il est fondamentalement contre la peine de mort ; ce n'est point pour autant, comme il le dit aux individus qu'il interroge – en particulier ceux qui ont reconnu les faits – qu'il va se sentir obligé de sympathiser avec eux… D'un autre côté, Herzog, comme il le dit au procureur (à la fin du dernier épisode) qui lui reproche de chercher à «humaniser» la personne condamnée, ne poursuit aucunement ce but, n'a pas besoin d'en rajouter : ce sont des «êtres humains, period». Hans Skinner, condamné pour le meurtre de sa femme et de ses deux enfants, et Linda Carty, condamnée pour avoir organisé l'enlèvement d'une femme et son enfant ainsi que le meurtre d'icelle, nient catégoriquement les faits pour lesquels ils sont incriminés. James Barnes, George Rivas et Joseph Garcia reconnaissent leur responsabilité dans le crime d'une ou plusieurs personnes (je dis cela en particulier pour mon gars Bibice : Herzog n'est po contre la peine de mort parce qu'elle tue des innocents, il est simplement contre, period) mais le cinéaste laisse chacun de ses individus s'exprimer librement sur leur cas, leur rêve, leur peur, leur regret… Longues interviews des intéressés, explications précises de chacun des faits, interviews d'avocats, de procureurs ou de proches, chaque épisode d'une durée de quarante-cinq minutes est terriblement prenant sans jamais tomber dans le pathos (on est juste une fois limite limite, allez…) ou le voyeurisme. Du Herzog pur jus.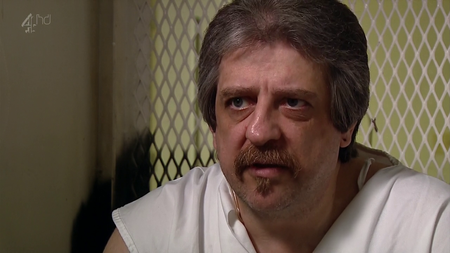 Hans Skinner s'est retrouvé dans le couloir de la mort et a été sauvé par un appel vingt minutes avant son exécution ; le gars fait un parallèle avec un épisode de la Quatrième Dimension durant lequel un type n'a de cesse de faire le même cauchemar : il se réveille soudainement alors qu'il est train d'être exécuté (sa grâce arrivant trop tard) et se retrouve, à chaque fois, dans… le couloir de la mort. Quand la fiction la plus absurde et infernale rejoint la réalité la plus horrifique. On comprend l'angoisse du gars... Le type est diablement cultivé et fait des parallèles entre son cas et d'autres faits historiques de persécution qui viennent parfois un peu de loin… Coupable, non coupable dur de trancher (hum…), vu que le gars avait l'air d'être rond comme une queue de pelle au moment des faits.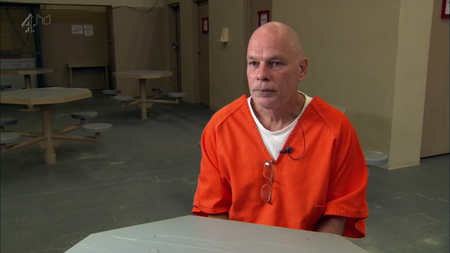 James Barnes, lui, il n'y a po photo, est un vrai criminel ; reconnu coupable de deux crimes, le type va même profiter de la présence d'un Herzog, qui tente pourtant d'éviter tant bien que mal toute manipulation, pour en avouer deux autres – pas bégueule, nan. Bon, il est clair déjà que si votre enfant torture des animaux (chats ou grenouilles) et aime à mettre le feu au lit des gens, il serait de bon ton de s'en inquiéter… Tout petiot notre homme avoue avoir été déjà attiré par le feu, ce qui expliquerait en partie son crime dit du « burning bed » (non, c'est pas du Lynch malheureusement), notre homme ayant tenté de faire disparaître sa victime en mettant le feu à son lit - après lui avoir fait subir toutes sortes de sévices, bien entendu. Lorsqu'il dit vouloir pour son dernier repas une viande bien grillée, sans que cela ait le moins du monde de rapport avec sa pyromanie, on reste tout de même bien sceptique... Le gars s'est également fait remarquer en gardant sa femme dans un placard, morte, après avoir « un peu appuyé » (un piètre euphémisme d'après les enquêteurs) une clef au cou – réfléchir à deux fois avant d'épouser un lutteur quand même. Bon le type est un grand malade, méchamment rancunier dirons-nous, ce qui ne l'empêche pas par ailleurs d'être bougrement intelligent et féru en droit (pas de lien forcément). Herzog tente de creuser un peu le passé de cet individu en enquêtant sur son enfance (un père militaire, des abus (sexuels) et des punitions « sauvages »…) qui semble avoir indéniablement bougrement traumatisé le gars (qui sont les vrais coupables... éternelle question) ; James Barnes n'a d'ailleurs aucune nouvelle de ses proches depuis dix ans et quand Herzog lui annonce qu'il a réussi à contacter sa sœur (gratinée aussi, si je puis dire) et surtout son père, c'est là que le doc devient un poil limite : le père tient à dire à son fils qu'il l'aime ce qui mouille tout de suite les petites mirettes du monstre. Bon, oui, il est humain malgré les actes atroces qu'il a commis, mais ce petit moment tendancieux n'était pas non plus vraiment obligé à mes yeux…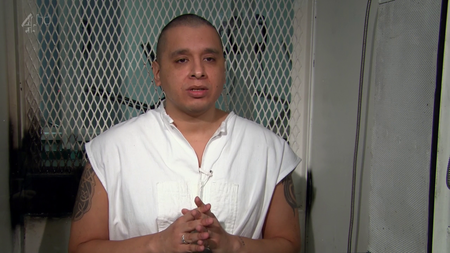 George Rivas est Monsieur Prison Break et le gars Joseph Garcia plutôt du type « pas au bon moment pas au bon endroit » : ce dernier s'est d'abord pris la modique peine de 50 ans de prison pour avoir tué un gars, d'après lui, «en situation de légitime défense» - le type lui avait piqué ses clés de bagnoles et (nan c'est pas tout…) l'avait violemment assailli ; le fait qu'il manipule le couteau «papillon» (allez, faites des recherches sur internet si vous n'êtes un féru d'arme blanche) comme un as (mais bon, c'était po très malin d'en faire la démonstation en plein tribunal… c'est pas un cirque putain) et qu'il ait donné 19 coups de couteau à sa victime n'a certes pas arrangé son cas (19 coups de marteau, quand on est bien colère, contre une porte, je comprends, mais là…). Bon, tu te prends 50 ans pour une histoire qui bien goupillée et défendue aurait pu t'en coûter 15. Las, tu décides de te faire la belle avec the king de l'évasion et du braquage, George Rivas, un gentleman dans son genre vu qu'il n'a jamais eu de sang sur les mains… Pas de bol, dans la foulée de l'évasion qui s'est goupillé aux petits oignons, le gars George tue un flic lors d'un vol qui part en vrille. Joseph est po présent sur les lieux mais écopera pour la peine… de la peine capitale. C'est po un ange le Joseph, sûrement pas, mais disons qu'il aurait mieux fait, un certain soir, de ne pas traîner dans un certain bar…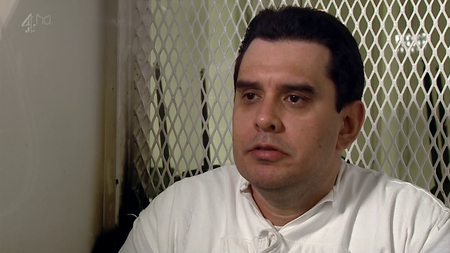 George a les yeux qui pétillent et vu le plaisir qu'il met à écrire sa façon de monter des coups (évasion ou casse), on sent qu'on a affaire un « real brain » dans le genre ; le gars aurait quand même mieux fait d'écrire des scénars pour Hollywood que de défier autant les forces de l'ordre… Il en serait pas là, ou plus précisément il serait encore ici (vu que c'est le seul des cinq personnes du doc à avoir été exécuté depuis le tournage). Le type peut (enfin « pouvait ») quand même se vanter de cumuler 31 peines de prison à vie… Oui, déjà une, c'est long, alors là… Même pour un chat… C'est ça, il en faut 5, des chats, au bas mot. Tous les coups de ce génie de la maraude étaient soigneusement préparés et puis un jour… une alerte donnée par un passant, notre George au taquet au repli mais ses « hommes » qui sont, eux, à la bourre… Et puis c'est le drame. Il se prend sept tirs qui le traversent de part en part, survit, mais c'est po le cas du flic qu'il touche à la tête – en plus un 24 décembre, c'était pas le bon timing vu que le flic avait un gamin : plutôt que de lui infliger une 32ème peine de prison à vie, le jury a été clément et l'a condamné à mort... Le George donnerait presque l'impression d'être soulagé - 3200 années de prison, ça faisait long tout de même.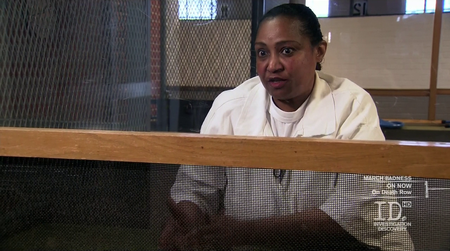 Enfin le cas Linda Carty qui laisse relativement pantois… A écouter d'abord l'affaire (kidnapping et meurtre d'une mère qui avait accouché deux jours auparavant), puis un de ses complices à la coule qui l'accuse (propos confirmés, nous dit-on, par les deux autres types qu'elle avait (apparemment) engagés pour faire le coup), puis la diatribe enflammée de Madame l'Assistante du procureur, on se dit que la Linda est une sacrée manipulatrice dans son genre. Puis on écoute son propre témoignage, puis les propos de son avocat « pro bono » qui a repris l'affaire – le type cherchant surtout à souligner les trous énormes au niveau de la procédure lors du procès (sans même chercher à discuter plus en avant son éventuelle innocence) et là, on se retrouve tout sceptique (le cas est un peu complexe : la Linda infiltrait des réseaux de drogue ; s'est-elle servie des trois drogués qu'elle connaissait pour accomplir ce terrible méfait ou ces derniers se sont-ils servis d'elle pour couvrir leur crime ?…). Oui, une femme a été tuée et celle-ci n'a, quoiqu'il advienne, plus de voix au chapitre ; le problème c'est que pendant le procès la Linda n'a pas eu l'occasion une seule fois de s'exprimer personnellement, de faire venir certains témoins en sa faveur et a donc reçu la peine capitale sans pouvoir même défendre sa tête, c'est tortin… Et forcément (doublement) affreux…
Un doc résolument passionnant de bout en bout où l'on reconnaît la patte d'Herzog à toujours œuvrer avec tact, avec pudeur, ou disons tout simplement avec humanité, même dans les « situations » les plus extrêmes, les plus « casse-gueule ». (Shang 22/08/12)
---
Saison 2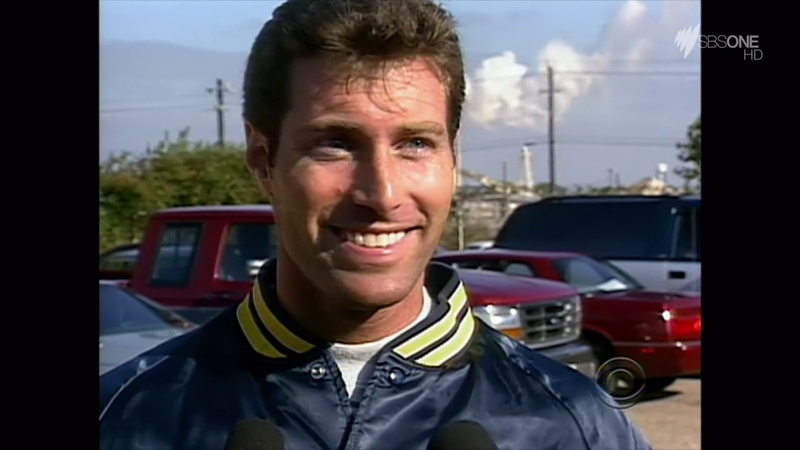 Robert Fratta. Toujours aussi saisissants ces portraits de Werner Herzog dans le couloir de la mort. Une chose est sûre, après avoir vu ce premier portrait de la seconde saison : si votre mari est coprophile, bisexuel et surtout culturiste, méfiez-vous… Un type qui aime autant son corps, qui fait du narcissisme son pain quotidien, est un homme qui peut se révéler dangereux. Ici, tout accuse Fratta d'avoir commandité le meurtre de sa femme – le tueur a été arrêté et a tout reconnu dans la foulée (sans présence d'un avocat, ce qui a fait quelque peu patiner ce procès), l'intermédiaire a été arrêté, les coups de fil passés entre les trois hommes furent multiples, notamment le soir du meurtre – et pourtant le Robert, avec son sourire Colgate et ses muscles au repos douze fois comme les miens tendus (si tant est qu'on puisse les imaginer tendus), joue les innocents. Brrr. Oh, il ne se fait plus d'illusion sur une éventuelle remise de peine et la mort, de toute façon, depuis qu'il a rencontré Dieu (caché derrière les toilettes dans sa cellule? Ah non, dans ses rêves, of course), ne l'effraie point – son sourire est quant à lui resté diablement intact (le même sourire sardonique pour ne pas dire diabolique que l'on voit sur les vidéos à l'époque où il était avec sa femme) et c'est surement ce qui fout le plus les boules tout au long de ce portrait. A noter aussi les témoignages très dignes des parents de la femme assassinée et de la fille de Fratta (la mise en scène paisible dans le jardin, du Werner grand crin) ou encore de ce gérant de cette salle de bodybuilding contacté également par Fratta pour tuer sa femme : le type, entouré de ses nombreuses et impressionnantes machines (mise en scène du cadre ? Pourquoi vous posez encore la question ?), est droit dans ses bottes – oui, comme il le confesse à Werner, heureusement qu'il est aussi bien dans son corps que dans sa tête (c'est ce qui lui a permis de ne pas se retrouver dans ce plan… tordu). Comme quoi, on peut être culturiste et avoir tout de même un peu de plomb dans sa tête - mais je réitère : méfiez-vous par principe des culturistes (maintenant chacun voit son poids à sa portée). Fratta-dingue dans un gant de velours.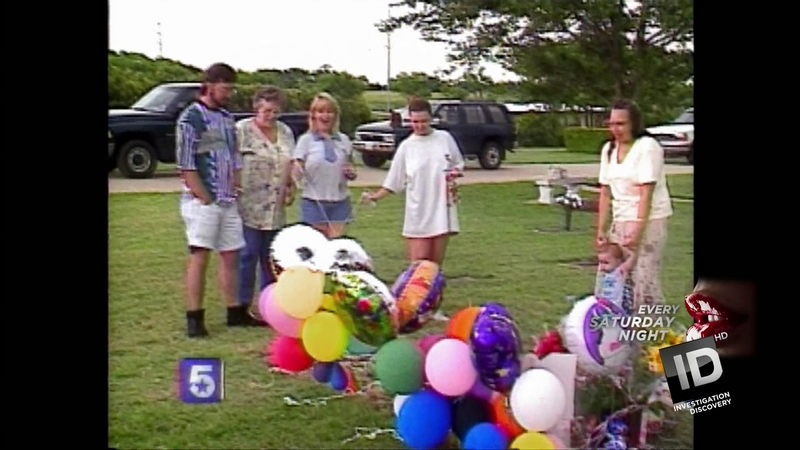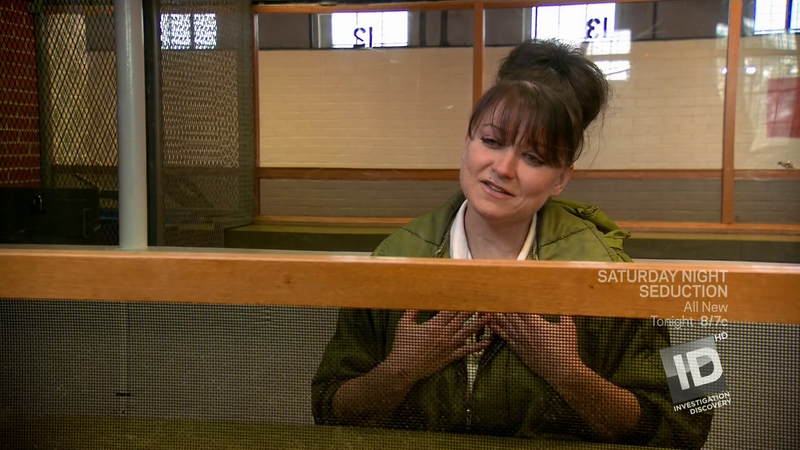 Darlie Routier. Darlie a-t-elle réellement assassiné à coups de couteau de cuisine ses deux bambins aux milliers de taches de rousseur de 5 et 6 ans ? Tout porterait à le croire vu les traces d'ADN de la mère retrouvées partout dans la maison ou encore sur les couteaux. Une boucherie affreuse, qui à voir les quelques photos de la scène du crime, dépasse l'entendement. Seulement la Darlie nie : il s'agirait d'un quidam qui s'est introduit dans la maison ce soir et qui lui a d'ailleurs porté deux coups : l'un à la gorge, l'autre au bras. Faisons le point ; ce qui ne joue résolument pas en la faveur de Mme Routier : 1) une séquence tournée deux-trois jours après le drame (elle était toujours libre), au cimetière, la montrant toute pimpante en train de célébrer l'anniversaire d'un des gamins – une scène affreusement surréaliste qu'aucun cinéaste n'aurait pu oser inventer. 2) un des couteaux de cuisine qui a été utilisé ce soir-là a été remis à sa place dans son porte-couteaux (on imagine mal un tueur faire du rangement) 3) l'un des gamins agonisant lors de l'arrivée de la police, se trainant à terre, alors que la mère restait collée au téléphone pour appeler les secours… Ce qui reste malgré tout une énigme : 1) le rôle du père ce soir-là ? Il sortait de la maison à la recherche d'une infirmière quand la police arrivait 2) une chaussette avec le sang des deux enfants retrouvée relativement de la casa 3) une empreinte a peine visible sur l'un des couteaux du crime n'appartenant à personne de la famille… Des questions qui restent posées par les plus sceptiques alors que pour les enquêteurs la culpabilité de notre gâte Darlie ne fait aucun doute. Là encore, il est question d'un personnage narcissique qui, la veille du procès, semblait surtout préoccupée par sa coiffure… Elle a également fait des photos en prisons toute pomponnée qui ont plus leur place dans des magazines de mode que dans des revues juridiques. Un personnage assez illisible (elle clame toujours son innocence, les avocats se battent pour elle depuis dix ans mais sont incapables de trouver des preuves tangibles de son innocence) et un nouveau portrait qui remue les entrailles (la scène d'anniversaire au cimetière !!!!! Il n'y a que les Ricains pour oser faire de pareilles mascarades !). Les Routiers sont sympas mais, once again, méfiez-vous quand même…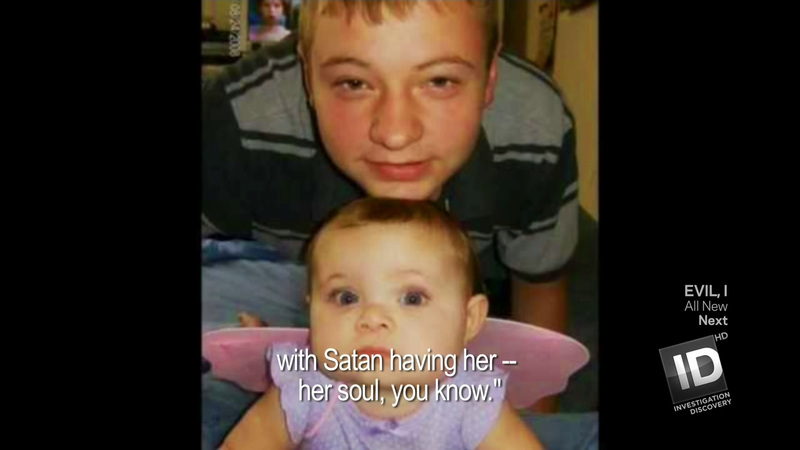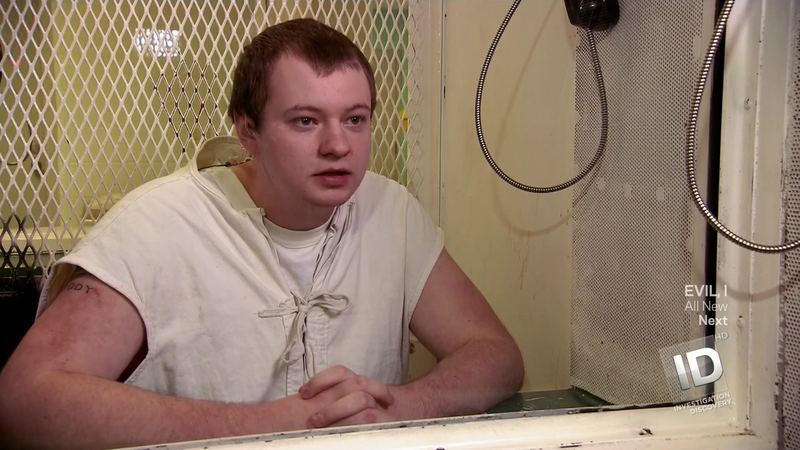 Blaine Milam. L'épisode surement le plus glauque de la saison (si tant est qu'il y ait une échelle dans l'horreur) avec l'assassinat cette fois-ci d'un bébé de 13 mois. Quand je parle d'assassinat, cela ne décrit pas dans quel état le corps de la pauvre gamine a été retrouvée (on va faire l'impasse, hein). Ses parents, tout juste 18 ans au moment du crime, ont fini par donner une explication qui est loin de laisser serein : alors même qu'ils étaient en contact avec le diable (les limites du spiritisme, chez Press Pocket), celui-ci a pris possession de la gamine… Plutôt que de lui garantir une vie sous influence méphistophélique, mieux valait en finir tout de suite… La connerie est infinie mais la connerie dans certaines croyances l'est deux fois plus – au moins. On est en plein The Exorcist (la donzelle cite d'ailleurs le film… après avoir mis en garde l'inspecteur : vous allez pas croire mon histoire – si, si, vas-y) sauf que là il n'y plus d'effets spéciaux… Peu après cet acte de sauvagerie moderne, les parents sont partis faire quelques courses, comme si de rien n'était. L'effroi de l'horreur. Pour la jeune fille, c'est prison à vie, pour le gars, la peine de mort ; ce dernier, interrogé, est plus penaud qu'un pruneau dénoyauté ; il clame son innocence sans apporter vraiment d'éclaircissement ; le gars semble avoir la maturité d'un têtard, mâtant au moment du procès dessin-animé sur dessin-animé ; elle, on ne fera qu'écouter ses aveux édifiants. Herzog semble marcher sur des œufs lors de l'interview du type qui ne semble pas être bien frais dans sa tête. Les tréfonds de l'âme humaine – sa violence, sa noirceur, sa folie - sont insondables…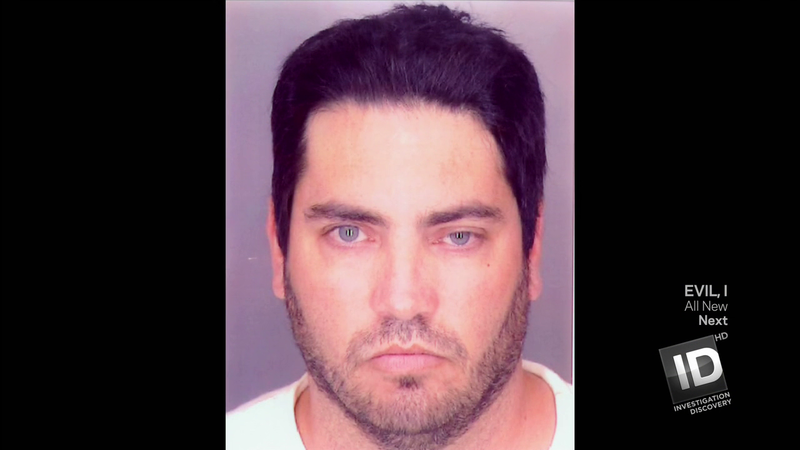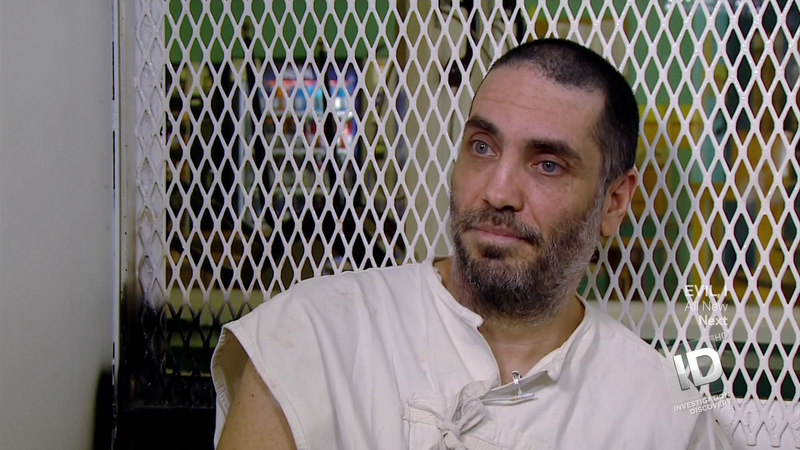 Douglas Feldman. Voilà un type avec lequel le gars Herzog se plaît à discuter voyages, de Patagonie à l'Antarctique en passant par le Pérou. Un type diplômé qui aimait voyager sur sa Harley, qui en a vite eu marre de son taff, qui consommait un peu de drogues, oui, ici ou là, bon depuis l'âge de onze ans, certes, mais faut bien commencer un jour, qui a même fait un peu de trafic entre le Mexique et les States, qui a, il faut l'admettre, braqué aussi une pharmacie, s'est pris deux ans de tôle, un type éduqué mais avec une sorte de rage en lui, c'est vrai, depuis tout petit… Et puis un jour un routier l'a serré un peu sur une autoroute, il l'a flingué, puis dans la foulée il a tué aussi le pompiste de la station-service non loin de là parce qu'il était encore tout simplement encore en colère (ouais, the guy at the wrong place at the wrong time à une semaine de la retraite, t'imagines) et puis aussi plus tard il a tenté de flinguer un autre routier – surement pour évacuer un restant de colère. On apprend qu'au Texas au bout de deux meurtres, t'es considéré comme un serial-killer… j'aurais tendance à croire que cela pousse un peu à la consommation – serial pour serial, tu dois te dire… Après avoir parlé chiffons et aventures, ils évoquent cette fin programmée. Notre Douglas reste froid, s'imaginant déjà faire partie de la biomasse – fataliste, le type… Dire que ce matin même j'ai fait de l'essence pour mon scooter en pensant que c'était un acte safe… Une série décidément impressionnante du gars Herzog (qui donne la parole à chaque fois à l'entourage des victimes et aux hommes de loi pour toujours donner un angle multiple à l'affaire), un Werner qui sonde avec tact et humilité la force obscure de l'humanité. My star. (Shang 21/03/16)
Venez vénérer Werner ici