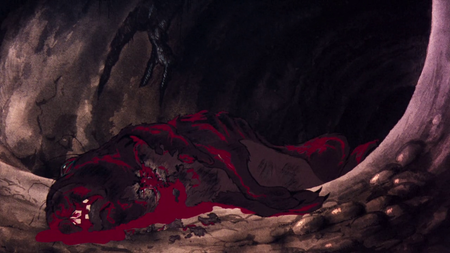 Quatre ans avant de s'intéresser aux toutous, Martin Rosen s'était intéressé aux lapins... Oui bon, dit comme cela, cela peut forcément paraître un peu trivial ; Rosen, en adaptant une nouvelle fois Richard Adams, s'attaque tout de même à des thèmes beaucoup plus vastes que les discussions de comptoir entre lapins. Mythologie lapine, écologie et survie (les hommes, les chats, les chiens, les oiseaux, les renards mais aussi les lapins sont des loups pour le lapin qui doit courir sa race pour échapper aux multiples dangers de l'existence), pouvoir tyrannique,... voilà quelques-uns des grands thèmes brassés dans ce véritable road-movie lapinesque. Comme dans The plague Dogs, on suit les tribulations d'un groupe d'animaux (ils sont plus de deux, cette fois, mais les deux lapins principaux ont quelques points communs avec les chiens principaux du film précipité : l'un relativement courageux et combatif, l'autre plus fébrile, non point perdu dans ses rêves, dans son imaginaire mais capable de deviner de l'avenir), des lapinous qui rament pour trouver un endroit dans lequel ils pourraient trouver une quelconque quiétude.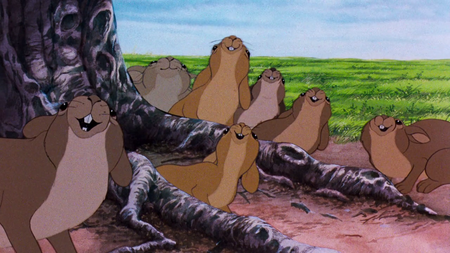 Les dangers sont donc multiples (le vocabulaire lapin est particulier, notamment pour évoquer les "ennemis" : ainsi la voiture devient le "hrududu", un truc super dangereux mais qui ne cherche pas consciemment à vous anéantir) et nos lapins de garenne de vivre moult aventures pour sauver leur life. Rosen "appelle" toujours un lapin un lapin, et quand il s'agit de montrer la mort, il ne nous épargne point, une nouvelle fois, les effusions de sang limite gore... On est po dans le gnangan à la Disney : quand un lapin se fait choper par un aigle, t'as pas le temps de lui dire au revoir. C'est ce qui fait un peu la patte du sieur, ce passage de cet environnement "fleur bleu" (les prairies, les forêts,... ) toujours aussi magnifiquement dessinés à des séquences où éclatent une certaine violence : les règlements de compte entre lapins, notamment sur la fin, sont sans pitié...
A l'image d'un Orwell, Adams et Rosen, par le biais de leurs lapinous, ne peuvent également s'empêcher d'évoquer les régimes dictatoriaux avec ces séquences sur cette société lapine organisée au cordeau et où tout "déviant" est copieusement torturé... Un véritable monde de brutes dans lequel survivre en temps que lapin est loin d'être gagné d'avance... L'atmosphère générale demeure tout de même relativement moins sombre que dans The plague Dogs même si on assiste à notre lot de morts inattendus ; peut-être également, au final, le sentiment qu'un peu moins d'émotion et de poésie se dégagent de cette œuvre plus "réaliste", moins teintée de "vague à l'âme" : nos lapins sont en fait toujours dans l'action pour échapper aux prédateurs mais aussi pour améliorer leur quotidien (la quête de lapines : malin, le lapin) et peuvent essayer de "construire" leur vie ; alors que nos chiens étaient surtout dans l'errance, poursuivis jusqu'aux confins de la terre sans savoir vraiment pour quelles raisons - une vraie vie de chien... Watership down demeure, quoiqu'il en soit, sûrement un des meilleurs films sur les lapins.