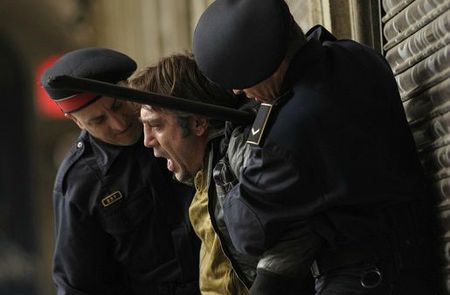 On ne peut pas dire que Inarritu s'épargne pour nous faire partager sa digne conscience de souffrant mystique. Il nous offre là un mélodrame ++, qui, au niveau du litrage de larmes visé, ferait passer Gone with the Wind pour une pochade des Charlots. Je veux bien reconnaître que Inarritu n'a jamais été le cinéaste le plus léger de la terre (ceci dit pour satisfaire mes deux principaux détracteurs, Shang et B***ien, concernant ce bougre) ; mais là, en chaussant ses sabots sulpiciens et en coiffant sa couronne d'épines, il devient lourd comme une croix porté à dos d'homme. Chemin de croix dont il est justement question ici, puisque Inarritu interroge les relations entre souffrance personnelle et souffrance du monde, le bon Javier Bardem étant confronté aux deux, et devant réfléchir aux rapports entre elles. Pour nourrir sa famille, il exploite un groupe de sans-papiers chinois, traficote avec des dealers, jongle avec la légalité sur les chantiers alentours. Activités troubles qu'excuse son statut : sa femme est une furie almodovarienne bi-polaire, et il apprend au début du film qu'il n'a plus que quelques mois à vivre à cause d'un méchant cancer. Son sort va aller de mal en pis, la malchance s'accumulant sur ses épaules alors même qu'il cherche un certain apaisement moral et financier.
Difficile de vraiment savoir ce que Inarritu raconte au milieu de cet imbroglio scénaristique qui fait feu de tout bois : on aborde le mysticisme (Bardem est doué de pouvoirs médiumniques, et peut voir les morts), la chronique sociale, le mélodrame intime, le drame sentimental, le tout en changeant allègrement de style de scène en scène. Mal fagoté, mal tenu et dans la forme et dans le fond, le film laisse très vite apparaître ses failles, une sorte de moralisme discutable (la souffrance personnelle est plus forte que la souffrance du monde) et christique (Bardem en Jésus portant toute la misère du monde avant de mourir), réalisé à l'ère de mondialisation. Car, comme dans le bien meilleur Babel, le gars se pique ici de rassembler sous un même film des cultures et des pensées différentes (Asie, Afrique, Europe, Amérique du Sud) pour mieux nous asséner son discours simpliste : on souffre tous pareil, les gars.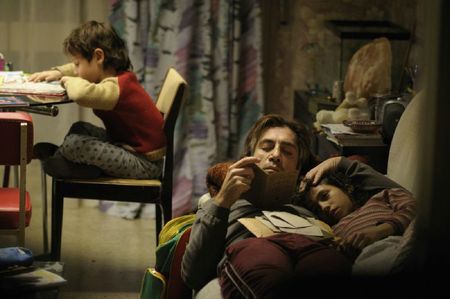 Le film est bon sous deux côtés : quand il aborde frontalement le genre fantastique (les fantômes accrochés au plafond, la belle scène de rêve, le face-à-face avec le père momifié à la morgue), il convainc, et sort de la grossière chronique sociale pour trouver un style onirique et inquiétant assez réussi (renforcé par les jolies expérimentations de la musique). Et puis il y a Bardem, qui est vraiment impérial. Mais pour tout le reste, on a l'impression d'une bouillabaisse trop relevée, qui fournit à la fois la victime et le bâton. Un film-punition en quelque sorte.