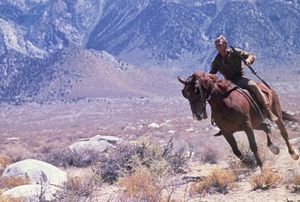 Superbe narration "en ligne claire" pour ce western tardif, qui mèle habilement les motifs du genre à ceux, plus modernes, du film d'aventures, et ceux, plus sentimentaux, du mélodrame. Il y a tout ça dans Nevada Smith, du colt, de l'évasion de bagne, de la femme fatale, et on ne s'en plaindra pas : Hathaway réalise là un modèle de divertissement, glamour et violent à la fois, c'est parfait.
Max est un gosse (joué par un Steve McQueen au moins trentenaire, à vue d'oeil, et qui peine à convaincre dans la première partie du film, où il est censé avoir 15 ans) qui voit ses parents massacrés par les vilains de service (belle brochette de salauds : Landau, Kennedy et Malden, que demande le peuple). Il se met en tête, malgré son inexpérience, de les venger en descendant les coupables un à un ; objectif qui deviendra au fil du temps une obsession sans nuance, quitte à perdre en route femmes, convictions et pureté d'âme. Trame simple, donc, et racontée vraiment avec un très bon sens de l'équilibre : on ne perd jamais de vue
ce thème principal (la vengeance), alors que le film ne cesse de nous entraîner vers d'autres pistes. Amitié avec un marchand d'armes ambulant, petit tour chez nos frères indiens, plongée en marécages de Louisiane pour une promenade au bagne, exil chez les moines, il y a de nombreuses digressions, mais qui ne mènent finalement qu'à un but : Max veut tuer. Sur plus de deux heures, jamais on ne perd de vue cet objectif, et c'est vraiment frappant de constater comment Hathaway s'essaye au maximum de simplicité au sein d'un scénario aussi varié. Il y a quelque chose d'effrayant dans cette obsession de meurtre chez notre McQueen (qui devient vraiment super quand la maturité, les épreuves et le doute viennent le marquer), et le film est souvent assez brutal : les cris de sa dernière victime, par exemple, vous restent longtemps en tête ("Finish meeeee ! You haven't got the gutts ! Finish meeeee !") ; itou pour le meuglement poussé par le gars qu'on poignarde, vraiment bestial. On assiste de même à la mort d'une des superbes femmes de l'équipe, filmée à la fois dans toute sa simplicité (la belle meurt doucement au milieu des marécages, absurdement) et dans toute sa douleur (le désarroi de McQueen en contre-plongée, sublime) : sec et sentimental tout ensemble, du bonheur.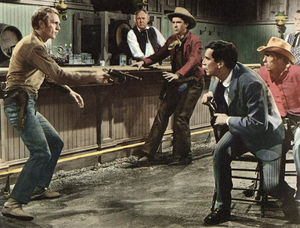 Tout en restant dans un certain classicisme d'ensemble (couleurs, musique, passages obligés de la trame), Hathaway ouvre donc son western vers des horizons nouveaux, et on sent déjà quelques prémisses du Peckinpah à venir là-dedans (celui de Pat Garrett & Billy the Kid). Le tout manque franchement de vraisemblance (ce bagne soit-disant sans pitié qui ressemble au parc Astérix, ce gamin niais qui apprend à tirer comme John Wayne en un week-end de formation), mais on s'en cogne complètement, puisque tout ce qu'on demande, c'est que le gars Steve finisse par descendre tout le monde, si possible dans le fun. C'est très réussi.