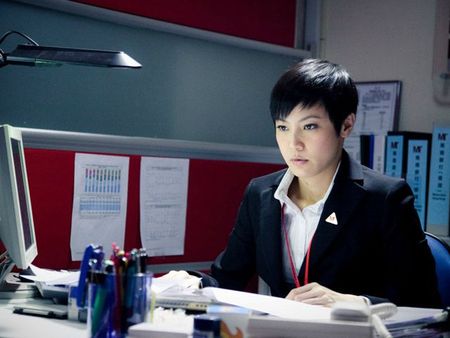 Dernier opus de Johnnie To qui a fait chou blanc à Venise avec ce surprenant polar urbain diurne qui tente de montrer savamment l'impact de la crise mondiale sur différents personnages hong-kongais : une employée de banque sous la pression d'avoir des résultats, un flic qui va avoir une grosse journée (qui dit To dit meurtres crapuleux, forcément) et sa femme, qui aimerait qu'il prenne enfin des décisions, ou encore un gangster dévoué aux siens... Surprenant, disais-je, par le rythme très posé de la première partie du film qui nous fait nous balader d'un appart à louer (le flic et sa femme qui le presse d'acheter) à un bureau de banque (la pauvre Teresa, à la bourre dans ses objectifs, qui tente de persuader une bonne dame de mettre ses économies dans un placement à haut risque) en passant par la salle de banquet d'un patron de la pègre (le gars Panther, bourré de tics, qui se plie en quatre pour satisfaire son chef). On suit tout cela d'un œil un poil alangui tout en admirant la fluidité de la mise en scène. Et puis un meurtre a lieu dans le sous-sol d'un parking, To se lance dans un long flash-back pour nous expliquer comment on en est arrivé là et l'histoire, à l'image des marchés mondiaux qui paniquent avec la crise en Europe, de commencer à s'emballer...
On va suivre en particulier l'agité Panther dans sa course à la démerde pour récupérer de l'argent (un de ses "frères" a été embarqué par la police et il doit trouver la thune pour payer la libération sous caution) avec son lot d'assassinats (le marteau est à la mode ainsi que la pointe effilée) et de situations tragi-comiques (un type qui fait des kilomètres en bagnole avec le cœur transpercé de là à là... po banal, non). On retrouve en parallèle notre galerie de personnages principaux dont les chemins ne cessent de se croiser et qui se retrouvent tous empêtrés dans des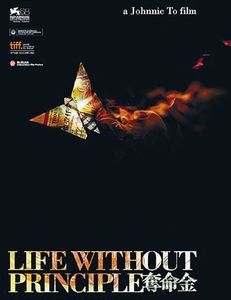 histoires d'argent (qu'il s'agisse d'un magot tombé du ciel ou de la bourse qui s'effondre...). Il faut reconnaître la maestria de To à agencer son récit sans jamais tomber dans la surenchère au niveau des effets : pas vraiment de scènes gore (ohhh, lâchent les fans...) ni d'explosions démentielles comme s'il s'attachait surtout à filmer ces individus à hauteur d'homme face au divers aléas de cette situation financière mondiale qui part grave en live... Après la panique générale, certains vont voir leur situation changer en un clin d'œil sans qu'ils y soient forcément pour quelque chose : ce monde est devenu proprement incontrôlable, on l'a bien compris. To livre une œuvre parfaitement maîtrisée qui sait jouer avec l'air du temps. En s'intéressant avant tout aux destins de différents personnages pris malgré eux dans ce tourbillon planétaire, il livre un film dont le ton est sans doute moins "saignant" et explosif que dans ses polars pur jus. Life without Principle n'en demeure pas moins une oeuvre solide dans laquelle To montre une indéniable et finaude capacité à jongler avec la structure narrative. Méritait bien, au moins, une moustache de lion.