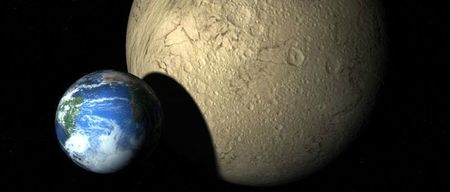 Vus les débats supérieurs qui font rage sur notre blog en ce moment (extraits : "Mélencolia cé de la bouz grave", "a oui cévrai cé de la maird"), il est de mon devoir de trancher : Melancholia, c'est pas mal du tout. Vous reconnaîtrez avec moi que cette opinion, s'agissant d'un film de von Trier, est tout de même annonciatrice d'une certaine déception, et je reconnais : je trouve que ce film est le moins bon de son auteur depuis Dancer in the Dark, et je suis resté un peu de marbre devant les élucubrations esthético-psychologico-cosmiques du Lars pendant une grande partie du film. A commencer par ce prologue, beaucoup trop chargé pour être vraiment touchant, pompier à force de vouloir impressionner le chaland ; autant la première scène de Antichrist était bouleversante parce que justement dopée par la solennité de la photo et de la musique, autant ce début-là verse dans un mysticisme folklorique qui m'a laissé de marbre : les effets spéciaux sont laids et ne servent à rien d'autre qu'à montrer le savoir-faire de von Trier ; si le gars visait l'ouverture à la manière de l'opéra (l'acmé du film représentée en quelques plans figés), il aurait gagné à simplifier, à aller justement à l'essentiel au lieu de se perdre dans cette esthétisme ++ qui gâche l'émotion.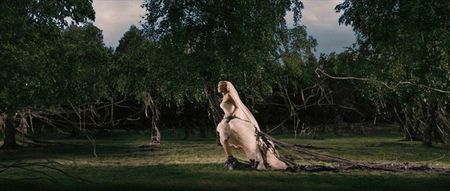 Heureusement le film démarre enfin et ressemble un peu plus à du von Trier. Nous sommes invités à un mariage qu'on pressent dès le début catastrophique : mère trash (Rampling assez marrante), père lourdaud (John Hurt dans ses pantoufles), patron odieux (Stellan Skarsgard un peu attendu dans ce type de rôle), beauf stressé (Kiefer Sutherland, parfait), sœur tellement compréhensive qu'elle en devient condescendante (Charlotte Gainsbourg, mon idole, j'y reviens), et surtout mariés complètement désaccordés : entre le jeune gars gentil (Alexander Skarsgard) et sa jeune épouse (Kirsten Dunst), on sent qu'il y a peu de passion, d'autant que la gonze est à moitié folle. C'est un peu là que le bât blesse, d'ailleurs : von Trier n'a jamais été un fin psychologue, et le personnage de Dunst, fille dépressive et insaisissable, peine à convaincre (ou quand elle le fait, l'actrice étant quand même vraiment bien, elle énerve un poil). On en a vite marre d'assister aux sautes d'humeur de la belle, à ses petites mines de maniaco-dépressives au comportement inattendu, et on repense avec ennui à ce personnage interprété jadis par Björk, lui aussi bien énervant, ou à celui de l'autre film moyen de von Trier, Breaking the Waves. Quand Lars réalise des portraits individuels, il est bien moins bon que quand il montre des communautés. Là aussi, la preuve y est : autant le personnage de Dunst ne passionne pas, autant la force qu'il met à décrire une société en déréliction (la communauté du mariage est à l'image de la société) rappelle l'ironie violente de The Dead de Huston ou de L'Ange exterminateur de Buñuel. Quand cette partie ose être cruelle et frontale, elle convainc ; quand elle se perd dans l'individualité, elle ennuie. Au bout d'une heure, on a envie de voir autre chose, malgré la maestria indéniable de la mise en scène (ces fameuses caméras à l'épaule dont il se sert même dans les scènes très intimes), et malgré des scènes souvent délicieusement ironiques.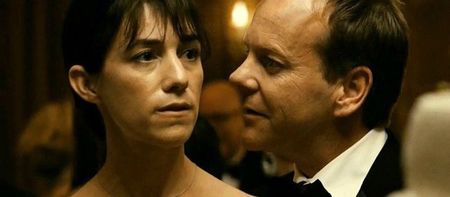 Voeu éxaucé : quand la deuxième partie commence, le film prend enfin l'ampleur attendue. Le mariage passé (et j'avoue ne pas avoir bien saisi les rapports entre la première et la deuxième partie, ni ce que le film veut raconter exactement), von Trier recentre sur le personnage de Gainsbourg, autrement plus intéressant que celui de Dunst, et sur sa thématique catastrophiste : nous sommes dans les derniers jours du monde, une planète va entrer en collision avec la Terre, et tout va se résoudre sur les mètres carrés d'un terrain de golf, autour d'une poignée de personnages. Dans cette deuxième heure, le gars retrouve toute sa puissance : une amertume qui confine à la violence pure dans les rapports humains, un goût pour la transgression et le malaise toujours aussi affûté, une symbolique mystérieuse qui fait mouche, et surtout un regard complètement chargé de haine contre la communauté qui éclate ici avec beaucoup d'éclat. Deux femmes, un homme, un enfant, chacun avec sa façon de voir le monde et sa fin, quatre postures qui se confrontent ; quatre désespoirs ordinaires qui se résolvent sur quelques notes de Wagner (grandeur du montage de la musique, insistante, torturante, qui démarre toujours exactement là où on ne l'attend pas, et qui devient peu à peu le thème unique de la planète Melancholia) ; et le regard inattendu de von Trier sur eux. A l'opposé total du boursouflé The Tree of Life, avec lequel il partage pourtant pas mal de thèmes, Melancholia traite de la foi en l'homme ici et maintenant : ce n'est pas dans l'au-delà que von Trier envisage la réconciliation des êtres, mais dans les quelques secondes qui vont les éradiquer de la surface de la Terre, dans le malheur irrémédiable de n'être que des Humains. Un film anti-catho, nihiliste d'une certaine façon, qui croit qu'il y a des choses à faire avant la mort plutôt qu'après. A ce petit jeu, Charlotte Gainsbourg est immense, et aurait 10000 fois plus mérité le prix que sa collègue Kirsten Dunst à Cannes. Pitoyable, misérable, et d'une humanité confondante, elle est à la fois complètement investie et distancée ; j'ai adoré ces petites mines enfantines que von Trier lui a demandé de prendre, opposées à la froideur rigoriste de son personnage, à sa lâcheté. Dunst est en charge du glamour, Gainsbourg est en charge de l'humanité, 0-1 au bout du compte.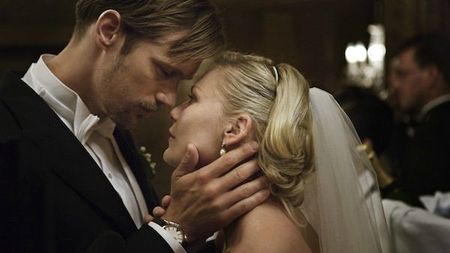 Cette deuxième moitié trouve donc enfin son ton, jusqu'à ce final qui devrait quand même clouer n'importe qui sur son siège, y compris nos amis "cé trop dla merde". On regrette pourtant cette tendance à l'émotion coûte que coûte, bien éloignée de la beauté "intellectuelle" d'Antichrist ou de Dogville. Ça fonctionne, aucun doute, mais on sent aussi qu'on est un peu trop dans le ressenti, et pas assez dans la réflexion. Un peu dommage pour un cinéaste qui a souvent su manier les concepts les plus complexes en se foutant pas mal de la sensation. Si les derniers plans scotchent effectivement, on ressort avec l'impression que von Trier, cette fois, ne nous a pas manipulés avec les bons outils : on est émus, pas secoués, pas mis en cause ni en danger. Bref, un film un peu facile de la part de mon idole, ce qui n'enlève rien à sa puissance ni à son mystère. (Gols 24/08/11)
---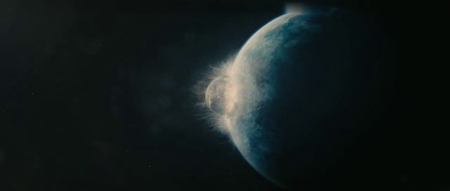 Un peu plus dubitatif que mon collègue sur ce film de Von Trier qui se complaît dans la dépression, la peur et la tristesse. Même s'il s'agit apparemment pour le Lars de son film le plus optimiste (ces trois personnages qui se rejoignent en pleine zénitude sur le fil... juste avant la fin du monde tout de même - ohohoh, rire gras du Lars), qu'il s'agisse de la première partie avec cette à tête à claque de Dunst qui ne prend plaisir qu'à faire la gueule (von Trier et la joie de vivre... olé) ou cette seconde avec Charlotte qui se vide à vue d'œil de sa sérénité (et des larmes et des larmes et des larmes - et je ne parle pas du ciel qui floconne, mouille, grêle... C'est bon pour les nappes phréatiques, mais sinon), Melancholia est un film tellement sombre qu'il vire à la pose quelque peu gavante. Même si on se frotte les mains avec ce mariage qui part en quenouille (remember Festen de son acolyte Vinterberg), de cette limo autant adaptée à des routes de campagnes que moi au folklore breton, à cette coquine de Dunst qui succombe à une partie fine avec un inconnu sur le green (c'est vache quand votre gentil petit mari vient de vous offrir un terrain tout plein de pommiers - vous pensez vraiment qu'il y a un clin d'oeil à la Bible, hum, hum ?... re-rire gras du Lars), mais le cinéaste a tellement tendance à charger la mule au niveau du mal-être de son personnage principal et des seconds rôles déprimants (Rampling plus vénéneuse qu'un scolopendre, John Hurt plus branle-manette qu'un joueur de ukulélé (le coup des cuillères dans la veste et des deux Betty, ça va deux secondes...), cet affreux patron de la boîte de publicité...)), qu'on a hâte qu'il change de sujet...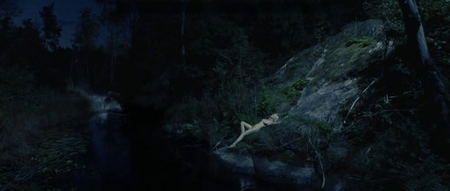 Ah voilà la deuxième partie : on va vite comprendre le retournement de situation ; plus la planète Melancholia se rapproche, plus l'apathique Dunst prend du poil de la bête (la fin du monde, cool), plus la pauvre Charlotte (qui aime à tout bien contrôler) perd ses moyens. Bien, bien, bien... Le plus ironique, peut-être, dans l'histoire, c'est le destin de ce pauvre Jack Bauer qui avait pour habitude chaque jour de sauver le monde et qui cette fois-ci, après avoir rassuré la maisonnée, va disparaître comme un gros lâche - Jack, ptit palefrenier, t'es tombé bien bas... Alors oui, la mise en scène demeure toujours aussi fluide, certaines séquences sont à couper le souffle (ces sublimes vues aériennes sur les chevaux ou la Dunst, nue, se prenant un coup de lune...), les acteurs obéissent gentiment au Lars en livrant leur plus petite mine (j'aime beaucoup la Charlotte, mais là on finit par se lasser de ses regards de déterrée, franchement) toutefois, au final, cette vision apocalyptique du grand Lars demeure bien inoffensive... On sent que le gars s'est réjoui à ringardiser le mariage et à faire péter la planète mais au delà de ça, on ne sait pas trop quoi glaner dans ce film, à l'image de l'intro, un peu bling-bling (beaucoup d'esthétisme à grand renfort de nouvelles technologies pour si peu d'émotion...). C'est quand, Lars, que tu retournes à l'hôpital avec tes ectoplasmes ? Au moins, on se poilait alors... (Shang - 29/02/12)