" On est dans une maison close, la liberté c'est dehors, c'est pas ici."
On pénètre dans cette maison close avec le sentiment d'entrer dans un monde secret, coupé du dehors, comme étouffé par les lourdes tentures, un monde dont les couloirs sombres ne sont pas ceux d'In the Mood for Love mais plutôt d'In the Mood for Sadness. Ambiance mortifère qui frôle parfois l'horreur absolue - la scène initiale, qui revient comme un leitmotiv, de cette femme qui se fait défigurer, la prostituée atteinte par la syphilis qui va mourir au milieu de ses camarades - sans que la dépression au-dessus de ce jardin des délices/supplices ne soit malgré tout totale : il demeure une certaine solidarité salvatrice entre les jeunes femmes du lieu, un lieu dirigé de main de "maîtresse" par (l'excellente) Noémie Lvovsky (à croire, sauf son respect, qu'elle a fait ce métier toute sa vie...), une Noémie lucide - elle ne leur fait rien miroiter -, pragmatique - le client est roi - mais aussi parfois protectrice... Une scène renoirienne, en bord de rivière (la seule en extérieur outre l'épilogue), vient également "éclairer" et égayer cette sombre atmosphère. L'essentiel se passe néanmoins entre les murs, ceux du salon ou des chambres pour les clients chichement décorés (magnifique travail sur la lumière et les couleurs - ces fonds noirs sont à se damner), ceux des chambres et des appartements des filles aux murs fissurés (...). Une ambiance délétère pour ces jeunes femmes dont peu parviendront vraiment à s'extraire - seule la dernière recrue, la très jeune Pauline, y parvient -, des jeunes femmes devant forcément se plier aux fantasmes des clients (de la poupée mécanique - sans commentaire - à la Japonaise - pour homme en manque d'exotisme...) et qui tentent bon an mal an de tenir le coup. Bonello ne joue jamais la carte (facile) de "l'érotisme exacerbé" (la chair est triste) préférant nous montrer le quotidien tristoune de ces femmes - des mesures d'hygiène incontournables à la visite glauquissime chez le docteur.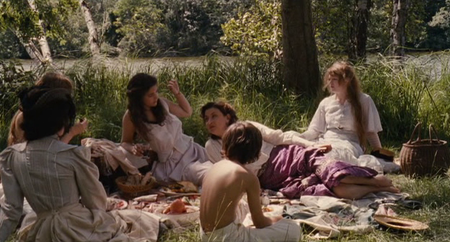 Bonello construit subtilement son film en gardant comme "fil rouge" cette jeune femme violentée : un éternel sourire plane désormais sur ce visage monstrueux, sacrifié aux hommes. Les gouttes de sperme (fallait oser mais l'effet est traité avec un réel tact) qui coulent sur son visage, en guise de larmes (véritable séquence de rêve éveillé) résument à elles seules toute la détresse et la misère de ces femmes d'aisance "qui font commerce". Mais la dimension féline de ces créatures asservies continue de sommeiller en elles et trouvera son point d'orgue lors d'une séquence de vengeance longtemps attendue et remarquablement amenée par Bonello. Tous les clients ne sont tout de même point logés à la même enseigne - l'adorateur (Louis Do de Lencquesaing) toujours à la recherche de "l'origine du monde", le client éternellement ému par les prostituées... - et permettent de donner à cette Apollonide une vision qui échappe à tout manichéisme. Mais la grande réussite de Bonello (au delà de l'aspect plastique ou de l'usage de la bande son - remember l'envoûtant Cindy, the Doll is mine), c'est peut-être d'avoir donné vie à chacune de ces femmes : bien qu'elles fassent toute commerce de leur corps, chacune a sa propre personnalité et on ne tarde point à identifier les forces et les faiblesses de chacune ; une "galerie" de femmes qui n'a rien d'un défilé (de mode) où aucune individualité n'est oubliée. La chair est triste, oui, mais Bonello rend un hommage cinématographique de toute beauté à ces créatures, privilégiant la grandeur de leur âme, leur sensibilité (terrible ce "traité" d'époque qui compare le cerveau des prostituées à celui des criminels - la pauvre chtite Hafsai Herzi toute en larmes, terrible) à l'usage qu'il est fait, bassement, de leur corps. (Shang - 05/02/12)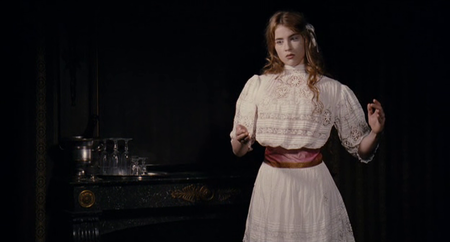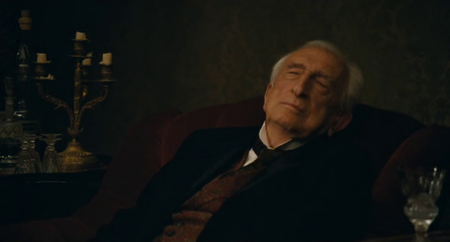 ---
J'arrive longtemps après la bataille, tout le monde a déjà vu ce film 17 fois, mais je suis assez impressionné également par cette chronique hantée. Mon compère a à peu près fait le tour, mais il n'a pas mentionné cet audacieux et curieux mélange entre monde contemporain et début du XXème siècle. c'est pourtant un des principaux attraits de la chose : voir des prostituées pomponnées façon 1900 danser sur du Moody Blues ajoute indéniablement au charme insaisissable du film. Celui-ci n'est jamais suranné, ne s'enferme jamais dans la reconstitution historique poussiéreuse ou nostalgique, malgré ses couleurs très classiques et le soin apporté à chaque détail "documentaire". Il est constamment, et sans qu'on sache vraiment comment, un film d'aujourd'hui. Peut-être est-ce dû à la direction des comédiennes, en rupture très nette avec celle des hommes : eux ont encore un pied dans le XIXème, dans leur façon antique de voir les femmes ; elles ont déjà un pied dans le présent (comme en atteste la triste séquence finale), peut-être parce qu'elles sont passées par-delà les illusions de l'amour, et qu'elles sont particulièrement émancipées quant aux choses du sexe. Les comédiennes, toutes excellentes, sont traitées comme des femmes d'aujourd'hui, et le côté très moderne de la mise en scène (montage parrallèle, split-screens récurrents, musique electro, dialogues légèrement anachroniques) ajoute à cette impression. Bonello a réalisé un film d'époque contemporain.

Pour le reste, eh bien relisez ce que dit le Shang, il a tout à fait raison d'aimer ça et dit très bien pourquoi. Etonnant de voir comment les effets les plus risqués (les larmes de sperme, la poupée mécanique, la panthère) passent bien, dans une sorte de lyrisme sans esbroufe, feutré et en même temps complètement assumé jusqu'à la limite du romantisme. Une plongée mortifère et sensible dans l'ancêtre des Bains-Douches (la boîte) : parfaitement recommandable. (Gols - 15/01/13)