Vous en avez marre des films français où les mecs pleurent en disant "je t'aime" ? Vous en avez assez des films ricains où les enfants et la femme pleurent quand le mec part à la guerre et revient avec une jambe en moins ? Essayez cette légère petite chose coréenne qui se déguste comme un tout ptit bout de viande cuit à point. Si vous avez aimé l'ambiance boucherie familiale du Père Noël est une Ordure, vous aimerez sans aucun doute l'ambiance boucherie en gros de The Murderer... Ah oui, il vaut mieux éloigner les enfants de la télé, assez loin même, pasque ça charcle sa mère, mes amis.
The Murderer est découpé en quatre parties : dans la première notre héros est chauffeur de taxi dans une région totalement pourrave de la Chine (entre la Russie et la Corée du Nord, aïe) ; sa femme est partie en Corée pour se faire de la thune et il a une dette échelonnée sur 345 ans. Comme il joue au mahjong, qu'il se démerde toujours pour perdre et que sa femme semble avoir oublié de lui envoyer de l'argent, c'est pas vraiment la fête du slip. Mais un big boss du coin sent qu'il a du potentiel : oublie ta dette, petit, et va en Corée pour me flinguer un gars - c'est la deuxième partie. Le voyage en clandestin n'est pas vraiment une croisière (enfin... passons) et le gars de tenter de rapidement prendre ses marques pour 1) tuer le gars 2) revoir sa femme dont il est sans nouvelles depuis un bail... Na Hong-Jin ne fait pas toujours dans l'extrême finesse au niveau du montage ("C'est un monde de chien" dit un personnage, hop gros plan sur deux chiens qui se battent ; vous voyez sinon un clip de MTV ? Ben c'est un peu la façon dont Na Hong-Jin monte chaque déplacement de son héros : une image a sa chance pendant trois secondes, ensuite, pfiuttt) mais l'on suit tout de même les traces de ce pauvre gars qui en chie royal avec une certaine empathie.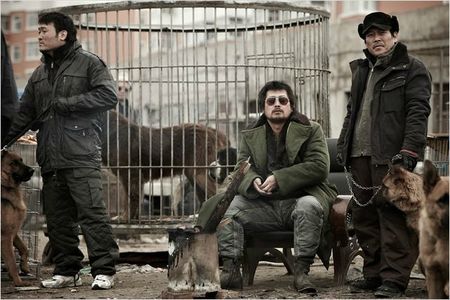 L'heure du meurtre a sonné et là c'est la panique, notre héros n'est po le seul sur le coup, oups... C'est un bain de sang - que dis-je, une piscine municipale de sang - et à partir de là tout part totalement en vrille : un scénario emberlificoté à l'envi sur les deux dernières parties (discussion hier "post-film" avec ma femme : "ah ca y est, je sais pourquoi elle, elle a fait ça, pasque lui avait fait ça... ; oui, mais t'oublies que lui avait aussi fait ça..." Bref, on s'est couchés en ayant chacun au moins trois versions du bazar, po grave en soi) et surtout une surenchère (assez jouissive, j'avoue, nan, j'ai po honte) dans le pétage de bagnoles (la police de terrain coréenne est la plus conne du monde, si, Monsieur, la France est encore battue), le gore (pour défoncer un crâne qu'est-ce qui fonctionne le mieux : 1) une hache 2) un couteau de cuisine 3) un os de mammouth - vous avez du temps pour répondre), le meurtre à gogo... Po sûr que cela plaise à grand-maman, mais avouons que c'est tout de même chiennement efficace - la parabole du début, lorsque le héros parlait de la rage qui s'étendait dangereusement parmi les clebs, va s'appliquer à la violence parmi les hommes ; on pense à chaque foie que Na Hong-Jin est parvenu à un point culminant, nan, nan, attendez de voir la suite...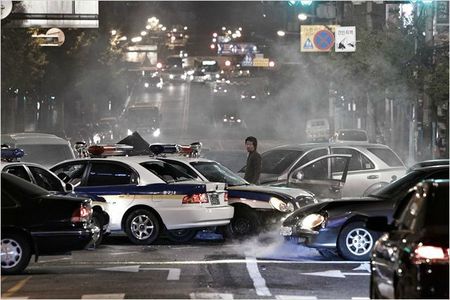 Notre personnage principal, émigré chinois en terre coréenne, est une sorte de Jack Bauer qui n'a rien à défendre, rien à gagner : il doit juste sauver sa peau au cours d'une "fuite en avant" d'anthologie (ah be, c'est parfois un peu too much et po super crédible, true, limite cinoche, quoi... - sinon, je peux vous indiquer une rétrospective Rohmer pour ceux qui n'auraient toujours pas digéré les fêtes de fin d'année) et même si plus d'une fois on se dit que le héros ne devrait pas abuser de la hache (un ptit cycle Rivette, sinon, darling ?), il fait carrément figure d'enfant de chœur par rapport à son boss, l'homme aux chiens (Mélenchon est battu sur le terrain du gars "le plus hargneux" : haut la main, pfff, même po concours). On passe deux heures et demi en enfer, à tenter, tant bien que mal, de recoller tous les morceaux (c'est le cas de le dire) de l'intrigue - des trucs finissent tout de même par s'éclaircir mais là j'ai pas le temps de vous faire un topo... Bilan : reconnaissons que le gars Na Hong-Jin est doué pour nous entraîner dans son maelström de violence et que cela faisait longtemps que je n'avais po pris une telle claque dans le genre. Après, c'est sûr qu'il y a une pitite complaisance dans l'excès et la violence gratuite, eh eh... Mais le monde d'aujourd'hui est dur, ma petite dame, comme me disait hier un gars de Pôle emploi qui venait de perdre le sien. Une expérience en soi ? C'est évident. Que je conseille à l'ami Gols (qui avait aimé le premier film de Na Hong-Jin The Chaser)? Tout à fait. Mais ce sera à lui, pour une fois, de vous livrer toutes les ficelles du scénario : là j'ai pas le temps, je vais courir...