" - I know you don't want the boy to see war pictures, but it seems...
- Teaching children the art of death and destrcution, the cruelties, the tortures...
- He's gotta know that these things exist and then he can fight against them when it's his turn. You can't wrap the boy in cellophane."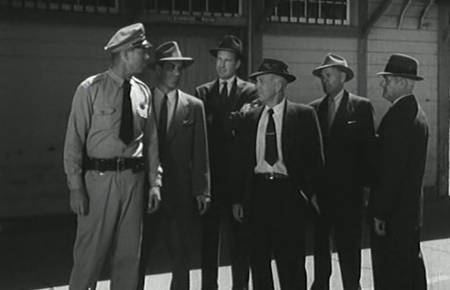 Il peut paraître on ne peut plus ironique voire paradoxal que le film censé mettre en garde nos amis ricains contre une "menace" qui planerait (ah ces fumiers de cocos...) sur leur président (donc sur leur vie...) - d'où le fait d'être constamment sur le qui vive et d'apprendre dès le plus jeune âge à se défendre - ait fini apparemment par inspirer... Lee Harvey Oswald (c'est en tout cas ce que dit la légende...). Aucun homme n'a alors encore réussi à descendre un président américain et Frank Sinatra, dont les états de service à la guerre demeurent troubles, a mitonné cet assassinat pour être le tout premier... Ambiance forcément tendue dans cet appart (qui a une vue imprenable sur la gare de la petite ville de Suddenly - l'étrange nom de cette bourgade jusque là bien paisible - où doit descendre le président en tournée) dans lequel se retrouvent pris en otage, par trois hommes, une jeune veuve (de guerre) pacifiste (Nancy Gates), son gamin, son beau-père (ancien membre des services secrets), le shérif de la ville (Sterling Hayden, toujours aussi couillu) qui lorgne en vain sur la Nancy et... un réparateur télé. Sinatra n'est pas le genre de mec à rigoler mettant tous les spectateurs de son côté en brutalisant au besoin la femme, en giflant le gosse qui n'a po la langue dans sa poche ou en tirant froidement sur le premier gars qui veut jouer au héros - un maigre sacrifice que celui de sa vie quand celle du président est en jeu, mais ouais. Lewis Allen ne fait pas forcément dans la finesse au niveau du fond (le gamin intrépide qui troque son pistolet-jouet contre un vrai trouvé dans l'armoire familiale), c'est clair, mais trame un polar efficace.
Sterling Hayden est un dur qui se fait massacrer le bras par une balle dès le départ mais qui a à peine un rictus de douleur quand Sinatra se plaît à étirer le membre pour le remettre "en place" (spéciale dédicace en forme de private joke à l'ami William...) ; Sterling Hayden est aussi un grand adepte de la psychologie de base décidant de faire constamment parler l'ami Sinatra, plutôt disert, pour tenter de troubler son attention. Tous nos petits otages (sauf la femme parce que ce n'est qu'une femme, hein... Mais non, allons... Même elle finira par tenir son rang de femme... fatale) mettront la main à la pâte pour tenter d'interrompre cette ignoble complot (que représente sa vie quand celle du président est en jeu...): il faut voir notamment le grand-père mettre en place un subtil stratagème avec le réparateur télé... Sinatra apparaît rapidement comme un lion dans une cage - les yeux exorbité, la bouche tordue (à croire qu'il a passé sa vie à cotoyer les gens de la mafia (...)) - prêt à tout pour faire parler la poudre et devenir "quelqu'un". On aura droit à notre lot de fusillade au bout de ces soixante-dix minutes joliment calibrées... A montrer le plus tôt possible à vos gamins si vous voulez qu'ils deviennent flics... Sinon, vous pouvez vous rabattre sur Bambi si jamais vous souhaitez qu'ils nourrissent une haine éternelle contre les chasseurs, c'est selon...