"Some people are happy when they have money. Me I'm only happy when I've got nothing. Nothing and a friend."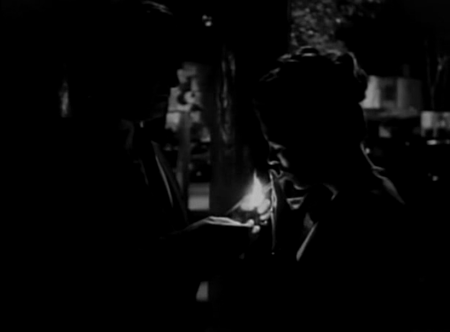 Le fameux Lady in the Lake (filmé en caméra subjective) de Robert Montgomery, réalisé d'ailleurs la même année, ne m'avait pas franchement passionné. Me voilà d'autant plus cueilli par ce petit polar au titre improbable qui, sur une trame aussi fine qu'un rasoir et sans avoir besoin de multiplier les rebondissements ou les scènes d'action (un passage à tabac, un coup de poignard et basta cosi), t'accroche dès la longue première séquence muette (un classique : un homme débarque dans une petite ville du Mexique ; il cache un truc dans un casier et le cinéaste de prendre tout son temps à filmer son héros (ah ben oui, tiens, c'est lui-même...) et à le montrer acheter un chewing, le mâcher tranquillement puis s'en servir pour accrocher la clé du casier derrière un plan de la ville - cool, on a le temps les gars) pour ne plus te lâcher. Le MacGuffin est un gros classique - Robert cherche à contacter un certain Hugo pour le descendre, croit-on au début, puis finalement simplement pour le faire chanter. Hugo est un ponte qui tente de faire, dans un premier temps, la sourde oreille (excellent, l'idée de l'appareil orthophonique dans sa poche et sa façon de décrocher le téléphone à l'envers) mais qui veut bien ensuite se plier aux (modestes) demandes de ce bien tendre quidam... Mais comme dans tout bon film de genre, l'essentiel est ailleurs...
Quand Robert Montgomery débarque dans ce petit bled mexicain, le visage fermé, on pense que le gars est le genre de tueur auquel on ne la fait pas... Quand on voit néanmoins tout le mal qu'il a pour se faire entendre et ne trouver ne serait-ce qu'une chambre, on se dit qu'il s'agit sûrement d'un simple bon bougre derrière les apparences. Quoique méfiant au départ envers l'autochtone - comme tout bon Ricain qui se respecte -, il ne va pas tarder, presque malgré lui, à faire ami-ami avec une chtite sauvageonne mystique (racée Wanda Hendrix) - elle lui donne une babiole censée le protéger et n'aura de cesse de coller à ses basques, juste pour le plaisir de jouer les anges-gardiens - et un genre de sergent Garcia (Thomas Gomez), un type rondouillard qui aime la picole, se marrer mais qui s'avère surtout un type fidèle en amitié - quand il te dit être ton pote, c'est pour la vie et c'est po rien... Au delà de ses deux individus qui vont le tirer de divers sales coups, Robert fait la connaissance d'un flic expérimenté - en mission pour surveiller ce gars Hugo - et d'une donzelle - the girl vénale et fatale du genre - qui n'a de cesse de vouloir s'associer avec lui... Il a tendance à prendre ses distances avec le flic et à se rapprocher de la gonzesse... Autant dire, qu'il n'est pas vraiment du genre à choisir les meilleurs options...
La grande force de cette œuvre est à trouver dans le rythme paisible que lui impose Montgomery ; on est au Mexique, en pleine fiesta, les donzelles vous font les yeux doux à tous les coins de rue, la thune pourrait couler à flot pour notre Robert - s'il était un peu plus gourmand et malin... cela pourrait être la véritable bacchanale. Ben non justement, on reste au niveau de notre simple héros (un type moyen pas vraiment ambitieux et suffisamment ouvert pour filer sa confiance à des étrangers) et Montgomery, cinéaste, de prendre son pied à filmer de longues longues séquences de dialogues qui finissent par donner du poids à chaque individu : la chtite Wanda incarne l'innocence et la pureté à l'état brute sous haute influence religieuse (joli plan sur la fin lorsqu'elle se retrouve devant une église), le Mexicain ventripotent est l'exemple même de l'ami précieux prêt à tout sacrifier pour sauver son prochain (joli petit laïus sur l'amitié et le désintéressement) - et ces deux personnages font fortement orienté le destin du Robert : il était là pour une sombre histoire de vengeance et de thune, il va avoir l'opportunité de rencontrer coup sur la coup la confiance et la tendresse... Po forcément ce qui était prévu... Le réalisateur nous gâte avec une scène noire de chez noir (le rendez-vous dans la nuit avec la femme fatale qui demande forcément du feu et cette lame de couetau qui surgit inopinément...) mais également avec cette longue séquence où le Robert perd totalement pied : blessé méchamment au bras, fiévreux, il commence à délirer et à revivre son arrivée quelques heures plus tôt dans ce bled... Alors qu'il allait forcément à sa perte, ses nouveaux petits camarades de jeu (en particulier la jeune donzelle) vont tout faire pour lui faire éviter le pire... S'il ne perd po la vie ou ne gagne pas de thune, quel est alors le but du voyage ? Hum, hum, c'est là tout l'intérêt de la chose même quand on se plaît à jouer les Lucky Luke ("I'm a poor lonesome...") de pacotille... Tournez manége, jeunes gens, et n'hésitez point à enfourcher au passage ce fameux "cheval rose". Ce trip mexicain en vaut la chandelle.