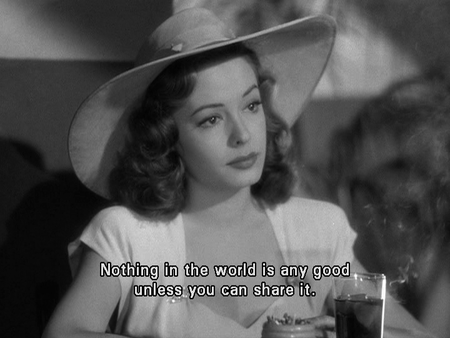 Alors là, si on n'est pas sur du velours...!!!! Tourneur est à la baguette et réussit sans même donner l'impression de forcer un des plus grands films noirs de tous les temps, une merveille qui se savoure comme chaque huître un soir de réveillon sans même qu'il soit besoin d'ajouter un filet de citron (je ne parle pas des huîtres en Chine, of course, dans lesquelles même les perles sont en acier (trempé, vi)). Mitchum is the king of the world, plus smooth et débonnaire qu'une palourde : ses confrontations avec Kirk Douglas, tout en dialogues finement ciselés, sont littéralement jouissives - oui, j'ose -, et notre homme de faire fondre chaque femme qu'il croise (et quelles femmes !) comme du beurre dans un wok surchauffé : Jane Greer (Kathie) est fatalissime, Virginia Huston (Ann) est attendrissantissime, Rhonda Fleming (Meta... la robe qu'elle porte, soulignant terriblement ses formes, est un attentat à la pudeur en soi) est intrigantissime... Mitchum entre passé et présent traîne sa carcasse comme une âme en peine, n'aspirant qu'au bonheur simple, n'étant aspiré que dans une spirale de plans foireux... Out of the Past dépasse les frontières du film culte, on est tout simplement dans le pur chef-d'œuvre d'une modestie terrifiante.
Rien ne vaut d'être vécu si cela n'est point partagé : la parole est sage, dommage tout simplement que le Mitchum l'ait prononcée en présence de Jane Greer. Il est à Acapulco en mission : trouver une donzelle et la ramener à son "proprio" (le Kirk, po rancunier, puisque la belle s'est enfuie avec quelques liasses lui appartenant après l'avoir plombé... beau joueur, mouais...). Il passe des journées modianesques à la terrasse d'un café en face d'un cinéma... Rien ne se passe, il s'en branle, il sait juste que, fatalement, il va finir par tomber sur elle. Il sait déjà qu'il en tombera amoureux, qu'il devra s'enfuir avec elle et qu'une vie d'emmerdes, alors, commencera. Pour l'heure, il n'est po vraiment pressé de rencontrer son destin. Et puis elle se pointe avec son grand chapeau, les premiers mots de flirt partent sans qu'on puisse les retenir, la Belle sourit sans même pouvoir s'en empêcher, les deux se reverront et s'embrasseront à la tombée de la nuit sur une plage mexicaine devant les filets des pêcheurs. Du nougat, même mes deux chats ont la larme à l'oeil... On pourrait quitter le film là et partir se promener le cœur allégé. On est malheureusement bien trop fan du genre et du malheur...
Ce sera la fuite en avant pour nos deux tourtereaux, l'ex-associé de Mitchum se fera maître-chanteur et se prendra un pruneau par la Jane. Elle disparaît et laisse le Robert avec le cadavre d'un pote à enterrer... Voilà le récit que Mitchum livre à la douce Ann avec laquelle il est bien décidé à refaire paisiblement sa vie. Seulement, il a un rendez-vous avec le Kirk, recroise la turpide Jane, on échappe point aux rets du passé... Il sait là encore, bien avant tout le monde, que la nouvelle mission que lui balance le Kirk a tout du plan merdique... C'est reparti pour une petite tranche de femmes fatales, de cadavres qui jonchent le sol, de gentilles petites manipulations entre amis. Plus le Mitchum tente de la jouer fine, plus il se retrouve accusé de meurtres qu'il n'a point commis. Cela fait douze fois qu'on voit le film mais on se refuse comme un benêt de voir la fin venir... Et si Tourneur avait décidé dans la nuit de changer la dernière bobine et de venir glisser dans la pochette du DVD une autre version ? Oui, bon, on peut toujours rêver.
L'image est tellement belle qu'on la croirait parfois échappée des studios Harcourt, les baisers échangés entre Mitchum et Huston sont tellement tendres qu'on finirait presque par croire que l'amour existe, le regard de Jane Greer est tellement fatal qu'on se demande si on osera encore un jour lever les yeux sur une créature féminine sans se mordre la lèvre inférieure. A peine quelques coups de feu dans la nuit, une baston entre Mitchum et son associé qui semblerait presque trop stylisée pour être vraie (il est décidément trop fort ce Jacques), une partie de pêche à la truite (sport pourtant paisible et pacifique par excellence) qui vire curieusement au tragique ou encore un sourd et muet dont chaque geste en dit long, voilà en vrac quelques éléments inoubliables dans un film qui ne l'est pas moins. Hors catégorie, c'est tout... (Shang - 19/12/11)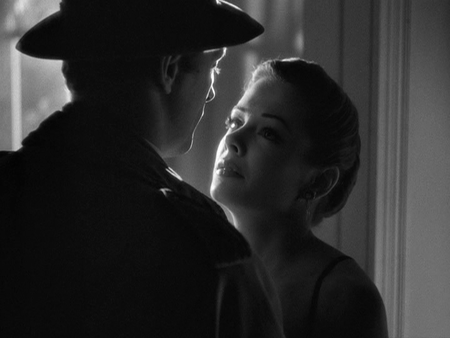 ---
Ben c'est la beauté des choses classiques, quoi. On a l'impression d'avoir vu 100 fois ce genre de trames, on sait à peu près où ça va finir, on se doute que le Mitchum, à force de flirter avec le danger, ne va pas s'en tirer complètement indemne, on voit d'avance les larmes couler sur le minois de la femme sympa et le rictus s'esquisser sur celui de la biatch de service, on a beau connaître ça par coeur... on ne peut pourtant qu'applaudir à deux mains, parce qu'on n'en a que deux, la façon dont Tourneur mythifie tout ça, et réalise une sorte de non-retour du genre. Après Out of the Past, il sera difficile de trouver une image aussi glamour, des acteurs aussi class et des filles aussi fatales dans un film noir, tant on a l'impression qu'il grave dans le marbre tous les motifs du genre. Comme une sorte de mode d'emploie du film noir, quoi. Je n'ajouterai rien à la chronique en érection de mon camarade, il a tout à fait raison de s'extasier sur chaque élément de ce film (juste trouvé que Kirk Douglas n'avait pas grand chose à jouer, moi, mais c'est ma seule réserve), effectivement grandiose. Le travail sur la lumière, notamment, est extraordinaire, comme le montre la dernière photo du texte de Shang : les contours des visages sont sculptés dans la lumière, alors que le "plein" des costumes est toujours sombre et indistinct. Notons aussi que les dialogues fusent comme jamais, c'est un festival de bons mots balancés avec un flegme hyper-class par un Mitchum au-delà du génie. Et puis, que voulez-vous, Tourneur est incroyable pour capter de simples mouvements de corps (Mitchum qui se retourne pour voir la belle buter son collègue, décoiffé, étonné comme un gosse), pour fabriquer un cinéma modeste mais dense et beau à mourir. D'accord avec mon compère : ce film ne joue pas dans la même cour que les autres. (Gols - 11/01/16)