Grand film des jours sombres, Journal intime fait partie de ces œuvres qu'on savoure pendant 90 minutes en bouffant un kilo de bonbon Haribo en solo, en oubliant que le monde alentour existe ou qu'il n'est peuplé que de Nanni avec son casque et de Jennifer Beals. Finalement guère revu, si je ne m'abuse (mais j'ai des trous...), depuis sa sortie en 93 - ben ouais le temps filoche - mais toujours la même magie à savourer cette œuvre en triptyque : Nanni en vespa ou le concentré des plus beaux clips des années 90, Nanni dans les Îles où enfants, télévision, évasion, civilisation moderne en prennent pour leur grade, et Nanni et les médecins ou comment vous convaincre une bonne fois pour toute de ne plus tomber malade - ou alors, au pire, au moindre symptôme, de boire un verre d'eau, le matin, pour toute cure.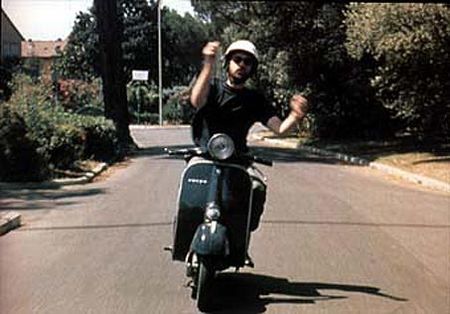 Nanni se laisse aller à divers commentaires sur des quartiers de Rome - des plus populaires au plus tristement bourgeois - apprécie en esthète les façades, nous livre une petite compile musicale d'instants de grâce (Léonard Cohen, Angélique Kidjo, Khaled, Keith Jarrett) et se dandine sur son engin roulant tel un cauchemar ambulant pour la sécurité routière : on hume le bitume et on zyeute ces allées fleuries, Nanni au guidon de sa vespa is the king of the world. Moretti se permet également d'évoquer son rêve d'avoir toujours voulu savoir danser, se lance dans un petit duo improvisé lors d'un baloche (facilement reconnaissable, l'homme au casque d'albâtre, c'est lui) et rencontre "par hasard" la femme de ses rêves - l'inoubliable Jennifer Beals de Flashdance, vous pouvez pas comprendre. Une petite diatribe en passant contre un critique qui écrit les pires conneries en se gargarisant d'expressions trash (le Nanni tout ébaubi en quittant la projection d'Henry, portrait of a Serial killer, qui erre dans les rues romaines - immanquable) et une ultime petite visite - long plan-séquence qui suit l'éternel Nanni sur sa vespa avec en fond les simples notes émouvantes du Keith - sur les lieux où Pasolini a été assassiné. Déjà, on respire un peu mieux, on trouve la vie un peu plus belle.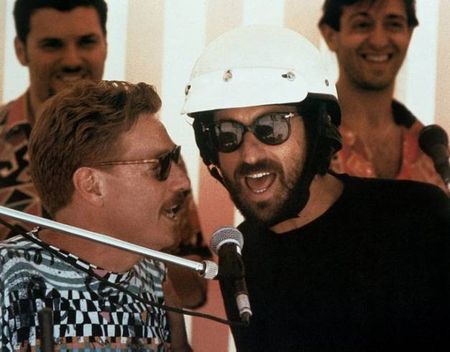 Nanni cherche un vrai refuge pour se mettre à bosser. Il rend visite à l'un de ses amis qui étudie l'Ulysse de Joyce depuis des années, "isolé" sur son île. Le type n'a pas regardé la télé depuis 30 ans et le proclame fièrement. Une retraite propice à la réflexion ?... Est-ce vraiment possible encore ? Forcément tout va partir en live, d'île en île : ici c'est le bruit de la circulation, là un couple qui pète les roubignolles avec son enfant (une île où les enfants uniques ont pris le pouvoir... Nanni qui imite facétieusement le cochon le temps d'une scène comme une parodie plutôt grinçante sur ce "royaume d'enfantillages"), et même sur l'île rossellinienne de Stromboli, terre de Dieu, voilà nos deux personnages principaux amenés à discutailler avec un groupe de touristes américains du soap Amour, Gloire et Beauté... La triste pente savonneuse - ou volcanique - prise par la culture... Son comparse, qui, en route, est devenu gaga de la téloche, finira par quitter la dernière île en courant car il n'y a point d'électricité... Nanni se livre lui en solitaire a une partie de football sur un terrain pris entre deux bras de mer comme pour retrouver un poil d'innocence. Les îles, derniers refuges pour fuir la civilisation ? Tout juste un leurre ; le seul endroit vraiment paisible, lors de ce voyage, étant finalement, lors des transferts, le banc du bateau sur lequel on peut s'allonger. Le constat est amer.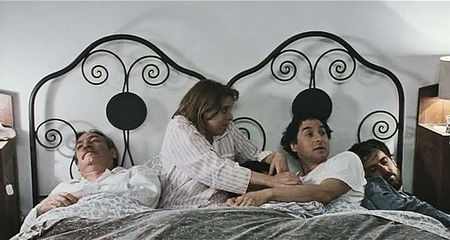 Nanni et son prurit qui dégénère. Après avoir consulté moult dermatologues ou allergologues, après avoir essayé la médecine traditionnelle de grand-mère à base de légumes, les bains aux céréales et même la médecine chinoise, Moretti se retrouve non seulement avec trois milliards de traitements médicamenteux mais surtout sans aucune amélioration de son état... On se croirait retourné à l'époque de Molière avec cette armada de docteurs dans leur blouse blanche, aussi drôles qu'un stéthoscope est froid et qui racontent surtout n'importe quoi. Tout un ramassis de beaux parleurs incapables au final de vraiment tendre l'oreille une seconde vers leur patient. Malgré l'agacement évident du Nanni, l'épisode en devient hallucinant par son côté kafkaïen et surtout amusant tant le Nanni termine toujours dans les pires positions - le regard vide de Nanni dans le bain de céréales, franchement, que du bonheur. Le journal intime se referme, on a la bouche toute sucrée mais on se sent aussi plus léger, l'esprit empli d'une joie simple. Du très grand Moretti dans un sobre écrin. (Shang - 14/10/09)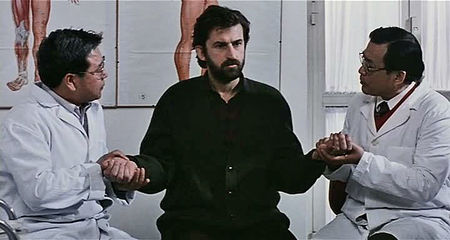 ---
AAAAAAHHHH c'est dans ces moments-là que je me sens l'envie d'épouser mon Shang. Il a su effectivement trouver l'expression adéquate pour qualifier ce chef-d'œuvre : avec Nanni, la vie est déjà un peu plus belle. C'est toujours difficile de parler des films qui ont changé votre vie (celui-ci est assurément dans les 5 premiers de mon Panthéon personnel), c'est pourquoi je ne le ferai que rapidement. Avec Journal Intime, on a la sensation d'un cinéma qui aurait enfin trouvé sa liberté, un cinéma sans chaîne, au fil de la vie. Sans jamais verser dans le nombrilisme ou dans "l'auto-fiction", Nanni nous propose juste de passer quelques minutes avec lui, nous prenant doucement par les épaules comme pour nous dire : regardez ce que j'aime, écoutez mes disques, vous connaissez la dernière qui m'est arrivée ? Inutile de dire qu'on le suivrait au bout du monde, tant son univers (concret ou imaginaire) est beau : la poésie, la musique, l'humour, la saine colère, la mélancolie, tout est proposé dans ce film, en un seul petit pack tout en modestie et en joie. C'est vrai que le dernier épisode est plus douloureux, c'est vrai qu'on croise aussi là-dedans la mort, la fin d'un certain état de la jeunesse, la perte des repères intellectuels, la ruine de la culture... Mais on en ressort avec l'impression d'une lumière éclatante. Moretti se moque complètement des règles cinématographiques : son film est un "auto-portrait universel", qui peut passer sans qu'on n'y voit le moindre souci d'une balade sans but dans Rome à un sketch plus narratif, d'un quasi-documentaire à un pur fantasme, d'une scène de comédie musicale à une critique sociale. Moreti regarde le monde avec amertume et humanisme en même temps : la critique est rude quand il capte ces adultes infantilisés par leurs propres enfants, perdant le sens du langage dans des cris d'animaux primaires ; ou quand la caméra s'attarde sur les centaines de boîtes de médocs pris inutilement par le bougre pour guérir de sa maladie ; mais le film est d'une tendresse craquante quand il filme la plage de Pasolini uniquement pour un hommage gratuit ; quand Moretti chante à tue-tête et sans aucun souci de justesse simplement parce qu'il aime une chanson ; ou quand, au détour d'un plan, le petit être solitaire au casque blanc se dédouble et nous montre sa petite femme coiffée elle aussi de la même façon. Pour moi, il suffit de m'envoyer le générique pour que les larmes coulent à flot : Moretti trouve l'exacte note, la justesse totale, l'harmonie entre douleur et joie, entre désabusement et amour de la vie. UN film fait par un être humain : c'est très très rare. (Gols - 11/12/11)