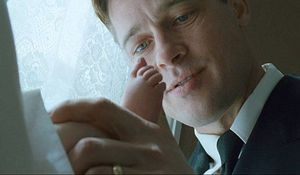 Cette cagole de Pocahontas m'avait laissé de marbre (The new World, berk) ; The Tree of Life m'a laissé exsangue. Pas très fan ni de publicité, ni des productions Besson ni des évangélistes, je ne peux que déclarer mon indifférence totale face à ce cinéma solennel et bigot, qui n'hésite pas pour autant à être d'une prétention sans borne et d'un goût infâme. On voit tout à fait ce qui a pu lui valoir la Palme d'Or : c'est consensuel, œcuménique et académique, sous ses dehors audacieux, panthéistes et inédits. Passer de Weerasethakul à ça, quand même...
Ca commence comme La Terre vue du ciel de Arthus-Bertrand : une demie-heure de phénomènes naturels au ralenti avec une musique fastueuse (du requiem par quintaux, jusqu'à l'écœurement), des animaux vachement beaux au ralenti, des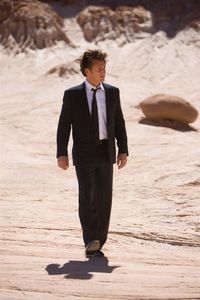 éruptions de volcans au ralenti, et des vagues prises par en-dessous. Au ralenti. On se souvient alors d'avoir vu au générique que c'était un film EuropaCorp, et on comprend mieux : Besson a dû imposer à Malick cette esthétique de documentaire animalier à la con, on attend avec angoisse la voix-off de Nicolas Hulot qui parlerait de développement durable (elle n'arrivera jamais, mais on aura droit à quelques sentences bien senties, genre : "Dieu est amour de son prochain, tous ensemble grave, l'amour est plus fort que tout" énoncées par un Sean Penn hébété), et on assiste consterné à cette vision d'une nature déifiée à l'extrême, aussi réaliste qu'un clip pour Areva, et pour le coup vraiment pas justifiée dans le scénario. Oui, parce qu'au départ, tout ça démarre sur la mort d'un enfant ; rien qui justifie a priori des jets de lave, des éclipses ou des copulations de dinosaures (oui, oui, ça va presque jusque là). Pourtant, les raies manta, les diplodocus et les geysers bouillonnants sont de sortie, histoire de relier cette histoire avec le cosmos et de justifier sa réputation de cinéaste puissant. Sortez les tambourins et les pâtes de fruits au LSD, rasez-vous le crâne et fouettez-vous d'orties en commandant le catalogue Nature et Découverte, Krishna-Malick vous recrée le monde en 30 minutes. Kubrick, qui avait tenté le même coup pour 2001, en avale son tofu bio de travers : comment, sur la même idée, réaliser un chef-d'oeuvre ou tomber dans le ridicule complet...
Ca se termine comme une pub pour les produits laitiers : blancheur immaculée, petits enfants trognons dans les bras de jolie maman, musique à base de chœurs harmonieux, photo surexposée, éloge de la pureté confinant à un quasi-fascisme effrayant : les dernières minutes sont encore plus terribles que les premières, on a envie que Brad Pitt, je ne sais pas, vomisse, ou pète un coup, tellement le consensus et le bon goût mondialisé sont de mise. Malick se livre à une vision de l'au-delà encore plus ringarde que sa vision de l'Eden dans son film précédent, une sorte de no man's land où tout le monde se retrouve, sourire et pardon aux lèvres, sur une musique que Vangelis aurait trouvée too much. Je propose qu'on confisque la Bible de Malick, lecture dont il a un peu trop abusé (surtout en mélangeant cette lecture avec la drogue), et qu'on la remplace par des lectures plus saines, ça nous éviterait le pensum.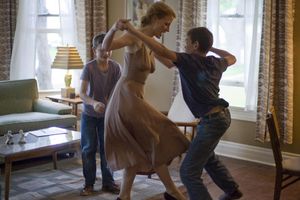 Entre ce début ridicule et cette fin écœurante, eh bien ma foi, on a quand même droit à un peu de cinéma. Quand il laisse ses cours de catéchisme aux vestiaires, Malick songe enfin à un sujet et à un traitement : on a droit à la chronique attachante d'une petite famille, qui se concentre sur un des enfants. Ses rapports avec son père (Brad Pitt en paternel sévère, brutal mais juste et perdu) et sa mère (Malick a un souci avec les personnages féminins, vraiment à la limite de la simplicité d'esprit dans ses films : il nous refait le coup du papillon et de la jolie femme qui court après, je rêve), ses difficultés à grandir dans l'ombre d'un frère un peu plus sage que lui. Le récit est joliment construit, par petites saynètes qui sont autant de touches de pinceaux et qui définissent avec précision l'univers mental du garçon. La mise en scène, enfin ample et intelligente, privilégie les grands mouvements de caméra vertigineux (parfois un peu trop ostentatoires quand même, Malick n'est pas un adepte de la petite cuillère pour ce qui est du style), qui placent magnifiquement les acteurs dans l'espace et dessinent avec une grande force visuelle les rapports entre eux. C'est juste, raconté avec un maniement impeccable de l'ellipse, plutôt bien joué et sincère. On sent une part d'intimité et d'autobiographie dans cette longue partie, et on apprécie enfin que le cinéaste pose son attirail de gourou du dimanche pour filmer des êtres humains, surtout avec cette ampleur-là. On reste dans le béni-oui-oui, hein, attention, dans la morale réac et le consensus mou ; mais tout de même, c'est filmé autrement mieux qu'un film de Philippe Lioret sur un sujet, reconnaissons-le, pas beaucoup différent (je suis méchant, mais il mérite). (Gols 13/06/11)
---
"I don't do what I want but what I hate." (le clin d'oeil à Tomorrow is another day est pointu)

Je pensais que mon comparse, peu fan du Malick dans l'absolu, avait eu la dent un peu dure, et force est de constater qu'il a presque eu la louche un peu molle. The Tree of Life, au delà du fait qu'il m'a foutu le mal de mer (on va se cotiser pour lui acheter un pied de caméra et l'intégrale d'Ozu), m'est totalement tombé des yeux - si j'avais été un arbre, je n'aurais plus de feuilles, clair. Je me soupçonne presque d'avoir dormi vu que je viens d'apprendre que Sean Pean était au générique (il fait le dinosaure blessé, nan ?) - bon ok, je plaisante, mais si on lui avait filé un prix d'interprétation pour ces quelques trente secondes de présence, je plastiquais Cannes. Malick verse donc dans le poème lyrique familial biblique. Je serais presque tenté de rajouter "de mes couilles" mais comme le type n'a apparemment aucun humour, je me retiendrais - j'ai dit biblique mais c'est une véritable œuvre mormonne à bien y réfléchir... Ah c'est sûr qu'au niveau du résumé - et ce bien que T.M. a l'humilité de raconter sa petite histoire entre la Création du Monde et l'Éternité (juste une chtite fourchette de temps) -, on a pas vraiment d'effort à faire : c'est donc l'histoire d'un gros con de père dictatorial - avé un ptit coeur qui bat quand même, c'est Brad Pitt - qui a des rapports tendus avec en particulier l'un de ses gosses. Bon pourquoi pas, mais pourquoi filmer l'essentiel du film avec un drone télécommandé ? Je sais pas, on peut po poser trente sec. la caméra et laisser un bout de dialogue se dérouler entre les deux - juste une fois ?; ou putain, juste un champ-contre champ classique et chiant comme la pluie comme dans un Carné ? Me dites pas que Malick n'a pas le temps vu celui qu'il perd à filmer des tournesols, des sauterelles, des crapauds cosmonautes et des ectoplasmes féminins (la mère qui semble tout juste sortie d'une pub pour Caprice des Dieux). Ah oui reste la morale : putain la vie est dure : parfois même, au sein de sa propre famille avec son frère, son père,... on se fait des trucs pas clean ; heureusement au final, on va tous se retrouver à marcher comme des cons sur la plage avec des gens tout autour qu'on a jamais vu mais l'essentiel demeure de se faire des grands sourires et surtout de ne rien dire pour pas venir polluer l'air pur. On se croirait presque dans Lost et après m'être tapé le dernier Abrams, cela est franchement un peu dur à avaler... Une chronique douce-amère (autobiographique ? Ben flûte alors) qui s'inscrit avec une grande sobriété dans le système solaire ? Mouais, cela valait peut-être la palme de la caméra qui tangue, mais pas celle en or - ni celle de la déconne d'ailleurs... Vivement l'automne (cela me laisse franchement aussi dubitatif que l'ami Pitt ci-dessous...).