"You don't do what you want to do but what to have to do."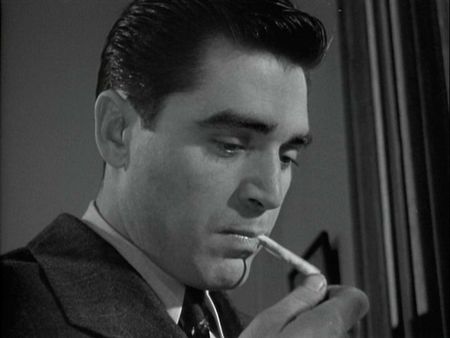 Pas facile de passer 18 années de sa vie en prison pour avoir flingué son père... à l'âge de treize ans. Quand l'ami Steve Cochran sort de tôle, c'est clair qu'il est un poil déphasé... A peine le temps de se mater une fille, de se faire une bonne tournée de gâteaux à la chantilly, de rencontrer un type un peu trop à la coule... et notre Steve d'être à deux doigts de r
etourner en prison sans passer par la case départ : faut dire que ce "type à la coule" était journaliste et qu'il n'a pas hésité à faire un article pleine page sur notre homme - pas vraiment la publicité à laquelle il s'attendait... Comme Steve a la tête un peu près du bonnet, il se rend au journal et lui pète la gueule - j'aurais fait pareil sauf si le gars bossait pour Charlie Hebdo, faut po abuser. Heureusement, le journaliste ne porte pas plainte et notre Steve de se retrouver à errer dans les rues à la recherche d'une gonzesse - la base... Il se rend dans un dancing, ne tarde point à faire la connaissance d'une blonde avenante (Ruth Roman, plutôt mon genre - moi c'est Shang) mais notre Steve a décidément un don pour s'attirer des emmerdes : alors qu'il se rend dans la piaule de notre blonde, il tombe sur un gros bras qui tente de le virer ; Steve fait parler ses poings, se prend une grosse mandale, s'évanouit et la chtite blonde de se saisir du flingue du bourrin et de le descendre... Le hic pour Steve c'est que le gars est flic, qu'il meurt peu de temps après et que la blonde lui fait croire que c'est lui qui a tiré - Steve a une mémoire de poisson rouge... Trop pas de bol.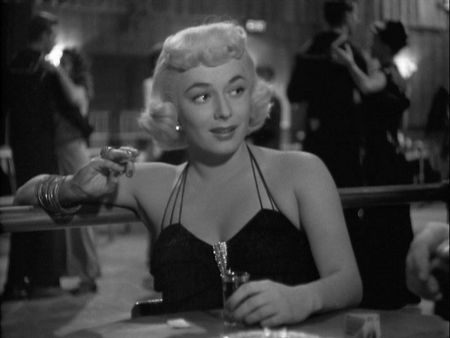 Steve et Ruth ne vont pas tarder à se retrouver sur les routes pour tenter d'échapper à la flicaille... La Ruth, blonde un peu fofolle, se teinte en brune, s'adoucit vachement et ne peut s'empêcher de tomber amoureuse de ce pauvre type plein de bonne volonté. Ils se marient, se roulent des pelles passionnées et se retrouvent en pleine cambrousse à ramasser des laitues - ambiance de "baraquements de fortune" qui n'est pas sans faire penser aux Raisins de la Colère, quelques dix ans plus tard... Le Steve et la Ruth, rapidement en cloque, sont contents d'être ensemble et pourraient couler de longues années paisibles si le passé ne les rattrapait point. Steve est de toute façon sur les charbons ardents depuis qu'il a vu sa photo dans un magazine - il est recherché le bougre - et soupçonne ses voisins de vouloir le livrer à la police... Est-ce que vous seriez capable de tirer sur la personne que vous aimez pour l'empêcher de faire une grosse connerie ? Je vous laisse méditer deux secondes ce dilemme infernal et laisse en suspend le final de cette oeuvre point avare en revirement de situations... Noir de chez noir ?... Pas forcément...
On s'attache à ce petit couple en fuite bourré de culpabilité ; si Steve lui annonce rapidement de quoi son passé fut fait, elle mettra du temps à lui avouer que c'est elle qui est responsable de la mort du flic. Nos deux ptits gars sont tout de même touchants dans l'adversité, s'improvisant en Bonnie and Clyde pacifistes - c'est pas commun, nan. Le Steve est forcément un peu brut de décoffrage - on le comprend - et la chafouine Ruth de chercher à le domestiquer du mieux possible. Même si elle lui joue un mauvais tour, la Belle, suite à sa transformation capillaire notamment, est loin d'être aussi égoïste qu'elle n'y paraît et fait preuve d'un max d'empathie pour sauver le Steve d'une "rechute" infernale. Un bon ptit noir rondement mené par ce Felix E. Feist (!? On sort tous les jours de notre mallette de nouveaux réalisateurs dans cette "odyssée noire") avec juste ce qu'il faut de sensualité et de suspense pour nous tenir en haleine. Sympathoche découverte.