"I hate mornings, worst part of the day."
Nouvelle adaptation après celle de Hawks de To have or to have not du gars Hemingway avec dans le rôle titre un John Garfield on ne peut plus pugnace, accompagné d'une brune sincère et dévouée dans le rôle de sa femme (Phyllis Thaxter) et d'une blonde fatale qui sait la jouer tout en tact et en patience (la charmante Patricia Neal). On est dans le bon vieux "fond social" avec cet homme marié, deux bambinettes, qui a bien du mal à joindre les deux bouts : son business patine - il amène de trop rares clients en mer pour la pêche avec escale au Mexique - et touche pratiquement le fond quand l'un des clients lui fait faux bond en terre mexicaine après une petite virée. Il va d'abord s'essayer au trafic de Chinois qui va mal tourner - va faire confiance à ces gars, toi, tous des fourbes ! - puis n'aura d'autres choix, pris à la gorge par ses crédits sur le bateau, que d'être complice d'un vol à main armée (le casse de The Killing en trente secondes chrono) en fournissant une échappatoire marine à quatre bandits.
Garfield est donc un type combatif, attaché à sa femme mais qui n'est point sans faille, toujours capable de se laisser attirer par les sirènes de l'argent facile pour ne pas perdre son bateau et tentant également de résister tant bien que mal aux sirènes féminines - faut reconnaître cela dit que la Patricia Neal lui fait sacrément du rentre-dedans et qu'il faudrait être de bois pour ne pas craquer quand elle apparaît dans son peignoir et te souffle sur la nuque, la coquine... - mais le John, well done man, tient quand même bien son rang... Garfield sait qu'il joue un petit jeu dangereux où il a tout à perdre (sa liberté, son pote black, sa femme...) et semble le faire tout du long avec l'énergie du désespoir. Curtiz nous mitonne quelques bien jolies séquences, notamment celles où le trio se retrouve presque "par hasard" dans un bar : alors que John est en train de se pinter avec cette blonde par trop caressante, sa femme surgit dans la bagarre ; la bougresse sait garder la face mais ne se gène point pour balancer deux-trois petites réflexions dans les dents de cette blonde (l'échange à propos du sac et les métaphores qui s'en suivent est particulièrement fort de café) qui accepte ce combat avec le sourire. Garfield a beau se la péter, il a bien du mal à être au niveau de cette passe d'armes.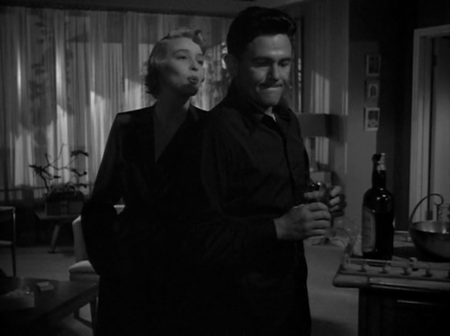 Une autre scène tirerait des larmes à une chaise en osier, celle où la femme de John revient chez elle teinte en blonde : elle se prend d'abord dans la tronche les quolibets de ses deux gamines, puis lorsque son mari revient à la casa, il a du mal à remarquer le changement avant de se laisser aller à des compliments de pure forme ; la chtite tête de sa femme néo-blondinette est pathétique au possible et on perçoit toute la douleur qu'elle ressent dans sa chair (au moins...) - tout l'effort d'une femme pour plaire à son mari dans une assiette : scène terrible en soi vu le peu de réaction de ce mari terriblement soucieux (des problèmes de thunasse mais aussi dans un ptit coin du cerveau, cette autre blonde, forcément, beaucoup plus tentatrice... même si, bah... rah les hommes...).
La dernière partie du film est trépidante avec notre John qui accueille à son bord ces quatre têtes brûlées accrochées à leur butin et à leur flingue. Il pense avoir tout préparé pour tenter de se jouer d'eux, mais là encore la partie s'annonce serrée - d'autant que d'entrée de jeu, il doit serrer des dents en assistant au sacrifice de son ami black, jusque là son véritable ange-gardien... Il se bat comme un beau lion sur ce navire transformé en passoire où fusent les balles et Curtiz de nous livrer une séquence finale à l'aurore dont il a définitivement le secret (la femme de Garfield et les bambins, la réflexion lapidaire de la blonde (ci-dessus en incipit), le plan sur le chtit black qu'on avait quasiment oublié dans la bagarre, ce plan d'ensemble sur ce quai qui se vide...) : c'est ptêtre po au niveau de Casablanca, nan, mais Curtiz de savoir toucher notre ptit point sensible pour que cette conclusion vienne s'insinuer durablement dans notre esprit. Malin le Michael qui réussit son adaptation.