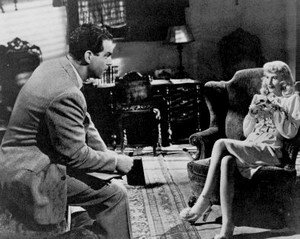 Alors là les enfants, on est dans l'essence du film noir, on nage en plein pétrole. Le Wilder qui veut faire concurrence à l'Hitch adapte du Cain avec Chandler au scénar et on aboutit à cette perle noire qui ferait passer une Malgache des côtes pour une laponne [c'est auto-référencé, je m'en excuse... désolé pour la Chinoise de cette aprème qui confondait Madagascar avec l'Alaska... ouais ave l'accent chinois c'est presque pareil]. Bref, Barbara Stanwyck est the Femme Fatale, Fred MacMurray est the type trop malin pour ne pas tomber dans son propre piège, et Edward G. Robinson est la petite tique enragée qui ne lâche jamais l'affaire.
Dès le plan en contre-plongée sur la Barbara à demi-nue, on comprend qu'il s'agit de l'araignée qui guette sa proie et qui ne va pas tarder à fondre sur ce petit malin de vendeur de compagnie d'assurance qui se plaît à lui annoncer qu'on n'est jamais assez couvert. Ce plan dans l'escalier sur la chaîne de cheville de la belle est sublime, tant l'on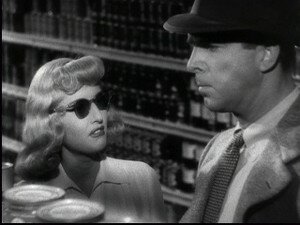 On est en 1944, l'Amérique qui entre en guerre a perdu son innocence et Billy Wilder enfonce profondément les racines de ce qui deviendra un genre en lui-même: des êtres de chair, chacun avec des motivations très personnelles, qui jouent au jeu du chat et de la souris, catch me if you can, montre que tu es plus intelligent que moi (le couple Murray/Robinson) ou plus calculateur et froid que moi (le couple Murray/Stanwyck); il est quand même génial que dans la seconde qui suit son aveu (elle éprouve pour la première fois un sentiment amoureux) la femme fatale trouve la mort: du moment où celle-ci avoue son amour, elle se perd - le scorpion piqué par lui-même; son complice était quant à lui, à la seconde où il a posé son regard sur elle, déjà programmé à subir un sort funeste. Plus sauvagement noir que le Hitch, ce Wilder. Garçon, un double. (Shang - 18/12/06)
---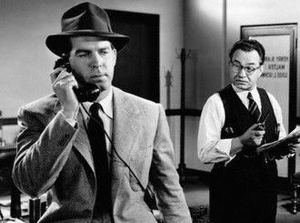 Un peu moins emballé que mon camarade, je dois le reconnaître, même si je constate le savoir-faire indéniable du gars Wilder (qui le nierait ?) Pas très passionné pour ma part par cette histoire d'assurances un petit peu attendue, et qui concentre l'essentiel de son intérêt sur la trame... alors qu'elle en a relativement peu, d'intérêt, justement. Certes, une grande partie du plaisir vient de l'aspect inéluctable du destin de personnages, je l'admets : savoir dès le départ que notre héros va être pris dans les griffes de la vamp, que celle-ci court à sa mort, et que le fin limier parviendra à résoudre l'enquête, ça a son charme. Mais comme le développement de l'intrigue ne comporte pas en lui-même assez de rebondissements vraiment étonnant, je me suis un peu ennuyé devant ces destinées toutes tracées qui mène tranquillement le film à son terme attendu sans réelle surprise. Même quand le destin s'amuse à jouer des tours à nos tourtereaux (la voiture qui ne démarre pas au moment crucial), Wilder l'oublie très vite et revient dans la linéarité, comme pour nous montrer qu'il aurait pu être très inventif mais qu'il préfère rester dans l'académisme du genre. J'ai aimé cet aspect classique dans l'esthétique, dans les atmosphères, dans l'archétype des personnages, mais un peu comme on regarde une statue grecque : on voit bien que c'est beau et proportionné, mais on espère un peu plus d'impolitesse au genre.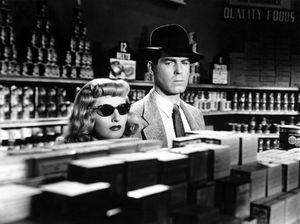 Cela dit, Wilder livre un très bel écrin, somme esthétique du film noir, ça a même tout du moule originel. Ces lumières glauques (très jolie idée d'éclairer le pull blanc de Stanwick dans la première scène, plutôt que son visage qui reste dans l'ombre, à l'opposé de l'école française à la Duvivier), cette musique jazzy, ces costumes qui ont servi de patron à tous les polars suivants, et surtout ces petits détails de comportements qui ont toujours fait la marque de Wilder (l'alcoolo de Lost Week-end prenait toujours sa clope à l'envers ; ici, c'est Robinson qui cherche toujours une allumette pour ses cigares), tout ça donne une patine classique très précieuse au film. Mais, je ne sais pas, c'est sûrement les acteurs, avec ce fade et peu charismatique Fred MacMurray, et cette Barbara Stanwick que j'ai toujours trouvée aussi glamour qu'un parpaing, qui n'ont pas les épaules suffisantes pour envoyer une vraie aura à l'ensemble ; ou peut-être que Wilder s'est un peu laissé étouffer par son intrigue et n'a pas trouvé de vraies idées formelles ; en tout cas je reste un peu sur ma faim. Pour les adeptes d'un cinéma pur et classique, un très bon moment, voilà. (Gols - 27/06/11)