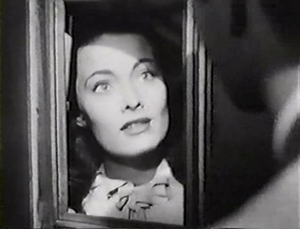 On est sûrement un ton en-dessous, par rapport à The Lodger, Hangover Square ou The Locket (qui ressort aujourd'hui en France), mais cette version des aventures de Phillip Marlowe (adaptée de The High Window de Chandler - pas vu encore l'adaptation de Leeds, Time to Kill, qui date de 1942) demeure totalement "réjouissante". Robert Montgomery incarne le célèbre privé, et même s'il n'a pas un charisme de folaille (on a un peu peur qu'il vole en l'air en cas de fight), ses petits airs finauds et son petit sourire de dragueur rusé apportent du sang neuf au personnage. Ce que j'aime chez Marlowe, c'est qu'il bosse pour une paille (25 $ la journée, c'est que dalle) et qu'une fois qu'il est sur un coup, même si entre-temps son propre client lui demande de lâcher l'affaire, il se fait un devoir d'aller jusqu'au bout. Il est fier le Philip et... aussi porté sur la gente féminine. Faut reconnaître que la petite secrétaire de sa cliente (Nancy Guild) vaut particulièrement le détour. Même si l'affiche américaine nous met gentiment en garde ("Certaines femmes ne peuvent supporter les chats... Moi, c'est les hommes" - eheh) et que cette Merle Davis joue au départ les Sainte-Nitouche ("Nan Philip, je n'aime point qu'on me touche"...), notre privé préféré ne va point s'en laisser conter et va lui proposer, en six leçons, de la "dérider". C'est à mes yeux - même si on sort pour le coup complétement de cette enquête un poil tarabiscotée - les meilleurs moments du film : Marlowe se fait un devoir et surtout une joie de l'initier à l'art du baiser et possède sa propre technique pour la mettre à l'aise (j'adore lorsque, assis sur le sofa, il la prend par la taille et la secoue dans tous les sens comme pour "l'échauffer"...) Ah oui, sinon venons-en à l'intrigue, vraiment ?
Oh ben il est question d'une pièce de collection (le fameux "Brasher Doubloon" - cette chronique vous aura au moins permis de comprendre le titre) dérobée chez une vieille ; cette dernière fait donc appelle à notre gars Philip pour qu'il remette la main dessus et celui-ci va se retrouver à suivre un jeu de piste jonché de cadavres... Si la police se montrait un poil plus suspicieuse, Marlowe pourrait se retrouver une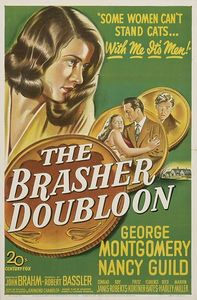 demi-douzaine de fois en prison, mais celui-ci sait toujours malicieusement mener sa barque pour, comme Hercule Poirot, attendre la conclusion du récit pour tout éclaircir. Des morts brutales, des chantages en veux-tu en voilà, des problèmes d'héritage, d'anciens meurtres irrésolus qui refont surface... Pour ce qui est des rebondissements, on n'est point déçu et notre Marlowe, qui rentre en possession de cette pièce maudite, de passer son temps à se faire braquer (ma "préférence" allant au type au regard torve, on dirait Zemmour en plus sournois - si tant est que cela soit possible) ou tabasser (faut toujours qu'il prenne une chiquenaude dans la tronche, à croire qu'il y prend plaisir). L'un des éléments de l'enquête le plus intéressant réside dans un film tourné par un obscur caméraman allemand émigré à Hollywood (un ptit parallèle avec le parcours de Brahm himself est possible, si, si)... La preuve par l'image, mais une image qu'il faut savoir "analyser" - enfin, un simple "agrandissement" suffit à dissiper le doute, c'est pas non plus ultra-compliqué - pour ne pas faire fausse route. Petit coup de théâtre final pour lever le voile (qui est vraiment fou, qui est vraiment un assassin ?) et notre Marlowe de gagner sur le coup une dévouée et fidèle secrétaire (quel veinard !)... Dommage qu'on assiste point in extenso aux trois dernières leçons... Un Brahm taquin qui en soixante-dix-minutes suit parfaitement son cahier des charges. Bien belle Nancy Guild euh, pardon, enquête.