"There's nothing more tragic in life than the utter impossibility of changing what you have done" Galsworthy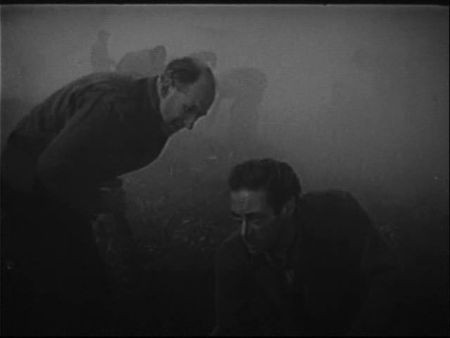 Bien inspiré de me pencher dans la foulée de House of Strangers sur l'une des œuvres les moins connues de Mankiewicz. L'histoire d'un homme qui, à la suite d'un petit accrochage et la mort accidentelle d'un flic, est condamné à trois ans de prison. Estimant cette condamnation totalement injuste, notre homme va se faire un devoir de se faire la belle et croisera dans sa cavale une poignée d'individus plus ou moins compatissants, plus ou moins... justes. Mankiewicz livre une petite réflexion sur la "notion" de la justice humaine absolument passionnante dans un film qui ne l'est pas moins : Rex Harrison est un homme traqué qui tente de passer inaperçu dans cette campagne anglaise guère accueillante ; seule une jeune femme, Peggy Cummins (petite bombe blonde aussi tolérante que craquante), décide de lui venir en aide, pendant qu'un de ses anciens amis va tenter de mettre à sa disposition un avion de tourisme (c'est un ancien pilote) pour qu'il se fasse la malle en France... Mais grande est l'adversité et tortins les coups du sorts.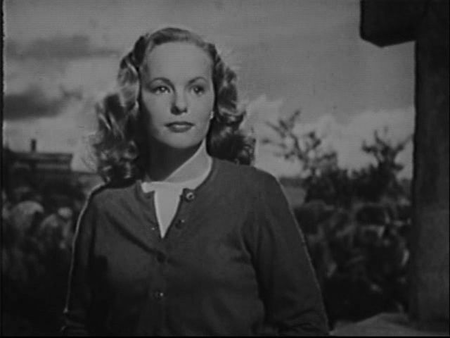 Il est bien beau de tenter de prendre la défense de la veuve et de l'orphelin ou de croire en la clémence et en l'indulgence de ses frères humains : Rex Harrison en fera la dure expérience. Après avoir rencontré une femme la nuit dans un parc et discutaillé gentiment avec elle, celle-ci se fait alpaguer par un flic qui l'accuse de tentative de racolage. Rex s'interpose, dit qu'il n'en est rien, se fait un peu bousculer par le flic dont il ne supporte point les manières et envoie balader celui-ci sur un banc sur lequel il se fracasse... Oups, le flic n'a pas l'air bien en point, la donzelle se casse sur les conseils de Rex et notre héros de rester (l'homme ayant l'air blessé) en attendant que les autres flics rappliquent... Un coup de pas de chance, il se dit, un coup de trois ans de prison, annonce le jury : Rex est vert...
Le bon point de l'Angleterre quand on est prisonnier, c'est ce putain de brouillard. Notre héros va profiter d'une grosse nappe à couper à la faux pour se faire oublier... C'est le début d'un long périple durant lequel il va se retrouver constamment obligé de se cacher comme le renard qu'il croise lors d'une chasse à courre : la meute humaine est à ses trousses, l'issue peut-elle être autre que sanglante ? Rex a la chance de croiser la dévouée Peggy avec laquelle il va avoir de petites discussions pointues ("Suppose you do get away, dit-elle sceptique, will you really be free ? Won't you exchange one kind of prison for another ?" ; il lui rétorque du tac au tac à cette chtite qui ne roule pas sur l'or et est fiancée à un type friqué : "Aren't you merely exchanging one kind of poverty for another, marrying a man you don't love ?"). Ça la scie littéralement sur place ; il va finir d'ailleurs, le
bougre, par charmer cette petite fleur des champs (il a tout de même de la chance dans son malheur); malheureusement on ne peut pas dire que ses autres frères humains vont lui tendre la main... Rex tente pourtant, quand il en l'occase, de leur faire une petite leçon de morale (le vendeur de bagnole qui condamne en bloc "ce type qui s'est échappé" - sans reconnaître que c'est Rex - et notre héros de lui faire remarquer qu'il est lui-même le dernier des petits truands quand il s'agit de faire du business vu les craques qu'il a racontées pour vendre sa bagnole), se rendant compte que cette "humanité" est décidément guère brillante (un de ses anciens potes prêt à le vendre contre de la thune, ce petit propriétaire qui organise, fusil à la main, une véritable battue pour le descendre comme un lapin...). Il aura tout de même l'opportunité, en fin de parcours, de croiser un prêtre d'une bien belle sagesse : ce dernier, loin de vouloir le dénoncer ou de chercher à lui en imposer, reconnaît que même les hommes d'Église sont loin d'être infaillibles - c'est là également à ses yeux toute la différence entre la justice divine et celle des hommes... On voit mal justement comment, dans ce "brouillard" que constitue la justice humaine, notre ami Rex pourrait s'en sortir, d'autant qu'il joue de malchance dans sa tentative désespérée pour s'échapper (bien belle cascade que celle où la roue de son avion heurte le toit de la voiture de police...). Une vision, au final, sur cette soi-disant humanité quelque peu pessimiste, sauvée in extremis par les tendres baisers de la chtite Peggy - comme si finalement l'amour pouvait constituer la seule rédemption offerte à Rex... Un très bon Mankiewicz en terre anglaise, pour une œuvre mâtinée de noir, à laquelle il serait bien dommage d'échapper (oui, bon, le plus dur c'est peut-être déjà de mettre la main dessus, j'admets).