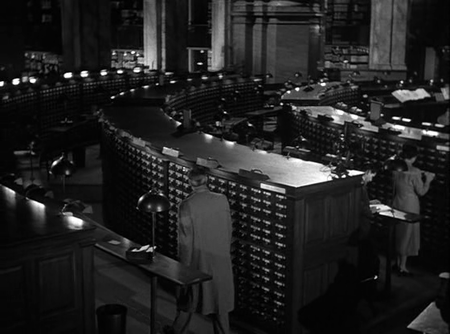 Bien belle gageure que celle de réaliser un film noir absolument sans aucun dialogue - on est au moins pas emmerdé par les sous-titres -, un film qui, au final, a tout pour faire jouir un Melville ou un Bresson. Rouse, qui plus est, ne semble pas chercher trois cent cinquante autres façons pour nous faire passer "son/ses" message(s), les indications données à lire à son agent secret pour qu'il accomplisse sa mission ne nous étant, la plupart du temps, même pas montrées. Il s'agit donc du bon vieux temps temps de la Guerre Froide avec un scientifique spécialisé dans l'énergie nucléaire (Ray Milland, irréprochable) faisant passer des documents ultra-secrets... vers l'Egypte. Le rituel pour lui indiquer quand il doit sortir et prendre contact avec un agent est basé sur la répétition de la sonnerie de son téléphone. Il sort, marche sur les pas de son contact, récupère un bout de papier négligemment jeté à terre, se rend dans les Bureaux de l'Énergie Atomique pour photographier avec son mini appareil des documents, donne la pellicule - généralement dans une immense bibliothèque (silencio !) - à un agent qui la donne à un agent, qui la donne... Tout cela dans une sorte de ballet (pour espions de base) parfaitement chorégraphié. Malheureusement pour le gars Ray, un des intermédiaires va avoir un bêta accident de la circulation, des microfilms vont être trouvés sur lui, des suspicions vont peser sur les ingénieurs travaillant dans ces bureaux et notre héros, pourtant po vraiment fier apparemment de ce qu'il faisait jusque là, de devoir prendre la fuite...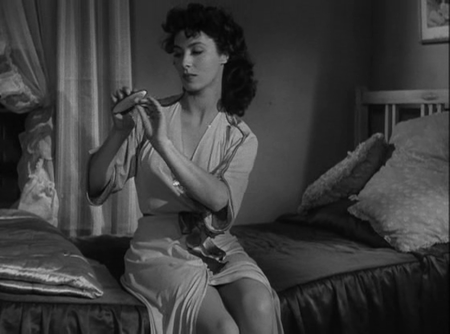 Au delà de l'idée originale - vingt-quatre ans après la fin du muet, fallait oser -, cette petite prouesse nous permet de sentir l'absolue solitude de cet agent si discret. Avoir une vie réglée uniquement sur la sonnerie de son téléphone, il y a de quoi devenir fou, et notre ami d'être à plusieurs occasions à deux doigts de péter un câble. Il est d'une certaine façon totalement coupé du monde : tout, autour de lui, demeure proche mais finalement rien n'est accessible ; pour preuve cette magnifique séquence lorsqu'il croise le chemin, lors de sa cavale, de la plantureuse Rita Gam : cette magnifique créature se trouve être sa voisine ; alors qu'il doit rester confiné dans sa planque, elle exhibe dans le couloir ses jambes qui font, à vue de nez, facilement trois mètres de long, de façon à rendre malade d'envie tout hétéro (qu'il travaille ou non au FMI) ; le Ray, après avoir résisté plus de temps qu'il n'est humainement possible, commence à la convoiter (il la mate du pas de sa porte alors qu'elle a laissé la porte de son appart ouverte), elle capte son regard insistant dans miroir, et la porte (arrrrrrrrrrgh) se referme (une véritable torture, la séquence étant tendue comme un slip de fonctionnaire bossant à l'International). Agent, cela fait peut-être bien sur un C.V. ou simplement pour se la péter auprès des gonzesses, mais dans la vraie vie, c'est un cauchemar. Ray se retrouve comme un lion dans une cage (petit plan en plongée, dans son appart, qui ne mange pas de pain) en attendant les instructions qui lui permettront de s'enfuir du territoire américain. L'histoire culminera lors d'un rendez-vous au sommet de l'Empire State Building, Ray devant prendre contact avec un agent alors que celui-ci est lui-même surveillé. Summum du suspense mais aussi summum dans son engagement puisque notre Ray va se rendre compte à quel extrême il est rendu pour avoir une chance de rester libre... Ce n'est définitivement pas une vie, comme une fuite en avant... à pas feutrés.
Tenir quatre-vingt-dix minutes sans le moindre mot c'est possible, Rouse pouvant s'appuyer en particulier sur la magnifique composition de Ray Milland - qui avec un simple et léger haussement de sourcil nous fait comprendre une foule d'infos (donc je dois me rendre dans le bureau de truc pour lui piquer ses docs dans son coffre-fort, les prendre en photo et ensuite mettre le microfilm dans le tiroir étiqueté "deb-dec" dans cette fameuse bibliothèque) : j'ai essayé de faire la même chose devant ma glace, c'est pas donné à tout le monde - mais également sur la tonitruante partition du gars Herschel Burke Gilbert qui sait toujours parfaitement comment dramatiser une situation (avec des violons et des cuivres qui pètent sa mère). Comme ce n'est en plus pas un manchot à la caméra (Monsieur Sam Leavitt : The Man with the golden Arm, Anatomy of a Murder, Cape Fear...), on a toujours l'impression d'être à la fois dans le feu de l'action tout en pouvant capter (chaque mimique des personnages étant soigneusement "photographiée") les pensées et les motivations de chacun des individus. On est peut-être loin du chef-d'oeuvre absolu mais l'exercice - de style - est, quant à lui, réussi haut la main.
Noir c'est noir, c'est là