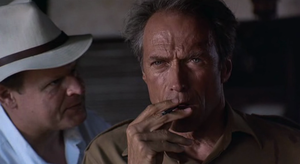 Pas mal pas mal, ce petit Clint qui joue de plus en plus dangereusement avec son image et s'éloigne de plus en plus de son personnage héroïque passé. Le voilà même à un endroit où on ne l'attendait pas, puisque White Hunter Black Heart lui fait interpréter un personnage ambigu, troublant et pour tout dire assez antipathique. Pourtant, très vite, on voit clairement pourquoi Eastwood a choisi ce sujet, et tout ce qu'il va pouvoir mettre dedans d'autoportrait. Le sujet, c'est un épisode de la vie de John Huston, en l'occurrence le tournage d'African Queen : on suit la préparation du tournage, et on découvre ce caprice obsessionnel du vieux cinéaste : il ne tournera rien tant qu'il n'aura pas abattu un éléphant, ce film en Afrique étant plus pour lui l'occasion de s'amuser avec sa carabine dans la savane qu'un vrai choix artistique. Devant le reste de l'équipe effaré (le producteur, le scénariste, l'équipe technique), Huston (rebaptisé Wilson, ce qui est complètement idiot, puisque Clint ne cache absolument pas la véritable identité de ses personnages) repousse sans cesse le premier tour de manivelle, dans une posture à la fois dédaigneuse et exagérément virile face à tout ce qui l'entoure.
Une anecdote amusante qui permet surtout à Eastwood de redéfinir un peu les règles de son cinéma à l'ombre du grand maître Huston : il veut faire des films pour le plus grand nombre, mais sans se soucier de l'attente des spectateurs ; il veut se démarquer des petites vanités d'Hollywood tout en respectant l'industrie commerciale qu'il est devenu ; il veut surtout faire du film de divertissement, de genre, de spectacle, mais qui prendrait le risque de choquer, de déranger, d'étonner. Certes, le personnage de Huston est gavant d'inconscience, de condescendance envers les Africains (il s'amourache naïvement de son guide, ce qui conduira celui-ci à sa perte), et porte sa virilité en bandoulière avec beaucoup trop d'ostentation. Mais d'un autre côté, cette défense du côté artisanal du cinéma ne peut que forcer le respect. Même si Eastwood pointe les limites de la posture de Huston, dans un final inattendu et remarquablement intelligent, on sent toute l'admiration qu'il porte à cette vieille vision du cinéma de divertissement, et qu'il la fait sienne, ni plus ni moins. Du coup on repense à tous ses films qui nous ont fait grincer des dents de par leur vacuité (de The Eiger Sanction à Heartbreak Ridge), et on se dit que, oui, si on voit les choses
sous cet angle, le Clint a bien eu raison d'assumer ces choix. Une sorte de profession de foi, si on veut, qui se déguise sous un hommage à un des maîtres, genre « c'est pas moi c'est lui ».
Bon, en plus de ça, ce film est impeccablement tenu, des acteurs à la lumière, de l'écriture du scénar aux décors, et c'est un vrai plaisir pour les yeux (qui n'est pas sans rappeler d'ailleurs, plus qu'African Queen, The Roots of heaven du même Huston). Ça ne va peut-être pas beaucoup plus loin que ça, je ne dis pas, mais c'est quand même 2 heures de pure classe hollywoodienne.
All Clint is good, here