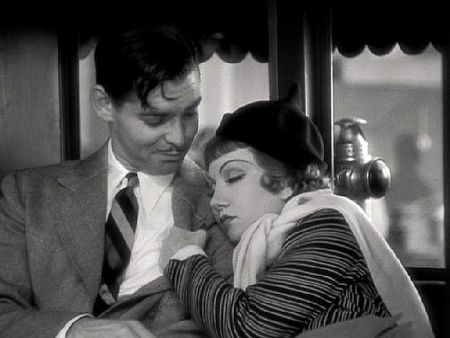 De l'amour, de l'humour, de l'action, de la tête d'affiche, du second rôle taquin, du phéromone par poignées, tout ça dans les 3m² d'un studio hollywoodien chauffé, franchement, que demander de plus ? C'est la magie de Capra, marque déposée, qui fait que le monde, subitement, vous apparaît plus compréhensible et la vie plus douce. Ce joyeux optimisme, cette douceur constante, cette absence totale du moindre fait grave dans cette histoire croquignolette, tout ça vous donne à espérer, pendant 2 heures, que tout va bien : c'est exactement ce que je demandais, ça tombe bien.
Le Clark Gable (moustache d'un demi-millimètre, chapeau porté à la canaille) et la Claudette Colbert (sourcils d'un demi-demi-millimètre qui démarrent à l'arrête du nez et se terminent quelque part derrière les oreilles) sont embarqués à bord d'un petit road movie aussi physique que sentimental : elle fuit son riche papa qui s'oppose à son mariage avec un vieux beau, il la recueille sous son aile parce qu'il sent le scoop venir (il est journaliste). Que croyez-vous qu'il arrivât ? Bingo, ces deux-là vont sérieusement se mettre à fricoter durant le périple, et arrivés à New-York les cartes de l'amour auront été redistribuées. Le tout agrémenté de mille et une aventures sans conséquence (la plus grave consistant pour la belle à faire la queue pour la douche) et de dialogues finauds qui vous installent confortablement devant votre écran. La complicité des deux acteurs éclate à l'image, ça va sans dire, et filles et garçons trouveront leur part de glamour face aux personnages (pas très fan de Colbert, pour ma part, j'en conviens, qui me semble avoir une tête de dindonneau ; mais je reconnais que son jeu est savoureux). Le charme vient d'on ne sait où : les situations sont minuscules, et pourtant on se prend à sourire béatement devant la leçon d'auto-stop prodiguée par un Gable suffisant, devant ce petit ballet nocturne à base de couvertures étendues entre deux lits, devant ce suspense même pas dangereux amené par le marrant Roscoe Karns, voyageur qui menace de dénoncer notre belle à son papa, et devant ces scènes de ménage au taquet qui mettent bien en valeur les clichés de la guerre des sexes (les filles sont hystériques, fragiles et adorables ; les garçons vaniteux, coléreux et protecteurs). Sens du rythme absolument imparable, décors super mignons faits de toiles peintes et d'arbres en carton, acteurs complètement investis pour nous donner du plaisir et rien d'autre, musique tonique, écriture au millimètre : c'est de la perfection. On peut regretter, allez, que le film ne parte pas dans les délires que sait parfois mettre en place le Capra (comme le final de Mr Smith goes to Washington ou le génial Arsenic and Old Lace), et que tout ça ne soit qu'amusant et mignon sans être franchement hilarant. Mais dans le genre divertissement sans façon, c'est le nec plus ultra.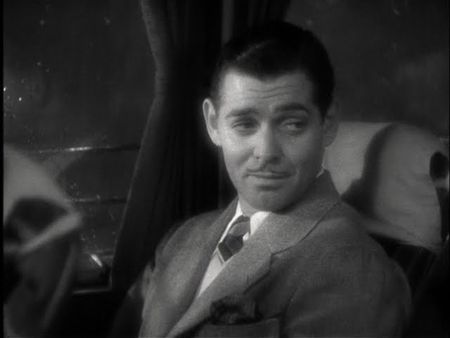 Notons aussi, on ne peut pas passer à côté, que les allusions sexuelles plus ou moins voyantes affluent dans le film, démentant justement le caractère un peu lisse de la trame. Voir Colbert grignoter une carotte ou déambuler dans le pyjama trop grand de Gable vous procure la montée de sève appropriée, et on a même droit, dans les dernières minutes, à une cascade de situations à double sens absolument bluffante : ça commence par un père qui prévoit une évasion pour sa fille le jour de son mariage (j'adore ce petit regard en coin de Walter Connolly quand il murmure à Colbert : « Si tu changes d'avis, une voiture t'attend derrière l'église ») ; il y a ensuite un jeune marié qui écrit à son beau-père un télégramme qui dit : « Les murs de Jéricho sont en train de tomber » ; puis un couple d'hôteliers qui se demande pourquoi les clients ont demandé une trompette pour leur nuit de noces ; puis ladite trompette qui sonne de manière triomphale dans la nuit ; et enfin l'ultime plan du film, montrant la fameuse couverture qui a séparé les personnages depuis le début tomber au sol… Comme représentation de la perte de la virginité, je n'ai jamais vu plus explicite, et nous sommes en 1934 rappelons-le. Rien que pour ces deux minutes-là, on se rend compte que Capra en a déjà franchement sous le pied à cette époque, et que son film aurait pu être beaucoup plus ambigu que ce qu'il n'est réellement. Tel quel, il est déjà savoureux. Capra forever, bien entendu, je pense qu'on est tous d'accord.