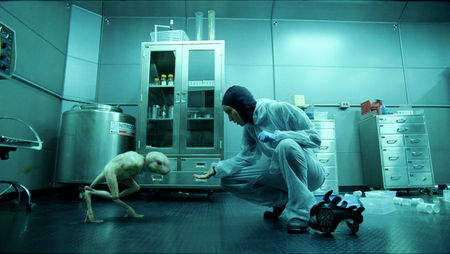 Que Avatar ait fait des millions d'entrées pendant que Splice passait complètement inaperçu en dit long sur les films de SF d'aujourd'hui. Sur un sujet assez proche (l'altérité vue à travers l'image de synthèse, la part d'humanité que celle-ci arrive à faire retrouver à l'Humain lui-même), Cameron a réalisé un film de collégien attardé ; Natali livre une splendide réflexion adulte et profonde, dérangeante et passionnante. Marchant sur les traces de Cronenberg (celui qu'on aimait, celui des débuts), le scénario interroge sur "l'étranger en soi", sous les traits d'un film d'action qui se teinterait d'une profonde intimité. C'est toujours ce qu'il y a de plus beau dans les grands films de science-fiction : qu'au milieu du gros barnum et de l'imagerie spectaculaire, il y ait une petite corde intime qui vibre, qu'un réalisateur arrive à parler de choses personnelles tout en obéissant au cahier des charges du genre.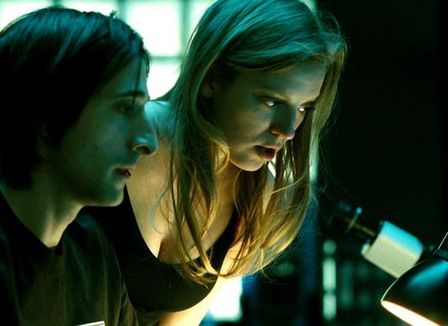 C'est l'histoire d'un couple de scientifiques travaillant sur le clônage, la manipulation génétique. On suit en parallèle leur histoire intime (lui veut un enfant, elle trouve qu'ils n'ont pas le temps, et elle a des soucis pour occulter de sa mémoire une enfance douloureuse ; leur sexualité est fluctuante malgré une évidente complicité dans le travail) et leur parcours professionnel : les gusses sont en train de tenter l'expérience de créer un être à partir de gènes humains, au mépris de l'éthique et des décisions politiques. Très vite, cet être (Dren) naît, mélange de poulet plumé et de kangourou qui va finir par devenir un être troublant entre beauté fatale et Rain Man... Les relations de ce couple avec cet être qu'ils ont entièrement créé sans l'avoir "conçu" vont passer par toutes les phases, de la tendresse à l'amour, du désir sexuel à la violence.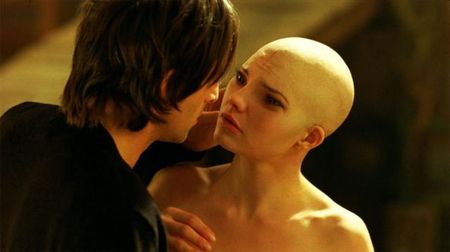 Ce qui est très beau là-dedans, c'est que Dren, justement, devient moins un être autonome que la projection physique des envies, frustrations et fantasmes de Monsieur et Madame. Un peu comme dans The Brood de Cronenberg, cet être difforme, monstrueux en même temps qu'attirant représente tous les états du couple : désir de l'enfant, enfance maltraitée, pulsions sexuelles étouffées, fantasmes de virilité brutale,... Le scénario va très loin dans cet aspect-là, jusqu'à LA scène que Cameron s'est interdite dans son navet : ici, l'homme va finir par baiser avec sa créature, dans une scène hallucinante et dérangeante à souhait. Natali a le courage d'aller au bout de son concept, et célèbre enfin les noces assumées de l'acteur et de l'image de synthèse. Voir ainsi Adrien Brody faire l'amour avec cette créature (ses jambes monstrueuses, ses cris à la Eraserhead, ces plumes absurde qui se déploient pendant l'orgasme) fait réellement un drôle d'effet, tout comme la scène de la fin où (attention : je dévoile des trucs) Sarah Polley subit le même sort avec une créature changée en mâle. Tout le film travaille très frontalement sur ce hiatus entre créature et créateur, sur cette difformité gênante. La première scène où Dren est habillée par exemple, vous fait sursauter : le couple l'a habillée en petite fille modèle, petite robe bleue à collerette, et voir ce monstre vêtu en enfant est spectaculaire (là, c'est plutôt le Cronenberg de The Fly qui est convoqué). C'est vraiment un grande idée que de traiter un sujet éminemment philosophique ou psychologique en film de science-fiction : comment un couple peut-il survivre ? qu'est-ce que la création, la procréation ? comment accepter sa propre difformité ? quel pouvoir les parents ont-ils sur leurs enfants ? Autant de questions que ce film passionnant traite avec une très saine vigueur, en adulte,sans jamais éviter les vraies questions et les dangers.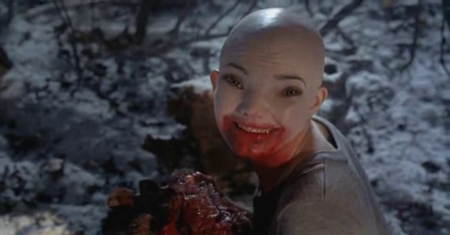 Alors c'est vrai que Natali, à côté de ça, n'est pas un grand metteur en scène. Son film est monté au petit bonheur, parfois jusqu'à l'absurde (qui peut me dire ce qui est arrivé au patron du couple à la fin ? Il est là, et puis hop la seconde d'après il est dans un arbre...), il y a pas mal d'idées ridicules (le plan subjectif qui ouvre le film, les scènes avec la scientifique française), les effet spéciaux sont médiocres et les tentatives d'aller vers le gore font long feu (la pourtant rigolote séquence de conférence scientifique qui vire au bain de sang). Les acteurs sont moyens, et Natali ne sait pas toujours faire la différence entre l'audace et le grand-guignol. Mais il sait indéniablement écrire une trame, et c'est déjà énorme vue la puérilité habituelle du genre. Cette variation sur Frankenstein constitue une des plus belles réussites de mélange des genres (disons un mix entre Bergman et Spielberg, dirais-je de façon hasardeuse) depuis Abyss... de Cameron. (Gols - 09/03/11)
---
L'effort est louable de la part de Natali de ne pas se contenter de faire un énième film gore juste pour la forme en utilisant des images de synthèse : on voit bien que le bougre s'est essayé à mettre un peu de fond à son œuvre, les réflexions sur les relations "parents / enfants" étant omniprésentes. Dommage que celles-ci soient tout de même ultra caricaturales (la mère qui craque pour ce petit bout de chou (de synthèse : une sorte de croisement entre un pitbull dans la forme et Claude Guéant au niveau de l'agressivité - et vice versa ? Roh, vous êtes durs), le père qui se sent délaissé et voudrait supprimer ce petit être qui capte tout l'attention de sa môman... Puis à l'adolescence, cette mère qui ne voit en sa jeune pousse qu'une rivale, ok...) et surtout que notre amie Dren (Epidoe lui aurait mieux convenu...) nous fasse un oedeme du cerveau, euh nan, un méga oedipe de sa race... Tomber amoureux du père et tuer la mère puis vice versa lorsque elle/il change de sexe, c'est tout de même un peu grossier comme ficelle. Ajoutez à cela les faiblesses soulignées par mon camarade, sans parler de l'idée affreuse et pathétique des ailes ou du choix de la musique (le jazz, c'est quand même super cool, sans blague (un bon vieux 33 tours, diable) par rapport à la techno ou au métal décérébrant, ouaiiiiis mannnn), Splice a quand même un peu de mal à passer la barre. Mieux qu'Avatar ? Je discute même po, pas eu le courage de me le taper. (Shang - 14/04/11)