- Is there anything else your husband's got I could use ?
- I can't think of anything.
- I can.
- What ?
- His wife. With his clothes, his papers and his wife...I could be snug as a bug in a rug.
- I'd do anything to save my husband. Anything.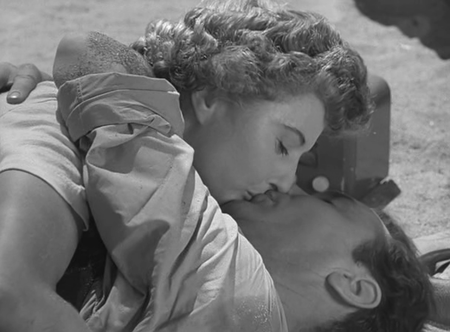 Une bien toute petite chose que ce Jeopardy qui nous donne tout de même l'occasion de voir Barbara Stanwyck participer - malgré elle - à un concours de tee-shirt mouillé - c'est la seule participante, hélas. Bon, ben voilà je crois que j'ai fait le tour de ce film... Oui, bon allez, je veux bien me fendre de deux trois commentaires mais c'est vraiment pour la forme. Barbara, son mari et leur gosse partent se fairer un ptit week-end tranquille au bord de la mer au Mexique. Cool. Seulement le papa, il a po vraiment de chance parce qu'il passe à travers une jetée et se retrouve le pied coincé sous un très très lourd pilier. Sa femme a deux mains gauches pour utiliser le cric, et la situation devient pas jolie jolie avec la marée qui monte. Faudrait une corde, donc... Dépêche toi, darling, d'aller chercher une "cuerda". Ok chéri, je vais tenter de trouver une "cuerdo" - sotte Barbara qui parle l'espagnol comme moi et n'arrivera point à se faire comprendre auprès d'autochtones : ils étaient pourtant en possession d'une corde (bigre) et cela aurait évité à la Barbara d'aller plus loin et de croiser... un méchant criminel - ah nan, ce n'est vraiment pas le moment, j'ai mon mari qui est en train de boire la tasse ! (le week-end pourri, un truc à te faire haïr à vie le Mexique).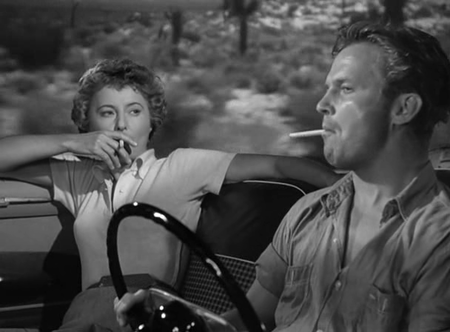 Comment va-t-elle faire pour persuader ce sale bonhomme de secourir son mari alors qu'il a toute la police du monde à ses trousses ? La réponse se trouve dans le petit dialogue introductif... Barbara se rend bien compte que le type est un vrai roublard (il arrive à changer un pneu sans cric et rien que pour ce petit truc bien utile que j'ai appris (ok j'ai pas le permis mais quand même), je ne regrette pas d'avoir vu ce film) et qu'il va falloir la jouer fine pour se le mettre dans sa poche ; beaucoup aimé le regard "laser" qu'elle lui jette - un mélange de haine, d'incompréhension, et d'un ptit que'que chose de mystérieux - juste après que le gars ait envoyé dans le décor une bagnole de police : elle réfléchit à une nouvelle stratégie pour s'en faire un allié et la Belle n'a décidément point froid aux yeux - c'est beau l'amour d'une femme et ce sens du sacrifice...On croise les doigts tout du long en espérant que le mari se noie avec le gamin sur les épaules pour que la Barbara puisse enfin mener une vie aventureuse... Vi, c'est plutôt mesquin, mais on s'occupe comme on peut voyant venir le happy end gros comme un chalutier... Nan, par pitié pas de happy end... Ne s'est pas vraiment foulé, le gars Sturges sur l'action, et cette plage serait restée totalement déserte qu'on ne s'en serait point vraiment plaint. Pour les gros gros fans de Stanwyck...
Noir c'est noir, c'est là