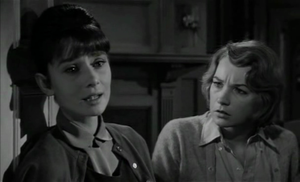 Wyler tente de se mettre au goût du jour, en ce début des sixties, pour ce qui est du film psychologique à message avec acteurs issus de la Méthode, ce qui constitue un genre à lui tout seul. Mais on ne s'improvise pas ainsi Elia Kazan ou Arthur Miller en un coup de cuillère à pot : rempli de bonnes intentions, The Children's Hour n'en est pas moins raté, démonstratif, pesant, et muni de gros sabots qui en annulent pratiquement tout le courage. Pire : tout se passe comme si Wyler avait en cours de projet abandonné toute velléité de traiter réellement son sujet (le lesbianisme supposé de deux éducatrices, et les effets que la rumeur de leurs relations saphiques ont sur leurs destinées), reculant de plus en plus devant l'audace de son sujet (mais est-ce vraiment audacieux de livrer ce film en 1961, d'arriver en quelque sorte après la bataille ?) en en atténuant tous les nobles motifs.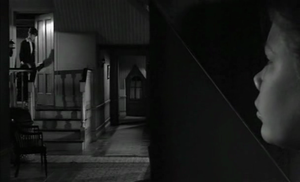 Karen (Audrey Hepburn, jolie mais sans les épaules que nécessite le rôle) et Martha (Shirley McLaine, pour le coup impeccable) sont deux gérantes d'une institution de jeunes filles bien élevées. La rancoeur de l'une de leurs jeunes élèves va déclencher une rumeur : les deux amies seraient en fait lesbiennes, et se livreraient à des scènes pas catholiques-catholiques le soir dans leur chambre. A la suite de ce mensonge, tout le monde va lâcher nos deux héroïnes, en commençant par la grand-mère de la fillette (très subtil jeu de Fay Bainter) pour finir par le fiancé de Karen (James Garner, fonctionnel). Autant vous dire que les scènes entre les donzelles, et celles de confrontation entre elles et la bien-pensance ambiante, contiennent leur lot de dialogues à thèse, de noble indignation, et de sensibilité de comédienne. Il y a par exemple la très belle séquence où Hepburn apprend les détails de la rumeur qui pèse sur elles : MacLaine l'observe de l'intérieur, elle discute à l'extérieur, et la simple gestion du timing de la scène, alliée à un montage précis et à un jeu très fin de champ/contre-champ, suffit à faire comprendre le poids du destin qui s'abat sur les épaules des deux femmes. Parfois, il y a comme ça des scènes vraiment inspirées, qui se libèrent du ton trop "théâtre filmé" du film pour laisser libre cours à quelques belles idées purement cinématographiques : une scène de pendaison suggérée par des ombres expressionnistes, un déploiement de profondeur de champ pour préciser les rapports entre les êtres (notamment sur la domination de la petite fille dénonciatrice sur sa victime), ou de jolis gros plans sur des visages.
Heureusement qu'il y a ces moments, car à part ça, le film est souvent maladroit, voire amateur. Dans la mise en scène, d'abord, curieusement mal rythmée, qui multiplie les faux raccords ou les cuts à l'intérieur des plans qui cassent le tempo ; ou qui filme assez mal des acteurs pas toujours très inspirés (Hepburn pose pour la galerie et est aussi crédible en femme tourmentée que moi en forgeron). Mais dans le scénario aussi, ce qui est plus génant : alors qu'on croit, et qu'on espère, que le film va finir par aborder frontalement les problèmes de la différence sexuelle, du dangereux amalgame entre homosexualité et pédophilie, et de la rumeur qui peut saccager toute une existence, Wyler recule de plus en plus, accordant plus ou moins des circonstances atténuantes aux homophobes du film, évitant le sujet avec une gène évidente (le mot d'homosexualité n'est jamais prononcé, et ceux qui y sont enclins mourront sagement pour que tout rentre dans l'ordre (le regard vers le ciel de Hepburn, dans la dernière seconde, dessert vraiment le propos du film, finalement très bien-pensant)). The Children's Hour est une thèse un peu bavarde et sans réelle sincérité, qui constitue plus un alibi de bonne conscience de gauche plutôt que le brûlot qu'il semble vouloir être. Wyler ne se dépêtre qu'à de rares occasions de ses dialogues sur-explicites et ses actrices trop jolies pour être honnêtes. Ray ou Kazan sont allés dix fois plus loin.