"A type like that is an animal, so you've got to fight him like an animal."
Je savais bien que dans la famille Thompson je finirais pas trouver un vrai cinéaste. Sans vouloir être irrespectueux envers le sieur Scorsese, cette version originale est quand même proprement géniale sans avoir besoin de faire dans la surenchère. A ma droite, l'éternel Gregory Peck, l'avocat bon, consciencieux, intègre - jusque là. A ma droite, l'éternel Robert Mitchum, le regard torve, le petit sourire en coin, malin comme un singe, revanchard. En témoignant contre lui huit ans auparavant, Peck était loin de se douter que l'autre allait, pendant toutes ses années, mûrir jour après jour, heure après heure, sa vengeance. Sitôt sorti de prison, Mitchum fait planer une insidieuse menace sur cette bonne petite famille américaine... Le type est dangereux, retors, rusé, la tension saura se faire palpable à tous les instants. Herrmann sort l'artillerie lourde - une trentaine d'archets a dû être brisée pendant les répètes -, la famille Bowden est à l'agonie, le spectateur n'en mène guère plus large. On serait dans Minority Report que le Mitchum serait derrière les barreaux depuis des plombes. Seulement voilà, on n'est pas dans de la science-fiction mais dans un État de droit (ah ben si) et il n'est point envisageable de condamner un homme tant qu'il n'a encore rien fait... Serait-on dans un film purement et simplement de "droite" (osons) où il serait question de démontrer que toute personne "potentiellement dangereuse" mérite d'être enfermée à vie ?... Ce pourrait être une option à débattre. Cependant, le scénar se révèle beaucoup plus pervers que cela puisque le Peck va, à son tour, tomber dans le cercle vicieux et infernal de la vengeance. Il a ses raisons : Mitchum est un réel fou furieux ; mais cet être diabolique va finir par méchamment déteindre sur sa conscience, amenant le Peck à devoir se rabaisser à son niveau pour le combattre (après avoir tenter d'utiliser en vain les moyens légaux, il cède lui-même à la violence...). Pas simplement pervers, noir, très noir...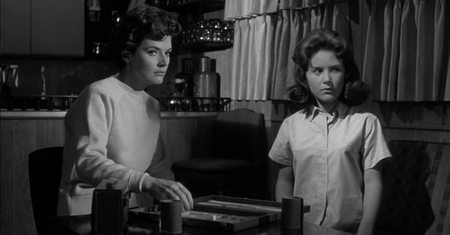 Enorme Mitchum, armé de son Panama et d'un cigare, qui ne cesse de coller le Peck comme un crampon et de se laisser aller, à la moindre occase, à quelques remarques loin d'être innocentes sur sa bien jolie femme et sa bien tendre fille... Le loup est dans la bergerie mais il sait malicieusement attendre son heure pour frapper. Peck use de ses relations pour éloigner l'animal mais ce dernier a eu tout son temps, en prison, pour étudier le droit - et se protéger... Les premières tentatives de Peck tombent bêtement à l'eau, le chacal jubile. Le loup sait, qui plus est, se faire vautour, prenant un plaisir évident à tourner longtemps autour de sa proie avant de fondre dessus. Mitchum écarte le pauvre chien des Bowen en l'empoisonnant : des preuves, zéro, et ce n'est jamais qu'un chien (argh)... Il se sait suivi en permanence, tabasse une gonzesse à loisir mais cette dernière est tellement effrayée qu'elle n'ose témoigner contre lui. La hyène ricane dans son coin, elle a su faire monter la pression d'un cran tout en s'en sortant blanc comme neige... Peck est à deux doigts de péter un câble, s'arme de son flingue, rahhh, il va foutre en l'air sa petite vie... Encore une impasse. Un détective - et son ombre (le côté obscur de Peck est de plus en plus titillé) - lui conseille de louer des gros bras pour péter la gueule au malotru. Tout de même ! Roh puis si, puisque même l'argent qu'il propose à Mitchum ne semble pouvoir le dissuader. Nouveau coup d'épée dans l'eau, le serpent double sa dose de venin...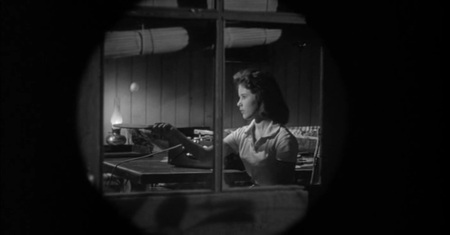 Bon, ben Peck se décide à utiliser les grands moyens et à chasser l'animal sur son propre terrain - la fourberie - pour pouvoir mieux le piéger. Un final dans les marécages d'une tension extrême. Le noir et blanc est absolument sublime (coup de chapeau au passage à Sam Leavitt) et renforce "la beauté" de cette conclusion où les ombres prennent définitivement l'avantage sur la lumière... La femme de Peck prépare la bouffe, la chtite s'amuse comme elle peut avec une raquette de ping-pong et une balle (un petit bruit lancinant qui participe à la montée de l'angoisse), Peck est tel un chasseur de base à l'affût dans son abri. On se croirait presque revenu aux temps préhistoriques (oui, bon pour le ping-pong, on pourrait débattre...). Mitchum veille au bord de la rivière et se glisse dans l'eau tel un crocodile - pas pourri, physiquement, la bête... On ose à peine respirer et on décide sur un coup de tête de fermer sa porte à double-tour.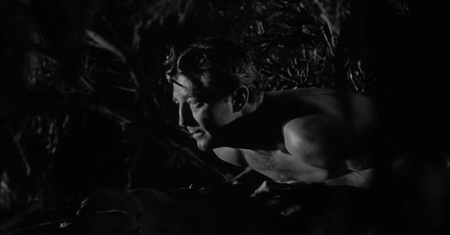 Le cinéaste, tout du long, a su multiplier les situations durant lesquelles la femme et la fille de Peck se mettaient à avoir les jetons pour "un rien", la menace planante de Mitchum se faisant plus effrayante que toute menace directe (la femme qui croit voir pendant la nuit l'ombre du Mitch en bas de ses escaliers alors que ce n'est qu'un chapeau pendu à la patère ; la chtite qui panique comme une folle en cherchant refuge dans l'école, prenant ses jambes à son cou alors que s'approche d'elle... un gardien ; les deux femmes "en arrêt" au moindre petit bruit dans leur planque alors qu'un bruit de branches ou de moteur de bateau se fait entendre... Mitch, nan, Peck qui vient les rejoindre...). Quand Mitchum passe enfin à l'acte, c'est presque un soulagement. Qu'il triomphe ou non, finalement, peu importe, il a foutu le doute dans le cerveau de Peck qui, en route, a forcément perdu une partie de sa foi toute puissante en l'humanité... Noir, disais-je pour ne pas dire diabolique...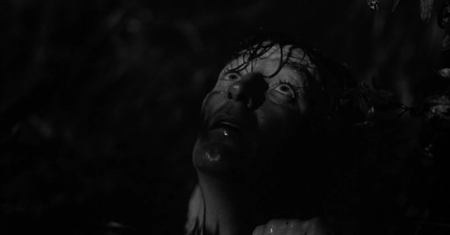 noir c'est noir, c'est ici